22 top seasonal jobs: The best gigs seeing a hiring boost — to leave you richer with holiday cash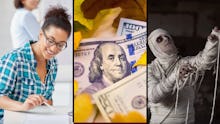 As the temperature falls, the need for cash rises, given the parade of holidays — meaning gifts and parties — competing for your money. With 2017 holiday spending expected to jump as much as 4.5% over 2016, according to Deloitte, you may find yourself pressured to shell out a bit more than you're used to.
One way to make sure you have enough cash for the winter is to nab a side job. And while you can always take on a gig economy side hustle, you may want to consider a seasonal job in particular, as demand surges starting in October: Retailers hired an extra 641,000 seasonal workers during the final three months of 2016, according to executive coaching firm Challenger, Gray & Christmas, which added that "retailers are signaling that there might be high demand for seasonal jobs" in 2017, too.
Some promising signs so far: Target announced Sept. 13 it would add 100,000 seasonal jobs in 2017, up more than 40% over 2016; the company is also boosting its minimum hourly wage to $11 this year and said it will increase that to $15 by 2020. Michaels said in August it would hire more than 15,000 seasonal positions.
Of course, standard retail jobs typically pay less than $10 an hour — so it's worth looking for far higher-paying gigs that also tend to be in higher demand during the fall. Examples include everything from tutoring to making yourself available on TaskRabbit to run holiday errands.
When should you start looking? Think now. "It's never too early to start thinking about snagging a seasonal job," Sarah Stoddard, public relations associate at Glassdoor, said in an email interview with Mic.
There's other good news: While most seasonal jobs begin in October and wrap in January, some companies use this hiring to scout for new talent for regular, full-time jobs. "Over the last three years, 35% of the temporary workers have stayed on with us permanently," UPS public relations manager Dan McMackin said in an email. The company is hiring 95,000 seasonal workers in 2017, which could result in more than 33,000 long-term hires.
Not exactly sure where you'd like to work over the holidays? Here are 22 ideas for seasonal gigs, some part-time and some full-time depending on the location and need, that might get you in the holiday spirit:
High-paying gigs that put skills and passions to work
Academic tutor or college admissions counselor
Salary: up to $150 an hour or more
Back-to-school and college application season means tutors and counselors are in high demand. Professional SAT tutors, with average hourly earnings of $86, typically have strong teaching backgrounds and expertise in math, science, languages and economics. You can land this gig by advertising on websites like Wyzant or Thumbtack or applying at a company like Kaplan.
You can earn even more as a college admissions consultant who helps high schoolers figure out where to apply and works with them on application essays. While some market their services on their own, others work for companies like College Vine, Collegewise or IvyMax.
Holiday photographer
Salary: starting at $25 an hour (for amateurs)
From taking family photos for holiday cards to snapping candid shots at company holiday parties, holiday photographers can make some extra jingle around the holidays. Armed with a portfolio and photography equipment, you can start advertising your holiday business on social media, through word of mouth or on GigMasters. The more of a pro you are, the more you can charge.
Pet sitter/dog walker
Salary: up to $150 per night
Many families travel over the holidays, which means pet parents need a safe and loving place for their dog or cat (or other cute pets) to stay. List pet sitting or dog walking services on sites like Rover or Care to get started.
Gig that harness the holiday spirit
Be a holiday elf on TaskRabbit
Salary: $14 an hour on average*
Harried holiday consumers need people to run their errands, get their yards in shape and even decorate their Christmas trees and put up lights — which means you can make extra money helping them out. TaskRabbit pays you to do what you do best, and demand for these services rises over the holidays.
Holiday catering/bartending jobs
Salary: $11.85 an hour on average
No holiday celebration is complete without good food and drinks, which means increased demand for seasonal servers, food prep and bartending. Base hourly wages don't reflect your full earnings, as tipping — especially from jolly patrons — may be a little more generous around the holidays.
In addition to checking with local restaurants, search Yelp to see which catering companies look busy (which means they need help); alternatively, advertise your catering services on Thumbtack.
Scare people for a living
Salary: $10.88 an hour on average
With 2,000 haunted houses peppered throughout the country, according to CNN, chances are you can find a job working at one of these pop-up scare factories. Haunted houses are looking for actors, parking attendants, technicians and security specialists for this limited-time gig. Some houses to check out for specific jobs is 13th Floor and Dark Hour.
Not into haunted houses? It's not too early to get a jump on offering your services to play Santa or one of his elves for private parties or events.
Jobs at big retailers or shipping companies
If you're in a rut, your best chance at getting a seasonal job is by applying to one of the many retailers who ramp up around the holidays. Beyond making extra money, seasonal workers can enjoy store discounts or even have a shot at getting hired full-time.
Halloween stores
Salary: $9 an hour on average*
Get into the Halloween spirit and work among the costumes and ghastly decorations. Stores like Spirit, Halloween City and Halloween Express are looking for seasonal sales associates to assist with the Halloween rush.
Anthropologie
Salary: $10 an hour on average*
Stylish clothier and home decor store Anthropologie is hiring seasonal customer and visual sales associates at stores across the country. Perks include up to 40% off merchandise and up to 20% off food and drinks at restaurants owned by Urban Outfitters, Inc., Anthropologie's parent company.
Bath & Body Works
Salary: $9 an hour on average*
Seasonal workers at Bath & Body Works' 1700 stores can enjoy discounts on the chain's many scented bath products. Current job openings include hundreds of sales support positions, which require prior sales experience and availability to work weekends, nights and a varied schedule each week.
Brookstone
Salary: $8 an hour on average*
A great place to find a gift for the person who already has everything, gadget store Brookstone is hiring for seasonal managers, assistant managers, sales associates, customer care positions and distribution jobs. If you want a warehouse job, you'll need to be able to lift at least 35 pounds and be willing to stand on concrete for your entire shift.
Burlington Stores
Salary: $8 an hour on average*
Discount clothing store Burlington is hiring associates for retail sales, cashier and receiving positions at many of its 567 stores nationwide. You may have the best luck at new stores opening in locations like Melbourne, Florida; Nashville, Tennessee; and Batavia, Ohio.
Crate & Barrel
Salary: $10 an hour on average*
If you're looking to be surrounded by holiday cheer every day in November and December, consider working as a seasonal sales or stock associate at Crate & Barrel. Just don't expect to get holiday weekends off to spend time with the family. Associates "must be able to work one weekend shift, including the weekend after Thanksgiving AND the days surrounding Christmas", according to the job description. On the plus side, you'll get a 30% employee discount.
FTD
Salary: $11 an hour on average
Support the increase in orders at FTD as a customer service representative at call centers in Downer's Grove, Illinois and Centerbrook, Connecticut. Seasonal workers are eligible to receive performance incentives and may be hired permanently following the holiday rush.
Gap, Inc.
Salary: $10 an hour on average*
The Gap, Gap Outlet, Banana Republic, Banana Republic Factory and Old Navy stores need seasonal help. While the company did not specify the number of new employees it plans to hire, available jobs include stock and sales. Plus, seasonal employees receive discounts on any of the company's brands.
JCPenney
Salary: $9 an hour on average*
Recent store closings haven't dampened JCPenney's holiday spirit, as the company plans to add 40,000 jobs for the holidays — the same as in 2016. Job seekers should attend the nationwide job fair Oct. 17 and apply for positions like commissioned jewelry associate, operations associate or beauty consultant at an in-store Sephora location.
Kohl's
Salary: $9 an hour on average*
Department store Kohl's won't say exactly how many holiday helpers it plans to hire in 2017, but it's likely to be in the tens of thousands, seeing as it hired 69,000 seasonal workers in 2016. What's more, about 20% of those positions turned into full-time gigs. Current job openings include associate positions in sales, freight and fulfillment. Look for hiring events at a store near you Oct. 7.
Lane Bryant
Salary: $9 an hour on average*
If you have a flair for fashion and enjoy working with customers, Lane Bryant has a number of open positions for the holidays. Despite news of store closures this summer, the company is looking primarily for part-time sales associates to support the holiday rush.
Macy's
Salary: $9 an hour on average*
Macy's is looking to add approximately 80,000 seasonal jobs with openings in fulfillment centers, sales and customer service, the company said in a release. Although the official hiring event occurred in September, job-seekers can apply online for a position anywhere in the country.
Sears
Salary: $9 an hour on average*
Despite closing dozens of stores this year, struggling retailer Sears has big plans to hire for the holidays, including sales and cashier positions. Sears Holding Company has openings for a number of positions, including customer service, cashiers and backroom support. A company spokesperson declined to disclose the chain's total number of holiday hires.
Target
Salary: $11 an hour on average
Target is adding 100,000 seasonal jobs this year to meet demand at its 1,816 stores, plus an additional 4,500 new employees to staff its distribution and fulfillment centers. View open positions and complete an application here, then attend a hiring event held October 13 through 15 at your local Target store.
UPS
Salary: $10.20 to $32 per hour
UPS is looking for 95,000 seasonal employees to fill positions to support an increase in package volume this year, the company said in a release. Full-time and part-time positions are available to fill jobs as package drivers and driver helpers and the company typically retains 35% of seasonal staff permanently.
Victoria's Secret
Salary: $9 an hour on average*
Get hired to work as a seasonal sales associate and enjoy Victoria's Secret employee merchandise discount too. The company is hiring holiday cashiers, sellers, stockers and help setting florets.
Need more ideas? Check out Monster's list of retailers that pay more than $11 an hour, including home improvement stores like Lowe's.
*Salary data provided by Glassdoor.
Sign up for The Payoff — your weekly crash course on how to live your best financial life.