A new exhibit reveals what apartment life is like for elite North Koreans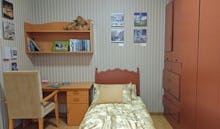 SEOUL, SOUTH KOREA — Apartments in North Korea might lack stable electricity or look painfully retro by most standards, but living in a high-rise in Pyongyang, North Korea, is still a privilege in itself. Poverty in the country remains sky-high, with an estimated 41% of the population considered undernourished despite the economy's increasing growth rates.
Meanwhile, in South Korea, a compact urban space with modern amenities is totally normal. Roughly 60% of all South Koreans live in apartments, compared to less than 20% of North Koreans. The dividing line between the two countries was drawn in 1945, yet their way of life is so different that South Koreans will line up to catch a glimpse of a North Korean home.
And now they can. Tucked away in Seoul's futuristic, spaceship-like Dongdaemun Design Plaza, architects have constructed a model Pyongyang apartment — an exhibit called "Pyongyang Sallim," which translates roughly to "Pyongyang livelihood" or "Pyongyang living."
"We decided to create a model house because it's the easiest way to understand what life is like in North Korea," Calvin Chua, one of the installation's designers and an architect who has studied urbanism in Pyongyang, told Dezeen. Chua has been to North Korea's capital seven times.
"Domestic space is quintessentially North Korean, but you seldom see the interior of an apartment. It's obviously the most private of spaces," he said.
A peek inside
As you view these photos, keep in mind that this model apartment isn't typical. It models a living space generally reserved for the upper echelons of North Korean society who are able to live in the capital. As it stands, North Korean citizens can't even travel domestically without being granted permission — or paying a bribe.
Signs of change
Lives of North Korea's elite and middle class are slowly evolving, in part because the nation has adopted some forms of capitalism. Since at least 2011 — when current leader Kim Jong Un rose to power — North Korea has seen a "a partial introduction of a market-economy system," as the exhibit put it, which has in turn increased demands for a "new type of housing system that meets the demands of capital."
In North Korea, apartments can be as small as roughly 108 square feet, while some of the biggest living spaces in Pyongyang were once thought to be around 700 to 860 square feet, according to 2007's North of the DMZ: Essays on Daily Life in North Korea. It's hard to know exactly how big Pyongyang apartments are, since outside researchers don't exactly have free access to see them.
In North Korea, apartments can be as small as roughly 108 square feet.
But the architects behind "Pyongyang Sallim" focused on newer developments that have cropped up since around 2011. And though they only had about 387 square feet to work with, they believe the average apartment is between 1,076 and 1,615 square feet today. To give that a bit of perspective, the average New York City apartment is about 866 square feet.
The difference is that water shortages and having to take the stairs up a 40-story building is probably more common in Pyongyang.
"You find a lot of solar panels, because there's a power shortage and there's not enough electricity," Chua told Dezeen. "They are self-sufficient, not because they want to be sustainable, but because of necessity."
The furniture in the model apartment are all real imports from North Korea. The exhibit listed the prices according to Chinese manufacturing costs, though it's not known how much the pieces would sell for on the actual North Korean market. Either way, it can't be cheap: The twin bed is priced out at about $271 USD. The wardrobe, which includes a closet and multiple drawers, is about $602, while the couch in the living room is about $268 and the dining set around $600. That's likely too expensive for the average North Korean, who might make under $2,000 in wages a year, according to one 2013 estimate.
"In some cases, these new apartment units are provided to middle-class people, such as professors and scientists, by the government," the exhibit said. "But in many cases, units are sold to upper-class people who have capital power."
The model apartment is more in line with what a middle-class family might live in, the exhibit said. However, even the words "middle class" hardly means the majority of North Korean society.
"Although this new style of apartment may not represent the lifestyles of all Pyongyang residents, it serves as an example of the future direction of housing development in the city," the exhibit's home page reads.