Equifax stock price: EFX steadies after CEO Richard Smith steps down following data breach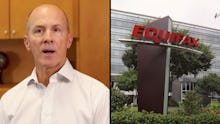 Equifax (EFX) shares have recovered following Equifax CEO Richard Smith's announcement Tuesday he would retire from his post following a security breach at the company that has led to sustained public outrage. Smith will temporarily be replaced by Paulino do Rego Barros Jr. — a seven-year company veteran who has led the Asia Pacific division — while the board searches for a new chief executive, according to a company statement.
"The cybersecurity incident has affected millions of consumers," Smith said. "At this critical juncture, I believe it is in the best interests of the company to have new leadership to move the company forward." Smith will continue advising the company on an unpaid basis, the company announced.
Equifax shares took a hit Tuesday morning and then bounced back — up slightly on Wednesday — though the stock price has still lost about a quarter of its peak value following the announcement of the hack: falling from a high of about $146 in August to about $108 as of 10:00 a.m. Wednesday.
The announcement comes amid a steady drumbeat of controversies emerging over Equifax's fumbled handling of the breach. This week a company press release from Aug. 10 has gained attention, as it announced Equifax was acquiring identity theft protection firm ID Watchdog — 12 days after the breach was detected, but about a month before it was announced to the public.
In a statement to Mic, an Equifax spokesman said, "the ID Watchdog acquisition had been in process prior to the cybersecurity incident," pointing to a June news release. The spokesman said Smith will not receive a 2017 bonus or severance, though he did get 2016 and 2015 bonuses of about $3 million — and he will also receive a $18.4 million pension, which the plan requires he get "under any circumstances."
The spokesman added that Smith is departing "by mutual agreement" and that if he had been removed he would have received a severance of $5 million —though members of the board told the New York Times on Tuesday that the board could still "retroactively classify" the departure as a firing with cause.
If Smith's departure were reclassified as a firing, he may have to pay back some of his earnings, as was the case with Wells Fargo CEO John Stumpf, who was forced to return $41 million in the wake of a scandal at the company involving fake consumer accounts. In addition to his salary, bonus, and pension, Smith is also entitled to about $20.8 million in stock awards, executive compensation data firm Equilar told the Times.
Since the announcement, other facts that suggest mismanagement or even financial impropriety have come to light: Several senior Equifax executives sold their stock before the hack was announced publicly. The company said in a statement to Mic the executives had no knowledge of the breach at the time.
In addition, when the company first announced the hack, it did so using a new website that was widely criticized as dysfunctional, and customer service representatives manning phone lines did not appear to be briefed on the matter even after news of the breach went public.
Equifax later offered free security monitoring to make amends, but certain clauses of the terms agreement prompted customers to waive their right to participate in class action lawsuits, drawing the ire of New York attorney general Eric Schneiderman — until the company finally withdrew the clause.
At one point, the company's social media account was caught referring angry social media queries to a fake phishing website. Meanwhile, flattering posts about the CEO remain posted online at corporate accounts:
Ironically, Equifax may profit following the breach: On Sept. 22, stock analysts at Wells Fargo said they expected Equifax to "outperform" going forward, and that the series of scandals had actually created an "an attractive entry point for this high-quality consumer credit franchise," reported Street Insider.
Smith, one of the highest paid CEOs in the country, himself has had a lucrative career at Equifax, netting nearly $70 million from company stock sales, as a CNNMoney report points out. In 2016, Smith made about $1.45 million in salary with a bonus slightly over $3 million. In 2015, a New York Times review of compensation data revealed that Smith was one of the highest paid executives in America, and he had seen a big salary bump at that time.
Though he may enjoy an early retirement, it is unlikely that Smith will be able to put the matter behind him so quickly: Smith is set to testify before the House Energy and Commerce Committee about the data leak on Oct. 3.
Sept. 27, 2017, 10:00 a.m.: This story has been updated.
Sign up for the Payoff — your weekly crash course on how to live your best financial life.