Why Ohio's upcoming voting rights battle could decide 2018 midterms, 2020 White House race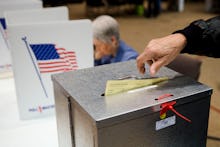 The U.S. Supreme Court is set to begin hearings in November on a potential landmark voting rights case that civil rights advocates say could decide which party wins the 2018 midterms and the White House race in 2020.
The Brennan Center for Justice and the League of Women Voters on Monday became the latest voting rights advocacy groups to latch onto the legal fight.
They want the Supreme Court to overturn an Ohio board of elections "voter records maintenance" process created in 2005 that has allowed multiple Ohio secretaries of state to purge thousands of people from Ohio's registered voter rolls, according to the American Civil Liberties Union.
The 12-year-old measure, first enacted by then-Secretary of State Ken Blackwell, permitted state election officials to kick Ohioans off its list of registered voters after a period of time passes, generally four years, if those individuals failed to vote in just one federal election cycle.
Voting rights advocates say the rule violates the 1993 National Voter Registration Act, which set national guidelines for eligible voters to register to vote.
In their brief, the plaintiffs claim an estimated 400,000 Ohio voters have been deregistered to vote. A total of 4 million have received letters in the mail informing them they'd be deregistered if they didn't take steps to reapply.
The lawsuit was originally filed against current Ohio Secretary of State Jon Husted by the state ACLU, which was working on behalf of Portage County, Ohio, native Larry Harmon in 2016.
Harmon, a military veteran, attempted to vote in a special election the previous year and was informed he was no longer registered thanks to one of the inactive voter purges enacted by Husted, according to Mike Brickner, senior policy director for the Ohio ACLU.
League of Women Voters executive director Carrie L. Davis said Ohio is the only state in the U.S. that has attempted to deregister otherwise eligible voters simply because they chose not to vote in a previous election.
"This is very unusual," Davis told Mic on Tuesday. "We're not talking about removing people who have died, moved out of state or are in prison for a felony. These are people eligible to vote and they got kicked off and many times they didn't even know it until they went to vote and their names weren't there anymore."
Brickner says Ohio may be unique now, but that its mode of alleged voter suppression may catch on nationally unless the Supreme Court rules in the plaintiffs' favor.
President Trump lost the popular vote by about 3 million people in 2016. His electoral college victory came thanks to just 107,000 votes in three swing states, according to the Washington Post.
Potentially eliminating thousands, if not millions, of eligible voters could decide which party wins the majority of senate and congressional seats in the 2018 Midterms and who wins the White House in 2020, according to Brickner.
"This case will have major national ramifications," Brickner told Mic during a Tuesday afternoon phone interview. "If a system like Ohio's is upheld by the U.S. Supreme Court, that could set up the mechanism for the entire country to begin to purge individuals at really large rates."
Blackwell's history on voter rights
Blackwell, the former secretary of state and failed gubernatorial candidate responsible for creating Ohio's voter purge program, now sits on president Donald Trump's voter fraud panel.
The former Cincinnati mayor and staunch pro-Trump conservative served as an honorary co-chair on George W. Bush's 2004 Ohio presidential campaign while simultaneously presiding over the state's election process.
During that race, he was criticized for attempting to disqualify people's voter registration applications if the paper their forms were printed on didn't weigh enough. He was also criticized for using a limited amount of poll workers and election machines, which led to extremely long lines in several major Ohio cities.
Blackwell was sued the same year by the Ohio Justice Policy Center for allegedly disenfranchising voters on probation or parole. He was sued again by the ACLU in 2006 for attempting to tell naturalized citizens they had to show proof of naturalization to vote.
Now the architect for Ohio's notorious 2004 election woes is helping Trump prevent essentially nonexistent voter fraud in upcoming election cycles.
"The voting wars have definitely been alive and well in Ohio for a long time," Davis said. "The good news is we keep pushing back. While there have been tons of voting cases every couple of years, we keep fighting."