Mic Wakeup: Twitter's new limits, getting over failure and how the media is failing South Korea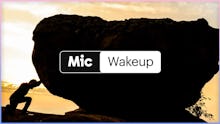 It's Wednesday, Sept. 27. Here are three stories to get your day started.
Twitter is upping its character limit and people can't figure out why
On Tuesday, Twitter's CEO Jack Dorsey announced that the platform would be increasing the tweet character limit from 140 to 280 characters.
So why change the one thing about Twitter that makes it so great? As Will Oremus wrote in Slate, it's all about user growth, which Twitter desperately needs to stay afloat.
"At this point, the company's failure to substantially expand its user base represents an ongoing existential threat to its future," Oremus notes. "In other words: It's desperate."
However, as Mic's Cooper Fleishman wrote, the new character limit will do little to fix the issues that Twitter presents, including the fact that it has too much noise and not enough substance. But, we're happy to give it the old college try.
Ugh, I hate this. Do I have to? Sadly, yes, because social media runs our lives.
It's OK to get emotional over failure, according to a recent study
Experiencing failure is no easy task, but it's something we all will inevitably go through in our lifetimes. So what's the appropriate response to failure? It turns out that an all-out rage fest, a heavy cry or a simple whimper are all totally OK reactions.
According to a new paper from researchers at the University of Kansas, Ohio State University and Stanford University, people who approach failure with an emotional response are far more likely to improve the next time they attempt a task.
"We are programmed to not feel bad," Selin Malkoc, a marketing professor at the Fisher School of Business at the Ohio State University, told Mic. "But feeling bad might actually be a good thing if you're using it to persevere in the future."
So I can just freak out at work? Well, no, but you can reflect on the failure and use it for future learnings. As Junhow Wei at Pennsylvania State University said, "It's helpful when people experience failure to focus on the future and the possibilities that may come ... rather than beating a dead horse."
The media is failing South Koreans with sensational headlines
As a great example of what "too far" looks like please see Newsweek's Sept. 5 headline that read, "Dealing with North Korea is stressful, so South Koreans are getting a one-off 10-day holiday."
Here's the rub: South Koreans aren't taking a special 10-day holiday because they are stressed, they are taking one because it's tradition.
As Mic explained, the 10-day break came due to a confluence of South Korean holidays, including the three-day celebration for Chuseok (which is akin to American Thanksgiving), a one-day holiday for National Foundation Day and another for Hangeul Day.
By conflating holidays with the very real threat of nuclear war with their neighbor, this story is both belittling the harsh realities of living in South Korea right now and misinforming the general news-reading public.
How do I make sure I don't fall for it? You can always read more on media literacy here.