Cheap flights: Christmas, Thanksgiving and other 2017 holiday travel ahead? This timing saves money.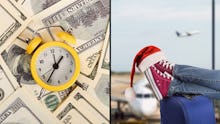 While the holidays mean celebrations, food and family to most, it can also be a time of budgetary stress. Gifts, gatherings and travel can really add up, putting you into debt before you ring in 2018.
With one in five holiday travelers securing their flights before September, according to Bankrate, you might think your window for a good deal has closed. Luckily for you, this could not be further from the truth. In fact, October is actually the golden time to book, with some weeks during the month being more advantageous than others, according to data from Hopper.
While October's fruits may produce some awesome flight deals, that doesn't mean you should wait until the last minute either. "When booking Thanksgiving and Christmas travel, it's best to lock in your airfare now to ensure preferred flights don't get filled up during the busy season," Brigit Zimmerman, senior vice president of air and vacation packages from Priceline said to Mic by email. Early bookers are more likely to have better options for nonstop flights and more convenient departure times.
Plus, booking now provides you with more seat options, George Hobica, founder of Airfare Watchdog said to Mic by email. "The earlier you book holiday travel the more likely you'll get seats together and a better chance or booking an aisle or window. The later you book the more likely you'll end up in middle seat hell. Keep in mind that Southwest Airlines refunds a price drop in the form of a credit voucher in the event you discover the fare went down after you booked." 
When should you buy Thanksgiving and Christmas plane tickets in 2017?
Beyond just "book flights in October," there are specific weeks during the month to buy that are better than others. For instance, you'll find the best rates if you purchase tickets for Christmas during the first week of October.
For Thanksgiving travel, you are pretty safe to book any time during the month, but don't wait until the last week of October as prices begin to rise about $1 per day during the first few weeks of November. The last two weeks before Thanksgiving are probably the worst time to buy as prices rise about $10 per day, according to Hopper.
In addition to timing during the month, the specific day you book can make a difference. "According to the data, the cheapest day to book your travel is on a Friday, where average booking price is $363," Priceline's Zimmerman said. "This is anywhere from $3 to $11 cheaper than booking any other day of the week." Yet other data from Hopper says Tuesday around midnight will produce the most savings. Your best bet might be to run a sample before you buy, checking price fluctuations to see when prices are lowest. AirfareWatchdog's price drop alerts can also be helpful.
When are the cheapest times to leave and return for holiday travel in 2017?
Though arriving the night before Thanksgiving and leaving that Sunday sounds ideal, you may have to play with some dates in order to land the best deal: The most expensive (not to mention busiest) time to depart is the Wednesday before Thanksgiving, Hopper's data shows.
However, if you leave on Thanksgiving morning, you can save an average of about $54. You can also depart earlier in the week. Departing on Monday, Nov. 20 can saves you approximately $48, plus you'll have more time to spend with family and friends.
When should you return from Thanksgiving break? Hopper says you can save in the neighborhood of about $160 by waiting until Wednesday, Nov. 29 rather than bolting on Sunday along with everyone else.
When it comes to Christmas, you have a few more options. Like with Thanksgiving, departing and returning farther away from the holiday will produce more savings, according to Hopper.
The two least expensive days to depart are Saturday, Dec. 16 and Tuesday, Dec. 19 — where you could save approximately $110 on airfare as compared to departing on Friday, Dec. 22, which is the busiest day. And the best day to return is Thursday, Jan. 4, where you could save about $97 on average, versus coming back on New Year's Day with the rest of the weary travelers.
How to get the best deals on holiday travel
Some of the most popular destinations over the holidays last year included New York to Orlando, Florida; Chicago to New York and San Francisco to Los Angeles, according to Priceline.
Using these round trips and comparing insights on least and most expensive times to travel from Hopper, here are the cheapest trips you could score as of Monday, Oct. 2 using Expedia:
Sample Thanksgiving trips
Leaving on Thursday, Nov. 23 (Thanksgiving Day) and returning Wednesday, Nov. 29
New York to Orlando: $168 nonstop on United
Chicago to New York: $107 nonstop on United
San Francisco to Los Angeles: $93 nonstop on Virgin America, Alaska Airlines and United
Leaving on Wednesday, Nov. 22 and returning on Sunday, Nov. 26
New York to Orlando: $446 one stop on Spirit and $452 nonstop on Spirit
Chicago to New York: $346 nonstop on Spirit
San Francisco to Los Angeles: $243 nonstop on United and $244 on Virgin America
Sample Christmas trips
Leaving Tuesday, Dec. 19 and returning on Thursday, Jan. 4:
New York to Orlando: $192 nonstop on Spirit
Chicago to New York: $95 nonstop on Spirit
San Francisco to Los Angeles: $96 nonstop on Delta
Leaving Friday, Dec. 22 and returning on Monday, Jan. 1 (New Year's Day)
New York to Orlando: $450 one stop on Spirit or $516 nonstop on Spirit
Chicago to New York: $238 nonstop on United
San Francisco to Los Angeles: $123 nonstop on United
The bottom line: The early bird gets the worm, but if you travel during "off" times you can skip the crowds and pay even less. Need more cash to help you cover your travel costs? Here's a guide to using side gigs to save up some extra money during the holidays.
Sign up for the Payoff — your weekly crash course on how to live your best financial life.