Trump still says Republicans are close to repealing Obamacare. The evidence says otherwise.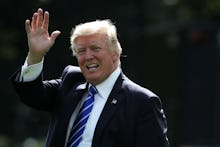 President Donald Trump fired off an indecipherable tweet Wednesday morning on Senate Republicans' latest failed attempt to repeal and replace the Affordable Care Act.
"With one Yes vote in hospital & very positive signs from Alaska and two others (McCain is out), we have the HCare Vote, but not for Friday!" Trump tweeted Wednesday morning, seemingly referring to the health care bill drafted by Sens. Lindsey Graham and Bill Cassidy that failed on Tuesday.
There's a lot to try and unpack in there.
First, the "Yes vote" in the hospital appears to be Sen. Thad Cochran (R-Miss.). Cochran isn't in the hospital, as Trump suggested, but rather recovering from a urological issue in his home state, according to a local television station.
Trump later confirmed that the person "in [the] hospital" is, in fact, Cochran.
And it's unclear what he means by "very positive signs from Alaska."
Sen. Lisa Murkowski (R-Alaska) suggested she wouldn't have voted for the Graham-Cassidy health care bill, making the announcement after Senate Republican leaders announced the bill wouldn't actually be put to a vote.
Murkowski would have been the fourth "no" vote, when Republicans could only have afforded two defections.
Sens. Susan Collins, Rand Paul and John McCain also said they wouldn't vote for Graham-Cassidy. It's possible Republicans could have lost even more votes on Graham-Cassidy, as Sens. Ted Cruz and Mike Lee were wavering on the bill.
And if Republicans try and revive their ACA repeal effort with the same Graham-Cassidy legislation, a special election in Alabama on Tuesday night could make the effort even more challenging.
Sen. Luther Strange (R-Ala.), thought to be a reliable "yes" vote on ACA repeal legislation, lost a GOP primary runoff to Roy Moore, who said he wouldn't vote for the Graham-Cassidy bill. That would leave Republicans with even fewer votes should Graham-Cassidy be revived.
In a subsequent tweet, Trump called for Senate Majority Leader Mitch McConnell to change the rules to nix the filibuster, which would allow the current Republican majority to pass bills without any Democratic support.
"We will have the votes for Healthcare but not for the reconciliation deadline of Friday, after which we need 60," Trump tweeted. "Get rid of Filibuster Rule!"
However the filibuster wasn't what stopped Republicans from passing an ACA repeal. It was the fact that too many Senate Republicans defected from the ACA repeal bills that have been proposed.
Even more, the Senate would need to vote to nix the filibuster, and the votes simply aren't there.
Back in April, 61 Senators — including 28 Republicans — signed a letter urging McConnell not to nix the filibuster.
Sept. 27, 2017 1:10 p.m.: This article has been updated.