'TRL' is coming back, so we talked with La La Anthony, Jesse Camp and more about the MTV classic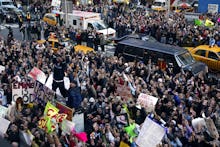 They don't make TRLs like they used to. Or maybe they do. We're all going to find out when the formerly world-beating afternoon MTV video show reboots for a new generation Oct. 2 and every weekday thereafter at 3:30 p.m.
The seeds for Total Request Live's debut were sown years earlier by Dial MTV, itself a precursor to 1997's short-lived MTV Live, which was co-hosted by a pair of young, cross-continental radio DJs: Los Angeles-based Carson Daly and U.K. import Toby Amies. Eventually, MTV Live was merged with another show, Total Request, that was just hosted by Daly, becoming the behemoth that would be known as Total Request Live, with Daly as its face. Over the next decade, it would welcome plenty of on-camera talent (La La Anthony née Vázquez, Vanessa Lachey née Minnillo, Quddus and Hilarie Burton, to name a few) into its ranks and help grow and reinforce the phenomenal stardom of turn-of-millennium icons like Backstreet Boys, Beyoncé, Korn and Eminem.
With this pop-culture institution on the eve of its revival, we caught up with various cast, crew and artists who were a key part of its original run to reflect on what made TRL unique and whether version 2.0 can be number one. These interviews — which were all conducted over the phone — have been edited and condensed for clarity.
Mic: Why didn't the original MTV Live format with Carson and Toby stick?
Toby Amies (ex-MTV Live co-host; director, The Man Whose Mind Exploded): I don't think they really knew what they were doing. It was this very odd fusion of fairly standard American magazine television and what they picked up from traditional MTV methodology. It just seemed really staid to me, from the word "go," and was not as groundbreaking or fun as what I was used to in MTV Europe.
Judy McGrath (ex-MTV Networks chairperson, CEO; founder and president, Astronauts Wanted): It was in the MTV ethos to keep moving. I loved Toby Amies. Maybe some producer decided having two people hosting was awkward.
Tony DiSanto (ex-MTV Live executive producer; TRL Co-Creator; president of MTV Programming; founding partner and owner, DiGa): The way I always saw it was that MTV Live was like: great new studio, breaking in talent, learning how to do live stuff for celebrities and artists, making that place a destination. Total Request was adding a format for music videos, that countdown format.
It was a Carson interview show at the beach house, and Kid Rock was the DJ sometimes. By the time we came back for the fall, we combined it all [for] a one-hour Total Request Live. Toby was such a unique personality and had a specific sensibility, and what became TRL was very pop-oriented. We had a really fun show with [Amies], Live From the 10 Spot, but I think MTV Live was an opportunity for all the talent to work together, but then we started breaking them off.
David George (ex-TRL executive producer; president, ITV America): One of the big reasons they turned Total Request into Live was because when P. Diddy was on MTV Live, a crowd actually formed underneath the window to see him. When they saw that crowd congregate and traffic stop underneath, they said, "Wow, we really have something here."
What was it about Carson that made him such a compelling TRL host?
Bryan Terry (ex-TRL writer and producer; vice president of development and original programming, truTV): For me, that show was so much him. His attitude and point of view and demeanor sort of shaped the show. No matter what we would come up with, it was ultimately Carson's ship. When that show was its best, a lot of what made it cool was the Carson of it. Carson had those unique relationships. He was the person all the rock stars wanted to befriend.
Marni Rothman Ellis (ex-TRL intern; reality TV producer): For me, he was untouchable. I just watched in awe of him.
TA: He was an absolute sweetheart when I worked with him, and he's just incredibly good-natured and relaxed.
Quddus (ex-TRL co-host; co-founder, Camera Ready): We got to step in and have the baked cake. [Carson] was the one that put all the ingredients in, and we got the benefits of coming along and having a really well-oiled machine.
Jesse Camp (ex-TRL co-host, correspondent): With Carson at the time, I used to think of him as a bit square, and I would try and rile him up, and I feel really bad about that. I think there were a lot of times where Carson, coming from the alternative-rock station in L.A. and having a lot of [cred], felt strange putting on an all-Old Navy wardrobe.
Damien Fahey (ex-TRL co-host; writer, Family Guy): I remember Carson saying, "Being the host of TRL is like being a bartender: You may not drink a raspberry kamikaze, but if someone asks for it, you serve it."
"It was as wild as people think... A lot of crazy shit happened." — Damien Fahey
Were you guys totally dumbstruck by how fanatical the crowds outside the studio — and those clamoring to get inside — became?
La La Anthony (ex-TRL co-host; actress, Power): The energy in there was so crazy, just looking into Times Square and seeing so many kids out there screaming and yelling. That was some really big moments we were a part of.
Courtney Mullin (ex-TRL casting director, producer; co-creator and executive producer, Long Island Medium): At the crazy time when I started in '99, it was the height of Backstreet Boys versus *NSYNC, and the moms would be sleeping on the street with their kids and begging me to let their kids in the studio. One dad worked for Peanut Chew and gave me a lifetime supply of Peanut Chew.
John Jude Schultz (ex-TRL producer; executive producer, Watch What Happens Live With Andy Cohen): For a stunt, we locked this group of Backstreet Boys fans in a room in the studio for 24 hours, and their reward would be to meet the Backstreet Boys. And they terrorized the staff.
Deirdre Connolly (ex-TRL producer; executive producer, Watch What Happens Live): *NSYNC fans had more fun with it, and Backstreet Boys [fans] were very earnest and obsessive. It was a different breed, a little bit.
Colleen "Vitamin C" Fitzpatrick (TRL artist, guest; vice president of music, Nickelodeon): It was just really relaxed and fun. You got up onstage, and the kids went crazy. It did feel different than playing The Tonight Show. It felt so much more intimate, and it was all kids, and that was the difference. They were so authentically excited to be in close proximity with the people that were on the radio. Nowadays, YouTube and social media have allowed people to come into your life in a different way. I did not have that same relationship with my fans. They would have to see me in a ticketed environment or on a televised performance. This kind of intimacy was unique.
JM: I really did believe those windows with all the fans outside were a view not just of New York City, but when you think of who comes to Times Square, the world. And we were able to bring a lot of diversity and energy and youthfulness into living rooms everywhere.
By 2002, Carson began dabbling in other projects and pulling back from TRL, and several new talents filtered in. In retrospect, was effectively replacing Carson with a committee of hosts the way to go?
DF: I knew I could never fill his shoes, but once they started having more VJs hosting, it's just natural to have that competitive instinct, so I think there was a healthy competition. It wasn't like Real Housewives.
LA: Everything flowed naturally. We knew each other's strengths on camera. We knew who knew what about which artist. It worked perfectly, and Damien, myself, Vanessa and Quddus had a great time. We were in our early 20s, having a good time and talking to musicians we love.
BT: I understand why they replaced Carson with a slew of people — probably they didn't want to put that pressure on one person — but I personally feel like that shotgun approach affected the true connection that show had.
TD: I was concerned about putting any one person in that slot to replace Carson, so the idea that I'd had was not to replace him with one but replace him with an ensemble. I signed Vanessa, and Quddus was already on board, and then we found Damien at a Boston radio station. He was so good coming from radio, but if he would have done it by himself, the comparison would have been unfair, so we thought the ensemble helped give the energy a different flavor.
Dave Holmes (ex-TRL co-host; writer, actor, producer): I'd always check in every few weeks on it, and I really liked the younger people who were coming in. I thought it was a cool approach. It was actually a lot like MTV Live. I always dug that, where it seemed like a bunch of friends hanging out and then, oh, here's Mark Wahlberg.
With the hosts becoming famous themselves, did the lines between work and a celebrity lifestyle become blurred?
DF: Yeah, you end up partying with people you work with. It was MTV, it's rock 'n' roll. You're in the middle of the Jersey shore at night and have a show to do tomorrow, but you're not gonna hang out in your hotel room, so you meet people from work and get very drunk and miraculously wake up the next morning and do it all again. It was as wild as people think. It wasn't tame at all. A lot of crazy shit happened.
Q: Damien and I definitely ran the streets of New York for a while there. We frequented a club called Suede, and it was this legendary party on a Tuesday night. It was hosted by Joey Fatone of *NSYNC. We ended up in the back corner table more often than not, and Damien and I would both have adventures throughout the club throughout the night. And La La and I would hang as well. I seem to recall [former co-host] Hilarie [Burton] being more of a homebody. Vanessa was more going out to the industry parties and red-carpet stuff, but Damien and I were definitely thick as thieves.
TD: I thought that was a great way for them to bond and get into a natural chemistry. We were all for it so long as they showed up and did their job well.
DH: After hosting a live show, I would pass out, as though I'd been driving for a long road trip. My options [for partying] were either Kid Rock or children. [Ed. Note: Holmes was several years older than most of his fellow co-hosts.] and I didn't have a whole lot in common with either camp. I was not a regular at Scores.
"You almost have to throw out the old so the new generation feels like this is their MTV." — Tony DiSanto
And there invariably must have been some hookups between artists and TRL talent.
DF: I do remember once, it was at the beach house, and I was walking into the makeup room, and Carson had the [New York] Post open to "Page Six," and there was some sort of gossip item about me partying with Lindsay Lohan or something like that, and he was like, "There's my boy."
Q: Coming into the job, my first bit of advice from Carson Daly was be yourself, have fun and don't date girls in the industry. I remember one assignment, I had a villa right down the way from Kelly Rowland's, from Beyoncé's … and I think they were really trying to set me up with Michelle [Williams]. It was probably the loud booming voice of Carson's advice in my head before I did anything like run with their nudges.
DG: With Vanessa, every artist that came in was after her, and she was dating certain people, and there was a lot going on behind the scenes. One day, there was something printed about her in Us Weekly, and she was crying on my shoulder in her dressing room and we're 10 minutes to live. So I sent her home, and that's when you started to realize these VJs are becoming a part of pop culture too. We dealt with it with Carson on a certain level, but this other group was another animal.
BT: Vanessa definitely had plenty of fans, to the point where it would be like, "OK, Vanessa, video's about over, we gotta get you back on set to do this read." So it's like, "I can't tell Diddy or Usher to shut up, but I kind of need to, because I've gotta do some work with this woman."
LA: If you were interviewing somebody and they were flirtatious for the TV, you'd hear something the next day, so you'd be mindful of it. It never stopped me from doing what I was doing. I just wanted to be a great host.
When did it feel like the writing was on the wall that the show was ending?
TD: Like anything with MTV, when you start getting toward the end of one generation of fans and moving into the next, you almost have to throw out the old so the new generation feels like this is their MTV. That, coupled with the fact that the music business was changing and the show had run its course, we felt like, "Hey, let's go out on top and do the big finale."
JC: As with any great movement, it ebbs and flows. Technology played a big part. Plus, the core audience that first started watching TRL ended up going to college and losing touch with that stuff, and the new generation, they're into other things. Plus, when you have the internet, when you have YouTube, you can watch whatever video you want, whenever you want. There's really no point in calling up on a rotary phone or early cell phone and requesting to see your favorite video.
DF: [Hatebreed frontman/ex-Headbangers Ball host] Jamey Jasta was in one of the production offices, and I said, "What are you doing?" And he's like, "I'm on this website YouTube." And I'm like, "Holy shit, that's amazing." So I went home that night, and I remember typing in all my favorite bands and watching their videos, and then it hit me: "Uh, oh, this isn't good."
What are your expectations then, for whether there's a place for TRL in 2017?
BT: I don't know. It's really weird, because for one, if you look at the base level of the commodity you are tracking, the music video, [it's] absolutely irrelevant today. The way I'd come home and just turn on MTV the way kids now have their phones with them — that behavior isn't there, so I have no idea. On the flipside, the labels are so desperate that I'm sure they're gonna go all in and that will help. But I just think those conversations and debates, and the way information was surfaced, it isn't going to be a half-hour or hour television show that comes on one time a day that's going to provide that.
TD: Now's the right time to bring something like it back. It will feel fresh for a new generation, and I know the guys on the inside there now. They're really talented and know the audience so well. It could be the moment to bring back something that celebrates pop culture and videos and music and take what has become a siloed world and bring fans back together again.
JC: TRL was never about so much who's at number one. It was more about, hey, anyone that's young or young at heart who wants to know what's happening in the world now, here you go, and it's all in one place. In this age we live in now, people aren't as unified and don't relate to each other as much, and I think TRL is gonna bring really good energy back and could create a sense of belonging the youth need now more than ever.
LA: To hear it's coming back is exciting, so long as it's done correctly. It was good to come off the air on a high, and now to reboot and do it all over again I think is a great idea.
CF: The audience wants to be a part of the conversation, and TRL did exactly that. That doesn't go away. Kids still want to do that, and countdown shows I don't think will ever go out of style.
JM: You need to look at it as something brand new, because that's what it will be for the people who discover it. The very things that made it necessary and charming in its time could live again, so I'm optimistic. I would try it if I were them.
DF: I still believe it's intrinsic in human beings that they want to be a part of and gather around something. It's more rare these days to get everybody excited about the same thing, and TRL could create that again, so I'm hoping the new version sparks that.