Road Trip Diaries: 6 spectacular things to do between San Francisco and Big Sur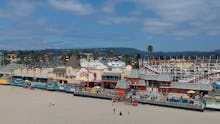 "Big Sur is the California that men dreamed of years ago," wrote novelist and one-time local resident Henry Miller in his 1957 memoir. "This is the face of the earth as the Creator intended it to look."
Even today, the rugged California coast from Monterey to San Luis Obispo is an achingly beautiful place (displayed in all its glory on Big Little Lies), where the golden Santa Lucias give way to Tolkienesque redwood forests, with soaring cliffs, hidden beach coves and the thundering Pacific surf beyond.
To get there, head south from San Francisco on storied California Highway One, which winds and weaves its way south along the sinuous coast through the laid-back surf city of Santa Cruz and down to golden Monterey. If you slow down enough along the way — and manage to take your eyes off the vistas — you'll discover award-winning wineries, innovative restaurants and impressive art galleries hidden away in the folds of that breathtaking landscape.
1. Andytown Coffee Roasters
3655 Lawton Street, San Francisco, California 94122
For the best coffee in San Francisco, follow the fog to the salt-sprayed Outer Sunset, where the husband-wife team of Lauren Crabbe and Michael McCrory are building a modest coffee empire with an industrial roaster and two tiny cafés. Hit up the original Andytown on Lawton Street and order a snowy plover — the cafe's signature cold drink is a shaken mixture of espresso, brown sugar syrup, Pellegrino and a dollop of homemade Bailey's whipped cream — and enjoy doorstep views of Pacific waves crashing against Ocean Beach while the brain fog lifts. To top off the tank, pair it with house-made pastries, like a scone or a killer griddle-baked Northern Irish soda bread that's been adapted from an old McCrory family recipe.
2. Santa Cruz Beach Boardwalk
400 Beach Street, Santa Cruz, California 95060
The 110-year-old boardwalk may not offer the high-tech thrills and gut-churning chills of Cedar Point or Six Flags, but it has plenty of its own attractions. There's the golden-sand beach that birthed California surf culture, a sprawling video arcade, indoor mini golf and more nostalgia than all the theme park chains put together. Plus, admission to the boardwalk is free, so you can walk the 'walk, gnaw on saltwater taffy from Marini's candy stand, build a sand castle and soak up the sun even if you don't want to ride. It's a step back in time, and utterly charming.
3. Monterey Bay Aquarium
886 Cannery Row, Monterey, California 93940
This world-renowned aquarium, with its psychedelic jellies, cutesy sea otters and soaring, fish-filled tanks is a must-visit window to the wonders of the ocean. That's partly because it's one with the ocean — a special system pumps 2,000 gallons of fresh Pacific seawater in every minute to create the constant motion that many species need to survive — and also because it's as close as you can get to swirling sea life without pulling on a wetsuit and diving underwater. Step inside and embark on a Cousteau-worthy "undersea" adventure, where you'll meet the bashful (and scary-smart) giant Pacific octopus, stand mesmerized in the center of a churning school of sardines and learn what lurks beneath the waves of those endless Big Sur vistas. $49.95 for adults, $39.95 for students
4. Point Lobos Loop Trail
Point Lobos State Natural Reserve, Carmel-by-the-Sea, California 93923
Sea lions, sea otters and shore birds share this gorgeous headland south of Carmel with coyotes, gray foxes and monarch butterflies. In fact, nearly all of the charms of California's amazing coastline are crammed into this one stop at Point Lobos State Reserve — crashing waves, rugged sea cliffs, barking sea lions, rolling wildflower meadows, chattering shorebirds, pine and cypress forests, sun-bathing sea otters and otherworldly rock formations. The 7.1-mile loop links the South Shore, Sea Lion Point, Cypress Grove, North Shore, Granite Point, Carmelo Meadow and South Plateau trails and takes just three hours to complete. It's a grand tour of Big Sur's wild side. $10 per vehicle
5. Cultura
Dolores Street between 5th Avenue and 6th Avenue, Carmel-by-the-Sea, California 93923
In a city full of stuffy French restaurants, Oaxaca-inspired Cultura offers a refreshingly laid-back alternative. Founded by Sarah Kabat Marcy of Post Ranch Inn and John Cox of Sierra Mar, it's a casual place — food is served family-style — though every aspect is infused with the owners' fine-dining pedigrees. The seasonal menu of fresh, artistic dishes ranges from street tacos and cervezas to Wagyu ribeye and Black River caviar. Cultura also specializes in smoky mezcal (it has more than three dozen varieties), which serves as the base of its highly recommended house margarita.
6. Glen Oaks Big Sur
47080 Highway One, Big Sur, California 93920
At Glen Oaks, a chic eco-retreat carved from the bones of a 1950s motor lodge, the cabins have retro furnishings, ornamental succulents and heated tile floors. But it's the ruggedly beautiful surroundings that steal the show. Outside, gorgeous fireplaces are framed by towering, knobby-kneed giant redwoods that make the whole property feel like a secret hideaway. Relax by the fire, listen to the burbling Big Sur River as it rushes by, and revel in your own private Big Sur getaway. Rooms from $175 per night