DeRay Mckesson: Judge in Black Lives Matter lawsuit didn't "penalize me for fighting for justice"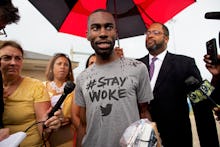 DeRay Mckesson, a prominent activist in the Black Lives Matter movement, expressed relief on Thursday, after a federal judge in Louisiana threw out a lawsuit filed against him and the movement following anti-brutality demonstrations last year.
A Baton Rouge police officer, who sued Mckesson and BLM anonymously, was injured by a rock thrown during protests over the July 2016 police shooting death of Alton Sterling. U.S. District Judge Brian Jackson dismissed the lawsuit, ruling that BLM was not an entity that could be sued, the Associated Press reported.
Jackson also said the anonymous officer, who accused Mckesson of inciting violence against law enforcement, failed to demonstrate how he had done anything other than engage in "protected speech." Mckesson was among hundreds of protesters arrested near Baton Rouge and in other U.S. cities, where protests erupted over Sterling's death and the police shooting death of Philando Castile in Falcon Heights, Minnesota.
"It is important the judge in this instance did not allow this officer to use the court to penalize me for fighting for justice," Mckesson said in a text message to Mic. "I am hopeful that this will lead to other judges ruling similarly in the future."
Billy Gibbens, Mckesson's attorney, had argued during a June hearing that BLM did not have the hallmarks of an official association. "This is a movement, and there isn't a person who is responsible for it, or the leader or the founder of it," Gibbens told the judge during the June hearing.
The Movement for Black Lives, a coalition of 50 grassroots activist groups associated with the Black Lives Matter movement, includes the Black Lives Matter Global Network of over 40 local chapters. But the lawsuit named "BLACK LIVES MATTER" as a defendant and incorrectly associated it with Mckesson, who co-founded the police reform policy group, Campaign Zero.
Mckesson and others still face a separate, pending lawsuit filed by Donna Grodner, the same attorney representing the anonymous officer. Grodner sued Mckesson and BLM on behalf of a sheriff's deputy critically wounded by a gunman who ambushed multiple Baton Rouge officers on July 17, 2016, according to the AP.
Thursday's ruling was at least the second time a federal judge dismissed a lawsuit filed against BLM and Mckesson. The founder of a conservative group in Texas had sued the parties after an attack on Dallas police officers in July 2016. On June 2, a judge ruled that plaintiffs had not proven BLM was an entity that could be sued and the claims were withdrawn.