Road Trip Diaries: 7 must-sees on the drive between Portland, Oregon, and Olympic National Park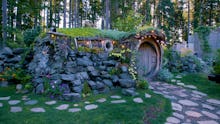 "Lush" is the first word that comes to mind when you think of the Pacific Northwest. From the moss-draped bigleaf maples of Portland's Forest Park to the dripping Hoh Rain Forest at the foot of Mount Olympus, the region is famous — perhaps infamous is a better word — for its soggy, monochrome climate. But there are other words, too. "Quirky" Portland, with its own culture so aptly portrayed by Portlandia. "Caffeinated" by famed coffee houses and roadside espresso carts. "Crunchy" for the progressive politics that pervade the urban centers and coastal regions. And, of course, "outdoorsy," for all of those incredible landscapes, from the rain-soaked Olympics to the Columbia River Gorge. And the people? They enjoy it all, no matter the weather. This road trip from Portland to Olympic National Park is one easy, fun way to discover what you're missing.
1. Fried Egg I'm In Love
3207 SE Hawthorne Boulevard, Portland, Oregon 97206
You'd be hard-pressed to find a more Portland dining experience than Fried Egg I'm in Love, a little yellow food cart in Southeast PDX that serves the city's best breakfast sandwiches alongside fresh-brewed Stumptown joe and mimosas. The eggs are sourced from local farms, served on Portland French Bakery sourdough, sprinkled with "Magic Egg Dust" (a secret spice blend) and come with a side of witty humor, courtesy of punny, music-themed names like Yolko Ono, Egg Zeppelin and Smells Like Protein Spirit (the owners met in a psych-rock band). Filling and easy to eat one-handed, it's an ideal to-go breakfast. Grab a Sriracha Mix-a-Lot — fried egg, seared ham, fresh avocado, tomato, havarti and Sriracha — and get rolling.
2. Mount St. Helens Visitor Center
3029 Spirit Lake Highway, Castle Rock, Washington 98611
At 8:31 a.m. on May 18, 1980, Mount St. Helens stood 9,677 feet tall and almost perfectly symmetrical. One minute later, an earthquake shook the mountain, causing its entire north face to collapse into a massive rock and ice avalanche — the biggest ever recorded — that triggered a devastating eruption. Nearly four decades later, the mountain is 1,300 feet shorter, and the landscape is still scarred by the disaster that killed 57 people, flattened nearly 150 square miles of forest and destroyed 185 miles of highway. Life is reclaiming the scorched, battered landscape as plants rise from the ashes and animals find new niches in a changed forest. To witness it firsthand — and get a close-up view of the danger lurking beneath all those iconic PNW volcanoes — head to the Mount St. Helens Visitor Center, where interpretive exhibits tell the story of that horrible day, and a nature trail traces Silver Lake, which was created by an earlier eruption. $5 per adult
3. Wolf Haven International
3111 Offut Lake Road SE, Tenino, Washington 98589
Take a walk on the wild side at Wolf Haven International, a wolf sanctuary that has rescued and housed 200 displaced, captive-born animals in its 35-year history. A guided 50-minute walking tour offers rare encounters with some of the two-dozen gray, Mexican and red wolves currently in residence, as well as chance to hear their hair-raisingly beautiful howls. While all of the wolves on the public tour will live out their days in the safety of the sanctuary, Wolf Haven devotes a remote part of its property to captive-breeding highly endangered Mexican wolves that are periodically released into the wilds of Mexico and the American Southwest. $13 for adults, $11 for students
4. The Brothers Greenhouses
3200 SW Victory Drive, Port Orchard, Washington 98367
It's always a little magical — like something teased from thin air — when a garden springs from the earth and matures to bear flowers, fruit and vegetables. But at the Brothers Greenhouses on the Kitsap Peninsula, owners Cheryl Pelkey and Marilyn Davis have created a different kind of magic with a life-sized Hobbit house straight out of Middle Earth. Visitors, from the casually curious to hardcore Lord of the Rings fans, are welcome to step through the round door and into a pint-sized, Tolkienesque fantasy world, complete with working fireplace and sitting area. Among the thousands of plants available for sale at the garden center are equally fantastical miniature fairy gardens, including one inspired by Bilbo Baggins' neighborhood in the Shire.
5. Hike Hurricane Ridge
Hurricane Ridge Road, Olympic National Park near Port Angeles, Washington
To break free of the crowds on Hurricane Ridge — so-named for its foul-weather winters, when 75-mph winds buffet the ridge and 30-plus feet of snow bury its flanks — head out to Hurricane Hill, a relatively relaxed, paved 1.6-mile trail. It traverses riotous wildflower meadows (full of Scotch bluebells, Indian paintbrush, Fireweed and Indian thistle) on its way to a small summit with 360-degree panoramic views of the snowy Olympic Range, Puget Sound and Vancouver Island. Keep your eyes peeled along the way for alpine animals like mountain goats, elk, the endemic Olympic marmot and black bears. Even without any wild encounters, the return on your sweat equity can't be beat, making Hurricane Hill one of the best trails in Olympic National Park. $25 per vehicle, valid for seven consecutive days
6. Sunset views at Rialto Beach
Mora Road, Olympic National Park near La Push, Washington
Olympic National Park protects one of the longest stretches of wilderness coast in the lower 48 states, a land and seascape that's home to sea lions, sea birds, seals, whales, otters and eagles. From the Rialto parking lot, simply wander north along the beach, digging your toes into the sand, climbing over rocks and navigating haphazardly strewn driftwood until, 1.5 miles later, you reach Hole-in-the-Wall arch — we recommend timing your hike to catch sunset views. If the tide is out, scramble through it and explore the adjacent tide pools, which teem with starfish and anemones. With a wall of towering trees and undergrowth at your back and deserted beach on either side, you'll feel like you're alone at the end of the world. But in a good way. $25 per vehicle, valid for seven consecutive days
7. Domaine Madeleine
146 Wildflower Lane, Port Angeles, Washington 98362
On a high bluff overlooking the Strait of San Juan de Fuca, this ultra secluded six-room bed and breakfast is a cozy hideaway within easy driving distance of Olympic National Park. The 10-acre property is a lush mix of evergreens, koi ponds, strolling gardens and organic vegetable and herb gardens, where proprietors Jeri Weinhold and Jamie Collier grow some of the ingredients for their famous gourmet breakfasts (and the eggs come from on-site coops). Book one of three contemporary cottages — each with its own private patio, fireplace and spa-inspired bathroom — and stay for a night (or three) in your own secret garden. From $215 per night