Las Vegas Concert Shooting: At least 50 killed, more than 200 wounded in music festival attack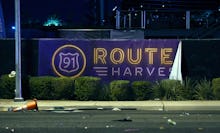 At least 58 people have died and more than 500 people have been injured during an ambush attack on a country music festival in Las Vegas on Sunday night.
A gunman, who law enforcement officials have identified as 64-year-old local resident Stephen Paddock, fired on a crowd of thousands from nearby at a Las Vegas resort, according to multiple news reports.
Paddock has been killed, a Las Vegas police official said.
Videos of the attack captured outside of the Mandalay Bay Resort and Casino show people scrambling as bullets rained down on the Route 91 Harvest Festival.
The three-day event had been wrapping up with a headlining performance by country singer Jason Aldean. The gunfire interrupted Aldean's set, and concertgoers are seen in online video footage ducking for cover.
The shooting is being considered the deadliest mass shooting in modern U.S. history, eclipsing last year's mass shooting at the Pulse nightclub in Orlando, Florida.
Oct. 2, 2017, 11:45 a.m.: This story has been updated.