For Elle Hearns, the fight against transphobia starts with dismantling white supremacy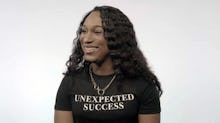 WASHINGTON — Elle Hearns stepped to the podium at the national March for Black Women on Saturday and delivered a message some might mistake as a call for unity.
"To our sisters, we stand with you today — not against you in experiences, but as mirrors," Hearns told more than 250 black women and activists gathered in Seward Square in Washington, D.C. "It is your duty as our sisters to demand that we are honored and protected, in the same ways that we demand the same for you."
As a black transgender woman who helped build the Black Lives Matter movement over the past four years, Hearns has made black trans liberation her mission. Transgender women of color are murdered at a rate of one in 2,600 in the United States. Advocates see intimate partner violence against these women as an urgent matter they need to confront.
"Transphobia is just a little room in the house that white supremacy is."
But Hearns' mission also requires her to challenge how black trans people get treated in the spaces where they are meant to find refuge: namely, black social justice communities. She says activists often use trans people as tokens to help their work look inclusive, but fail to recognize how they fit into broader fights for justice.
Saturday's rally was a chance for Hearns to correct her fellow organizers. Those who see trans communities as separate from other marginalized groups are actually working against their liberation, she said.
"Transphobia is just a little room in the house that white supremacy is," Hearns said in a sit-down interview days ahead of the march. "I'm always thinking about what can I do to end white supremacy. What actions do I need to take to actually interrupt this as a system?"
One answer has been the Marsha P. Johnson Institute Hearns founded in 2015. The institute is named for an icon of the LGBT rights movement who was instrumental in the landmark Stonewall riots of 1969. The Johnson Institute, which will officially launch in the spring, is a resource for black trans and gender nonconforming femmes who wish to build communities free of anti-trans violence.
Hearns, 30, was born in Columbus, Ohio, one of three children raised in a single-parent home. In her interview with Mic, she said her childhood was consumed by a "fantasy land" she'd created to help her escape her lower-middle-class upbringing. Like most parents of her time, Hearns' mother lacked the tools to teach her how to cope with life as a trans girl. But she instilled in her daughter a sense of pride in blackness and the value of self-determination.
"That is how I remember it: black people, definitely a black community of middle-class [or] lower-class ... individuals who wanted better for themselves," Hearns said. "It's a place I kind of return to when things are dark."
Hearns eventually became a youth organizer in Columbus, but her activism found new direction after she endured life as a trans woman living in an all-male dorm at Central State University, the historically black college in Wilberforce, Ohio.
It was there both anti-racism and trans issues became her calling. That work continues today. Hearns cofounded the Black Lives Matter Global Network in 2013 following George Zimmerman's acquittal for the murder of Trayvon Martin. She later helped develop "A Vision for Black Lives," a policy platform a collective of BLM movement organizers released in 2016.
Hearns recently stepped away from the network, where she'd served as a strategic partner, to focus on the Marsha P. Johnson Institute. But her value there remains hard to dispute. Leaders in the Movement for Black Lives, a coalition of more than 50 grassroots activist groups associated with the BLM movement, often struggle to rally their communities around advocacy and safety for black trans women. Where activists have less trouble getting the names of black men killed by police to trend on social media — and in some cases, those of cisgender black women — it's been harder with transgender victims like Keke Collier, Chyna Doll Dupree or Alphonza Watson, activists say.
These black women are among the several trans-identified people killed in violent incidents this year. According to Mic's Unerased, a database of transgender killings since 2010, at least 20 homicides with trans victims have been recorded in 2017. In the latest annual report of the National Coalition of Anti-Violence Programs, which tracks anti-LGBTQ violence, three-quarters of 2017 transgender homicide victims have been women of color.
But Hearns insists trans people don't need separate campaigns, strategies or resources to end anti-trans violence. They already live in many of the same margins as poor, overpoliced or undocumented cisgender victims.
"It is interesting those who chose to engage in separating the trans community or separating black trans women," Hearns said. "By centering these communities, you're actually highlighting issues that affect everyone."
The challenges are cultural, too. Trans women are frequently the butt of jokes, but these jokes cut deeper for Hearns when they come from her fellow black people. In August, Hearns' Marsha P. Johnson Institute launched a petition demanding The Breakfast Club, a nationally syndicated urban radio program known for its raunchy celebrity interviews, be taken off the air for entertaining a guest's violent transphobic rhetoric. On July 28, black comedian Lil Duval told the show's three black hosts he'd kill a woman if she told him she was transgender only after they had sex.
The incident pushed the Johnson Institute into the national spotlight, Hearns said. "It is really, really important for people to understand that bold hate requires bold action. That was the standard that we wanted to set," she said.
And The Breakfast Club boycott stills stands. iHeartRadio, the parent company for the New York City-based Power 105.1 station — along with the hosts — offered no apologies and gave inadequate statements after the incident drew bad press, she said.
"Yeah, the boycott, it will stand forever," Hearns said.
Since President Donald Trump was inaugurated in January, his administration has sought a ban on transgender enlistees in the armed services, rescinded Obama-era guidance on transgender bathroom access in public schools and argued in federal court that the Civil Rights Act does not protect LGBTQ individuals from employment discrimination or termination due to bias against their identities.
However, during a hate crimes summit in June, U.S. Attorney General Jeff Sessions said he'd directed the Justice Department's Civil Rights Division to work collaboratively with federal prosecutors, the FBI and local law enforcement agencies to review "a spate of murders around the country of transgender individuals."
The prospect of engaging the Trump administration on anti-trans violence will never be attractive, Hearns said.
"From where I stand, it sounds like a way to just generate more funding and more resources for police," she said. "And based on Jeff Sessions' record, I have no reason to doubt that his interest is not the same of the people who are being most impacted, who are being murdered and who are living in harsh conditions even before they're murdered.
"I felt that way about the previous administration, as well, to be quite honest. I'm not biased; I'm clear about what it means to be in a working relationship with the state and the harm that the state causes."
In recent interviews, several BLM movement leaders have said they look to Hearns for leadership as they perfect their messaging around transgender issues.
"I think there is a sincere radical honesty that she embodies and has pushed others to realize," April Goggans, an organizer for the Black Lives Matter Global Network's D.C. chapter, said in a phone interview Thursday. "That radical honesty comes from a deep place of love and wanting us to realize what liberation really is and to make sure our centering of trans women is not simply performative.
"Until we are honest about where we are and where we need to be, then we're not really in the fight for all black lives," Goggans added.
Hearns' face lights up when she talks about Marsha P. Johnson, the LGBT movement icon and participant in the 1969 Stonewall riots in New York City. Johnson resisted anti-LGBT oppression in her own way, Hearns said.
"Marsha was not necessarily going to be screaming and yelling," Hearns said. "Not everyone is meant to shut down a highway. She spent so much of her life trying to honor others, and it just felt really important ... that many more trans women have access to her and know how great she was."
On Friday, Netflix will release a documentary titled The Death and Life of Marsha P. Johnson, which re-examines Johnson's untimely death in 1992. Johnson's body was found floating in New York's Hudson River. The New York Police Department ruled her death a suicide, although some evidence pointed to the possibility of homicide.
Hearns said she worked as a community partner with David France, the film's director.
"I do think Marsha deserves to have her story told and deserves to be fought for," Hearns said. "This movie does an amazing job of that and I think it will serve a great purpose for those who desperately need to see themselves in someone else."
Ultimately, Hearns' fight won't be over until all movements evolve on how they consider transgender people.
"There's this idea that if I call you the pronouns that you say, then my work in respecting you as a human being is over," she said. "And that's not the reality. The reality is that's just the first step to developing relationships that actually affirm the humanity of anyone, regardless of your gender identity, regardless of your race."