New study shows most Americans disagree with Trump on NFL anthem protests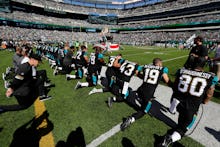 A majority of Americans support NFL players' right to protest before and during the national anthem and think president Donald Trump's anti-protest rhetoric is inappropriate, according to a new poll.
USA Today researchers on Monday released the findings from their latest survey of U.S. registered voters' opinions regarding Trump's ongoing feud with NFL owners and the league's players.
The surveyors, who called 1,000 registered voters between Wednesday and Sunday, found 51% of those polled said the players' anthem protests were "appropriate," while 42% said the opposite.
About 68% of respondents said Trump was out of line for calling on NFL owners to fire the "son-of-a-bitch" players who protested the anthem.
A majority of those polled, including one-third of Republicans and nine out of 10 Democrats, also said Trump telling football fans to boycott NFL games was inappropriate.
Rev. Cassius Rudolph of the People's Consortium for Human and Civil Rights, which helped organize an ongoing NFL boycott in support of free-agent NFL quarterback Colin Kaepernick in August, says the new survey results show most Americans disapprove of the president trying to silence and punish people exercising their First Amendment rights, even if they don't necessarily agree with protesting the anthem.
"The country is waking up and seeing that our president is trying to divide us even more by making negative comments about the NFL," Rudolph said during a Monday afternoon phone interview.
Finding a compromise?
Most NFL players chose not to kneel during the National Anthem on Sunday, but many found alternative ways to protest.
Several Cleveland Browns players adopted 1968 Olympian Tommie Smith's Black Power salute during their home field's pre-game anthem performance.
About a dozen members of the Jacksonville Jaguars team followed the Dallas Cowboys' lead by kneeling before the pre-game anthem prior to their Sunday afternoon game against the New York Jets, whose team members locked arms while the anthem was performed.
The Green Bay Packers and Chicago Bears did the same during their Thursday night NFL game.
Indianapolis Colts players wore T-shirts showing support for "equality, justice, unity, dialogue and opportunity," during their Sunday night pre-game warm-ups on the field.
Their display harkened back to the anti-police brutality statement free-agent quarterback Colin Kaepernick made when he started the anthem protest movement in 2016.
"Folks are standing up for what they believe in and standing up for Colin Kaepernick and the reason why he knelt in the first place," Rudolph said.