Barbie Ferreira wants to talk to you about feminism and fashion's struggle to be inclusive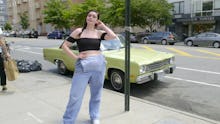 Model Barbie Ferreira sees the irony in a woman like her hosting what's being billed as an etiquette show.
"I'm completely the opposite of an etiquette icon," Ferreira said in a recent phone interview. "I'm brash and I don't follow any social rules, really. I'm nice, but really I'm the least put-together lady in the world."
And yet here is Ferreira, confidently hosting her own Vice-produced show called How to Behave, which airs weekly on Wednesdays on the streaming service go90. The show follows Ferreira as she challenges some of the more outdated societal expectations and rules the world has thrust upon women. Some examples: "Let him pay for the first date" or "Don't call him, he'll call you." Episode topics include things like dating, money, food and sex.
During the show, Ferreira sits down with experts and tries to bring an intersectional feminist perspective to every topic she can. "I wanted to take this show in a direction where we explore feminist issues and intersectional feminist issues, and people of all identities and walks of life tell us about them," Ferreira said. "It's not just me as a white woman with privilege as a model, but I get to have a personal journey and let these people tell their own stories."
At 20 years old, Ferreira represents a new kind of model. She came onto the scene just four years ago after sending some "very blurry, very embarrassing" (according to her) photos of herself to American Apparel, which landed her in campaigns with the store. Petra Collins, the famed photographer known for rejecting the male gaze rather beautifully in her images, was working with the company at the time, and then started to shoot Ferreira, which is what got her into publications like i-D magazine and CR Fashion Book.
But varying between sizes 12 and 14, her relationship with fashion actually became more difficult and uncomfortable after she entered the industry.
"I feel like growing up, yes, I loved looking at fashion. I loved Tumblr," Ferreira said. "Obviously, I couldn't really afford to have that confidence, but I loved looking at the fashion. But when I got into the industry, I stopped looking at the fashion. Even if I did want to wear something, it was like, 'They don't even cater to anyone in my size.' I think it's just rude. So I don't follow high fashion that much. It just doesn't cater to me."
With more genuinely talented and thoughtful designers and brands paying more attention to plus-size women, Ferreira has remained adamant about modeling only for brands she believes in, like Lane Bryant, Chromat, Adidas or Rachel Antonoff, for whom she walked at New York Fashion Week in September.
"I keep an eye on people who don't only cater to white, cis, tall, thin people," Ferreira said. "It's like, why is it just one certain person who shows us clothing, when we all wear clothing?"
Now with an entire show devoted to starting difficult conversations between people, Ferreira obviously has a few conversations she'd like to open up in fashion, too. For one, why can't fashion get over this idea that thin and white and tall is really the most attractive?
"Tradition in fashion is held with such a high regard," Ferreira said. "People don't like to change, and right now they love to glamorize and idealize certain people. I think that really limits so much, financially and creatively. Still, to this day, the fashion world is exclusive to thin and white women. We have to be like, 'This isn't real life.' There's no reason to have these standards."
Being young as Ferreira is, she finds herself in a pack of other young models like Diana Veras and Hari Nef, who are outspoken about their own efforts to change how the fashion industry operates.
"We're all being challenged in different ways. There's camaraderie," Ferreira said. "We want to see each other shine. We want to see difference in any shape or form. My favorite models are always going to be the people who are pushing the boundary and challenging what it is to be a model. They inspire me, in the many ways that they're challenging the fashion industry."
At this point, Ferreira only wants more change to come, and thinks that people who break the white, thin, tall fashion industry norm should be at the helm of this change.
"With different perspectives and ideas in the industry, change is going to come naturally," Ferreira said. "People are really sick of traditions, like thinness or whiteness. My one whole thing is: If you're a young person, create. That's how we're going to change it from the ground up. Change isn't going to happen by showing one 'different' model once in a campaign. It's people with different perspectives running shit, because they can speak with experience."
You can see the trailer for How To Behave below: