The sacred history of Barton Springs Pool, the spiritual spot where Austin locals learn to swim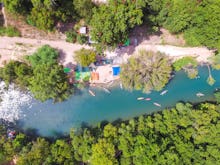 Beloved destinations often have overlooked histories. Mic dives into how the past shapes what travelers see today.
Every year, more than 1.5 million people frequent the three-acre Barton Springs Pool in Austin, Texas — a primordial swimming hole in the middle of one of America's fastest-growing cities. The water, pure as a mountain lake and fed by underground springs, hovers around 68 degrees, cold enough to elicit a gasp upon entry. Steep, sun-soaked, grassy slopes face the pool like the tiered seating of an amphitheater.
Countless Austinites have taken their first strokes there, including a young Robert Redford. Today, Austin residents pay $3 or less to enter — not bad to enjoy a fleeting confrontation with the sublime. Since the days when Native American tribes performed rituals by the waters, people have come seeking joy, relief, purification, healing and a recess from individuality.
Tech venture capitalists sit on towels alongside grad students, children, guitar-strumming musicians, ATX old-timers and the occasional topless woman. Bathers on emoji-inspired inflatable pool floats drift across the dark blue surface. Celebrities like Emily Ratajkowski snap Instagram selfies by the edge. In the early morning, swimmers slip into the mist-covered waters to put in their daily laps. By a full moon at night, crowds gather in bathing suits to howl at the white disc in the sky.
Diving into a sacred past
The natural wonder formed between 5 million and 20 million years ago as the Earth began to buck and heave in central Texas, thrusting up a long, curving ridge of land from modern-day Del Rio to Dallas. Surrounded by plains and hills, this raised arc trapped storm clouds like a fence, dousing the area with extreme rainfall. The water seeped through the fractured rock, forming an aquifer in the bed of fractured limestone below. In some places, pressure forced groundwater back up to the surface, creating frothing white fountains and crystalline natural pools. Among them was Barton Springs, which has entranced human beings for 10,000 years, evoking an awed, often spiritual response in its diverse visitors.
"I literally have had an out-of-body experience there," Karen Kocher, director of an interactive documentary about Barton called Living Springs and lecturer at University of Texas at Austin, said in a phone interview. "I felt the smallness of my own being, swimming there one night. I was laying back in the water and it was dark and the stars were out, and I was just lying there spinning around. And I thought, 'God, I am one little speck in this pool in the Earth.' I had to stop myself — I felt like Horton Hears a Who!"
The springs have provoked these kinds of transporting experiences for thousands of years. Historians believe the 4,000-year-old White Shaman panel — an epic rock painting near the Rio Grande that depicts a shaman's trip to the spirit world — includes Barton Springs as part of a prehistoric religion's mystic topography. Archaeological evidence has uncovered traces of Tonkawa and other Native American tribes living around the springs.
"Springs are gateways into the underworld," Gary Perez, former custodian of the Native American Church National Trust, said in "Spirit Waters," a mini-documentary within Living Springs. In the modern-day water ceremonies depicted in the film, women blow smoke into the springs through reeds, allowing prayers to flow through the life-giving waters.
Disputed lands and mystical powers
Long after tribes began frequenting the springs, the next visitors came with a religious mission: Franciscan friars, a group of Catholic missionaries, sought out the springs back in 1730, attempting to convert local tribes to Catholicism. However, they abandoned their efforts after a year.
After the friars' brief visit in the 1700s, the watering hole had several different caretakers. The Mexican government won the territory from the Spanish in 1821 and invited private settlers to the area, eventually attracting William "Uncle Bill" Barton, known as the Daniel Boone of Texas — a loner frontiersman who was an early pioneer in the region around Austin. Onlookers, swimmers and fishermen who were drawn to the springs' natural beauty began to call the spot "Barton's." After Barton's death, the property switched hands multiple times; during one period, it functioned primarily as a gristmill to grind grain into flour.
The man who would one day bestow Barton Springs to the local government arrived in 1876: 18-year-old Andrew Jackson Zilker, who moved to Austin with just 50 cents jangling in his pocket. Through entrepreneurial zeal, he made his fortune by manufacturing ice and later began purchasing hundreds of acres of land, including Barton Springs. In 1917, Zilker made a deal with the city council and school board of Austin, selling the springs and 50 acres of his land for $100,000 on the condition the money go toward education and the land become a public park.
Zilker was wise to the watering hole's special powers. In a speech, he called Barton Springs "a sacred place" that "ought to belong to all the people of Austin."
Decades passed and Austin expanded, eventually developing the park around the springs, building a bathhouse and holding civic events, gospel-singing nights, swimming competitions and pageants. Locals began referring to Barton Springs as "the Soul of the City."
The belief Barton Springs is sacred — to people across faiths as well as those who weren't religious — became a key argument for its preservation. In her book, Distant Publics: Development Rhetoric and the Subject of Crisis, author Jenny Rice wrote that the springs were described as "something more than beautiful or enjoyable" during a debate in the 1990s over an Austin housing development near Barton called Circle C Ranch. "They were spiritual, holy and beyond human creation," Rice wrote.
Some of the most public battles fought by Austin-based environmental activists have been about protecting Barton Springs. Since creeks prone to pollution feed into the springs, unregulated development around Austin directly threatens the aquifer that supports the springs. A proposal by a mining company to develop 4,000 acres, including land along Barton Creek, sparked a dramatic citizen response and eventually led to the Save Our Springs (SOS) Ordinance in 1992, which continues to protect the land around the springs and aquifer.
Many local environmentalists feel that while the springs remain perfectly swimmable, the natural integrity of the pool has been tarnished by human intervention. While the waters were once so crystal clear you could see a penny on the pool floor, these days the view to the bottom is usually obscured, Kocher, the director of Living Springs, said in an interview.
But for lovers of Barton Springs, the power of the millennia-old site lies in its timelessness, a suprahuman presence which, at its most affecting, helps bring people from all walks of life together.
"There's a lot of people there who are really different from me," artist, frequent Barton-goer and Living Springs contributor Nelson Guda said in a phone interview. In the community of Barton regulars, people often don't know what others do for a living because the setting is far removed from their day-to-day professional lives. "The joke is people don't recognize each other without their bathing suits on," Guda said.
In the 1990s, local figure Mary Rohlich began to help organize full-moon swims at Barton Springs, a tradition that continues today. Gathering together under the shade of night, participants howl and yip at the glowing astronomical sphere above, giving voice to an irrepressible emotion the springs have so often produced. It's one difficult to put into words — a deep, affirming connection with the ancient land.