Rep. Tim Murphy allegedly pressured mistress to get abortion — then votes yes on anti-abortion bill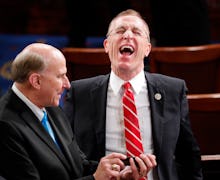 The House on Tuesday passed a 20-week abortion ban that could ultimately send violators to prison for up to five years. The bill passed with the help of Rep. Tim Murphy (R-Pa.) who co-sponsored the bill and voted in its favor.
Murphy's vote on the bill belies the fact he may not be as anti-abortion as he publicly appears.
According to the Pittsburgh Post-Gazette, Shannon Edwards, a forensic psychologist in Pittsburgh who Murphy has admitted to having an affair with, texted him days after he posted to Facebook about his pro-life stance and took him to task over his hypocrisy.
As Murphy posted a pro-life message, he was also allegedly asking Edwards to have an abortion herself.
"You have zero issue posting your pro-life stance all over the place when you had no issue asking me to abort our unborn child just last week when we thought that was one of the options," Edwards texted to Murphy on Jan. 25, according to the Post-Gazette.
That was the same day Murphy posted to Facebook saying, "we've had great victories to protect the sanctity of life in the first weeks of this New Year!"
The number belonging to Murphy wrote back to Edwards claiming that he doesn't actually believe in the pro-life movement, but rather just does what his staff tells him to do.
"I get what you say about my March for Life messages," Murphy allegedly wrote. "I've never written them. Staff does them. I read them and winced. I told staff don't write any more. I will."
But his promise to end his anti-abortion stance was short lived according to the Washington Post, because just days after sending the text, Murphy sent a newsletter to supporters saying in part, "We must, once again, become a nation respectful of all life. We must encourage and prioritize adoption and offer compassion and prayer for mothers and fathers who struggle with the questions of life."
In the newsletter he further noted that he "proudly sponsored and voted for" HR 7, otherwise known as the No Taxpayer Funding for Abortion and Abortion Insurance Full Disclosure Act. The newsletter continued, "Passage of HR 7 in the wake of the president's executive action gives me great hope we will once again be a nation committed to honoring life and ensuring American taxpayer dollars are never spent to end a life before it even begins."
And there may be more bad news in Murphy's future. While his 20-week abortion ban bill, known as Pain-Capable Unborn Child Protection Act, passed in the House, it is expected to be shut down in the Senate.