#TheyFeelPain: Doctors say the GOP's anti-abortion campaign is based on pseudoscience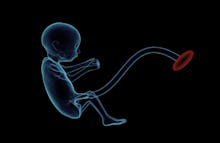 The Republican-controlled House on Tuesday voted in favor of a bill that would make abortions after 20 weeks illegal in the United States. Called the Pain-Capable Unborn Child Protection Act, the bill is based on the false premise that a fetus older than 20 weeks would feel pain during an abortion.
The big problem here, doctors say, is that the bill is based entirely on bad science. The information in the bill, which is sponsored by Republican Arizona Rep. Trent Franks, contradicts what studies actually suggest — that fetuses cannot feel pain at that stage.
"Neurologically, the science is pretty incontrovertible," Sara Imershein, an OB-GYN in Washington, D.C., said by phone. "We do not believe that a 20-week fetus can perceive pain. There are nerves, but the connections are incomplete and can't register pain. … It's a political myth."
The bill, which has been the focus of the hashtag #TheyFeelPain, says that nerves link pain receptors to the fetus' brain "by no later than 20 weeks after fertilization." But it fails to cite any research supporting that claim.
The scientific consensus, according to several doctors, is that fetuses can't feel pain until much later in the pregnancy — around the third trimester. Scientists have known this since a robust 2005 study, and follow-up research backs it up.
"As a doctor, you read [this bill] and you're like, 'What are you talking about?'" Anne Davis, an obstetrician, gynecologist and the consulting medical director for Physicians for Reproductive Health, said by phone. "They've used fetal pain over and over again as a justification for different types of abortion bans. On its face, it doesn't make any sense. We have good, solid science that the brain isn't capable of feeling pain."
"As a doctor, you read [this bill] and you're like, 'What are you talking about?'" — Anne Davis
The bill would need to get a 60-vote majority in the Senate in order to become law. If it does, doctors performing abortions after the 20-week cutoff could be fined or face up to five years in prison (or both). The only exceptions are if the abortion is "necessary to save the life of the pregnant woman" or "when the pregnancy is the result of rape or incest," the bill's summary states.
Waiting until a life-threatening situation to perform an abortion is particularly troubling to some doctors, considering the United States has the highest rate of maternal deaths in the developed world — by a long shot. About 26.4 per every 10,000 women in the United States die from pregnancy-related complications, according to a 2015 study. The second-highest rate is less than half of that — 9.2 per every 100,000 women in the U.K.
"Part of the reason why they die is because they don't get the right care at the right time," Davis said. "I'm not going to wait until my patient is dying to help her. What other kind of situation would [have] you say to a patient, 'OK, let's wait until you're near death to help you?'"
"I'm not going to wait until my patient is dying to help her."
Several medical experts said the bill isn't about fetal pain at all. Rather, it might just be another emotional appeal to justify limiting access to abortions, they said.
"If we really are concerned about fetal pain, I think we have to outlaw labor," Imershein, the OB-GYN, said. "If you're going to come up with a myth about fetal pain, you've got to remember that the average newborn has spent hours upside down with crushing muscular tension on their head every one to five minutes."
If so, the strategy certainly isn't new. Federal legislation barring abortions has been pursued in the past. One 2006 paper, for example, took a deep dive into the issue of fetal pain as a direct follow-up to a federal bill that proposed overruling abortions after 22 weeks, punishable by lost doctors' licenses and $100,000 fines. The paper concluded that the neural circuitry allowing pain to be felt wouldn't even be fully developed at 22 weeks, making the cutoff moot.
"It's likely a tactic to decrease access to abortion without overtly overturning Roe v. Wade," Gretchen Ely, an associate professor at the University of Buffalo's School of Social Work, said by phone. "If you break it down to just increments of lost access, then you just block more and more people from getting those services."
"It's likely a tactic to decrease access to abortion without overtly overturning Roe v. Wade." — Gretchen Ely
In general, women receiving abortions in the second trimester are a small minority who are likely facing unique or difficult circumstances, Ely said. The Centers for Disease Control and Prevention reported that 91.6% of abortions in the U.S. in 2013 were performed in the first 13 weeks of pregnancy, compared to 1.3% of those performed after 20 weeks.
"Say at 19 weeks you see a heart defect that might cause a low or nonexistent quality of life — or death [of the child]," Ely said. "Many of the cases of people seeking termination after 20 weeks may be handling these really sad problems. That's a lot of angst, heartache, stress and trauma" that would be "multiplied by this ban."
"That's a lot of angst, heartache, stress and trauma multiplied by this ban."
As it is, getting an abortion in the second trimester is incredibly hard for many women in the U.S. — especially those without the financial means. Several states ban abortions in the second trimester, forcing women to travel long distances to get the procedure done. According to recent research Ely conducted, women seeking second-trimester abortions had to travel three times farther than those in their first term. Those who received financial assistance for their abortions planned to travel an average of 140 miles for it.
"This [bill] is not going to help anybody," Davis said. "It certainly will hurt some people, though. Absolutely."