Patrick Harmon was shot in the back by Utah police. The district attorney says it was justified.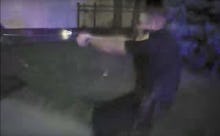 A Utah district attorney has cleared a white Salt Lake City police officer of wrongdoing in the Aug. 13 shooting death of Patrick Harmon, a black man who had been riding his bike. Police body camera footage, released by the Salt Lake County District Attorney's Office Wednesday, shows Officer Clinton Fox shooting Harmon in the back as Harmon attempts to evade an arrest.
Fox shouts, "I'll fucking shoot you," seconds before he fires three rounds at Harmon. In an interview with the district attorney's office, Fox alleged that Harmon brandished a knife and threatened to stab him and other officers on the scene, eliminating all options but the use of deadly force. Police recovered a knife at the scene of the shooting.
Sim Gill, the district attorney, said Fox and other officers' description of the incident meets the legal threshold for justified use of deadly force by police.
"Officer Fox said he believed Mr. Harmon was going to stab or cut him and/or the other officers," Gill wrote in a 18-page letter to the local sheriff and police chief. "Officer Fox reasonably believed deadly force was necessary to prevent death or serious bodily injury to himself and/or others and therefore his use of deadly force was 'justified' under Utah State law."
(Editor's note: This video contains disturbing footage. View with discretion.)
Harmon's family and a local activist have countered the law enforcement narrative of the shooting, in interviews with local press outlets. After viewing the body camera footage, Harmon's sister, Antoinette Harmon, and his niece, Alisha Shaw, told the Guardian that they don't see how police could have been so threatened that deadly force was necessary.
Harmon's sister also said her brother might have been struggling with a mental illness. Other family members remembered Harmon as a protector.
"My uncle was everything to me," Andriane Harmon, another one of his nieces who considered him a father figure, told Mic on Friday. "He made sure I was protected. He made sure I didn't go without a a meal, even when he did not know how to cook."
According to the district attorney's letter, Officer Kris Smith first spotted Harmon riding his bike across all six lanes and the median of a local road. Because Harmon didn't have the red rear tail light required for bicycles after dusk, Smith stopped him. The officer radioed for backup after Harmon gave him a name that didn't register in the police computer. The officers said they decided to arrest Harmon because of an outstanding felony warrant for alleged aggravated assault.
In the body camera video, Harmon is audibly weeping and pleads with officers not to take him to jail. "I help people. I swear to God. I help people," Harmon can be heard saying, before the officers attempt to cuff him.
Just as Harmon places his hands behind his back, he suddenly runs from the officers. He briefly turns toward officers and shouts something indecipherable. Within seven seconds, Fox fires three shots at Harmon's back.
The DA's decision not to charge Fox or the other officers follows a pattern of non-indictments for police who fatally kill African-Americans. Although civil rights activists have long advocated police de-escalation training, which Salt Lake City officers are required to receive, it's been the argument of some activists in the Black Lives Matter movement that such policies have not stopped the disproportionate killing of black men.
Lex Scott, a local BLM supporter and founder of the civil rights organization United Front, said she and other community members meet regularly with Salt Lake City police Chief Mike Brown, to address concerns over excessive uses of force among officers. The department has implemented de-escalation training, as a result of the meetings, Scott said in a phone interview on Friday.
"I don't believe that we've had enough time to measure the impact of the training," she said. "I think over time, if police know they are being held accountable, they will be less likely to pull the trigger."
It's the district attorney's findings that have angered local activists, she added. "That was not a justified shooting," Scott said in the interview. "That was one of the most clear cases of murder that I have ever seen in my entire life."
Activists planned to target the district attorney's office with protests over the weekend.
Oct. 6, 2017, 6:08 p.m. Eastern: This story has been updated.