St. Louis activists explain why the Jason Stockley verdict protests won't end any time soon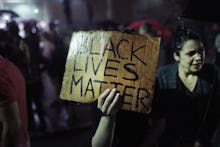 Residents of the St. Louis area made international news in 2014 protesting the police shooting death of Michael Brown, an unarmed black 18-year-old. Some might say those demonstrations lost steam after local and federal prosecutors declined to file criminal charges against Brown's killer, former Ferguson, Missouri, Police Officer Darren Wilson.
Kristine Hendrix disagrees.
"Maybe the protests weren't as big, maybe they weren't as hyped, maybe they didn't get as much media attention, [or] maybe a window wasn't broken," Hendrix, a local protester and member of the University City School Board in suburban St. Louis, said in a phone interview Thursday. "But we've never stopped protesting injustice here in the St. Louis area."
After the September acquittal of white former St. Louis Metropolitan Police Officer Jason Stockley in the Dec. 20, 2011, shooting death of Anthony Lamar Smith, an unarmed black man — a case that many community members felt almost certain would produce a guilty verdict — activists have pledged an indefinite period of "mass disruption."
As of Friday, about 20 days into the protesters' campaign, St. Louis has seen hundreds of protest-related arrests and complaints by demonstrators of abusive behavior by the officers deployed to contain them. Hendrix and other protesters who spoke to Mic said they aren't intimidated, though, and will keep demonstrating until extrajudicial killings by police have stopped.
"In the absence of justice, there is no peace," Hendrix said. "So, I don't think protests will end anytime soon. I think that people in this country, around the world, [and] even the St. Louis area have always been struggling for civil rights."
The current wave of demonstrations erupted on Sept. 15, the day a Missouri judge acquitted Stockley of first-degree murder in Smith's death. According to authorities, Stockley shot Smith during a police chase. While pursuing Smith's rental car, dashcam video and audio captured Stockley promising to kill the 24-year-old.
After shooting Smith at close range, prosecutors alleged that Shockley planted a .38-caliber revolver in Smith's crashed vehicle. Stockley resigned from the department in 2013. When his trial commenced in August, local organizers say they'd spent the past year and a half planning an an unprecedented campaign of civil disobedience in the event of Stockley's acquittal.
As of Friday, police have made 306 protest-related arrests, according to the public information division of the St. Louis Metropolitan Police Department. Although the division declined to reveal the number of units deployed, citing officer safety, protesters and journalists say scores of law enforcement officers were deployed in formations that made it impossible for participants to disperse and avoid arrest.
During the protests on Tuesday, police reportedly used a tactic known as "kettling," in which officers surrounded protesters on all sides to control their movement. Close to 300 demonstrators had already marched onto Interstate 64, blocking evening traffic for several minutes before exiting via an off-ramp. But officers soon surrounded the group and started arresting protesters, journalists and legal observers, Jordan Chariton, a politics reporter for The Young Turks, said.
"I was definitely taken aback by the size of the police force," Chariton said in a phone interview Thursday. Chariton and TYT cameraman Ty Bayliss were among those arrested and held overnight for misdemeanor trespassing on Tuesday.
"It's one thing if protesters were being violent," Chariton added. "But there was none of that. It was clear they're not there to make sure they could peacefully protest. They were there to arrest them."
Chariton said some of the protesters told him they'd been called racial and homophobic slurs as they were booked Tuesday night. A SLMPD spokesperson could not substantiate those claims when asked Thursday.
"We have not received any Internal Affairs complaints relative to misconduct by officers on the evening of Oct. 3," Leah Freeman, the spokesperson, said in an email.
However, the American Civil Liberties Union of Missouri filed a lawsuit Sept. 22 alleging that St. Louis police had taunted, unnecessarily tear gassed and pepper sprayed protesters in the days after Stockley's acquittal.
Tiffany Shawn, a third grade teacher in St. Louis County public schools who has been protesting in the area since Mike Brown's death, said she observed a difference in police conduct toward protesters during the day and at night.
"They are way more aggressive at night," she said in a phone interview Thursday.
The political climate locally and nationally on issues of race — including Stockley's acquittal and the response to the #TakeAKnee protests consuming the NFL — has fueled the St. Louis protests, Shawn said.
"It's interesting that it's so many new faces," she said. "Some friends of mine never would have come out in 2014. They didn't come out then because they weren't sure that they should. But several of them are out now."
Tory Russell, one of the organizers of the St. Louis protests, said meticulous planning has helped the demonstrations last for weeks. In addition to local courthouses, sports venues and the highway, demonstrations have targeted police union headquarters in south St. Louis, Russell said.
"We wanted to go straight to the belly of the beast," he said. "That's our way of saying we aren't afraid, and of letting the world know where we are organized."
Some protesters planned to return to Ferguson on Friday evening.
"That's ground zero," Russell said, "where it all started."