Ignoring women in sports is both sexist and bad for business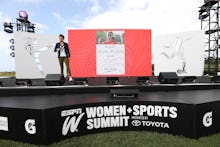 On Wednesday, Jourdan Rodrigue, an NFL reporter for the Charlotte Observer, asked Cam Newton, quarterback for the Carolina Panthers, a rather innocuous question regarding his teammates' routes.
"It's funny to hear a female talk about routes," Newton replied, while giggling at the reporter. "It's funny."
Around the time Newton was making his sexist remarks, a few hundred of sports' most celebrated women were gathering in Newport Beach, California, for the eighth annual ESPNW Summit. There, they were discussing sexism in the industry, how to empower women and how all women must continue to fight back against stereotypes in athletics and beyond.
Cameron's exchange with the reporter went viral, and in mere hours, he lost a lucrative endorsement deal with Dannon yogurt. Nine hours after he lost his endorsement, Newton apologized in a video message, saying he "made a mistake."
The event — which had Laura Gentile, founder of ESPNW, Stephanie McMahon, chief brand officer at the WWE, and Cari Champion, anchor on ESPN's SportsCenter in attendance — and Newton's comments convey the often troubling relationship sports have with women. While women are essential to sports, they are often disrespected and dismissed.
"As a woman, and especially as a minority woman, we have to be 10 times as great to be considered okay and to be considered acceptable," Champion told Mic inside the summit about the plight women experience not only in sports but across all industries. "We can't be mediocre and have a certain level of success. We just can't. It's not acceptable. So we have to work harder, be better, faster, stronger — you name it."
And if anyone embodies the work harder, faster, stronger, mentality, it's Champion. In 2015, the sportscaster started in on a six-month long campaign to gain her rightful promotion from middle seat on First Take to anchor chair on SportsCenter. And ultimately, she won.
But beyond embodying the spirit of successful women, she's also the face of a totally underrepresented segment of sports fans.
As the Washington Post reported, women make up about 45% of the NFL's fanbase. Yet female faces are rarely shown calling games, reporting from half court or editing and writing in the sports sections of national papers. In fact, as a 2012 Institute for Diversity and Ethics in Sport report showed, 90% of sports editors were both white and male. But as Sports Business Daily importantly noted, these numbers would be far, far worse without the important work of women like Champion, Gentile and everyone at ESPN.
"Of the 11 women who are sports editors at this circulation level, six work for ESPN," the publication reported. It added that if the ESPN sports editors who are women were removed from the statistical roundup the percentage of female sports editors at A-level publications would drop from 14% to 8%.
"It's all an evolution," Gentile told Mic when asked about the push for more women in sports and broadcasting, pointing to Jessica Mendoza, an analyst for Sunday night baseball and Doris Burke, an analyst on national NBA games, as examples of the forward momentum at ESPN. "We've only had the equal opportunity to play for 45 years. On some level it seems like a lot, but it's really not. So I think we're still playing catchup."
But, the ESPNW Summit isn't just a feminist rallying cry for more female representation on TV and on the field. Put simply, the event also promotes the very real, and very very lucrative, idea that women are great for business.
"We're always thinking about what's the future of women's sports, whether it's professional leagues or college ranks, and at the end of the day it's a business proposition," Gentile noted. "These have to be valuable products; they have to be things people want to experience. They have to be experiences people want to buy into."
And really, leagues, broadcasters and newspapers shouldn't have to look any further than the cold, hard stats that prove women spend both their time and money on sports.
As the Washington Post noted, 2014's Super Bowl XLVIII was the most watched TV program for women that entire year, making it a prime advertising destination for products and services for this demographic. And this could prove incredibly lucrative as women control 70-80% of all consumer purchasing through what Forbes described as a combination of "buying power and influence." This means even if a woman doesn't directly purchase an item she influences the person who does.
For women like McMahon — who lead the charge in rebranding the Divas back to simply the Women's Division in professional wrestling — seeing the purchasing power of women was just one side of the equation. As she told Mic she also saw that giving women more screen time and better branding had a positive impact on how fans saw their favorite athletes.
"I think it's so important to change the brand of women at WWE because young girls are looking up to these women as role models and women can do anything men can do. Sometimes even better," she said. "You just have to give them the chance. Often times they'll steal the show."
"We have to get women in positions of power and that's the other struggle," Champion explained. "Because the women in the positions of power understand the need to have women on the sidelines, as a coach, more refs, as play-by-play announcers, as anchors and as writers. They understand that need, and so we just have to continue, slowly, but surely, chipping away at this glass ceiling that holds us back."
As all the women explained, events like the Summit are crucial to women networking with other women, opening up and having frank conversations about our struggles and being real about how change can really happen.
"The beauty about this event is all these women are so accomplished and not one will tell you that it's easy and not one will not share your same struggle," Champion said. "It should be encouraging that even they are dealing with it, so it means we can be just as great one day."