Elon Musk thinks he has the answer to Puerto Rico's blackout. Here's how it could play out.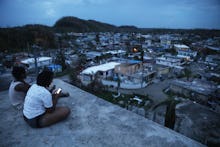 More than two weeks ago, Hurricane Maria wreaked havoc in Puerto Rico, rendering about 95% of the nation's power grid unusable. Now, Tesla CEO Elon Musk is saying that his solar panels could help bring electricity back to the island.
It's a conceivable proposition, some experts say, but critical details might be missing — like how quickly these solar energy systems can be put up, or who's going to foot the bill for a project that would need to provide electricity to 3.4 million Puerto Ricans.
"This idea strikes me as too optimistic, potentially very costly and reactionary," Suljo Linic, director of the University of Michigan's Energy Systems Engineering program, wrote in an email to Mic. "Time, cost, land required, grid complexity and [energy] storage cost and capacity … are critical issues that would need to be worked out."
A little background
Musk — who reportedly donated $250,000 and hundreds of energy-storing Tesla Powerwall batteries to Hurricane Maria relief efforts — tweeted on Oct. 5 that installing Tesla solar energy systems "would be in the hands of the PR govt, PUC, any commercial stakeholders and, most importantly, the people of PR."
Puerto Rico Gov. Ricardo Rossello responded on Twitter that he was interested in chatting further, saying that the island could be a "flagship project" to show the world "the power and scalability" of Tesla technology.
Puerto Rico needs power ASAP
Tesla has already demonstrated that its solar panels and batteries can power a small island. After Musk's company absorbed the energy-focused SolarCity for $2.6 billion in November, it powered the island of Ta'u in American Samoa — which has fewer than 1,000 people — by "nearly 100%."
Doing the same for Puerto Rico is "quite a heavy lift," according to Walter Meyer, an urban designer at Local Office Landscape Architecture in New York. "[Tesla's] system allows that and it's totally scalable … The question is how fast."
Meyer is the co-founder and strategy director of Resilient Power Puerto Rico, which will assemble at least 20 small solar generators on the island soon (they're sending a crew of 12 solar engineers to Puerto Rico this week). These generators can't power entire buildings, but they're powerful enough to add phone charging stations to community spaces or revive a few hospital refrigerators that need to store medicine.
"If we can get in there once, we can build this thing, leave it behind and no one else has to helicopter in to bring in fuel. As long as the sun is shining, it's making power," said Jennifer Bolstad, who works on operations and strategy for Resilient Power Puerto Rico (she's also a board member of a social and environmental justice nonprofit Coastal Marine Resource Center).
It's a great start. But whether Tesla can actually provide solar energy systems that can put all Puerto Rico back into power remains a mystery.
Why? Given the emergency situation, Puerto Rico is in the middle of a race between repairing the current power grid and transitioning to renewable energy.
The problem lies in solar batteries
Basically, it could be a year before the island's traditional power grid of fossil fuels is repaired to the point of restoring electricity to the whole island. If solar energy can be installed faster than that, it'll both relieve Puerto Rico of the emergency and put the island on a less expensive, more reliable energy source.
"The opportunity here is wide open," Meyer said.
According to Meyer, the return on investment in solar panels with energy-storing batteries is about four to five years (the average battery will last 10 years, while the average solar panel will last 20, he says). And since Puerto Rico has unusually high energy costs, solar energy really might be a great idea in the long run. But there's one catch: Energy collected from solar panels needs to be stored in batteries that can provide continuous electricity to buildings overnight. These batteries often require lithium — currently a scarce material — which means that energy-storing batteries may be hard to supply at this scale.
"There's not enough lithium in the world right now," he said. "It's the new oil. To scale up and power the whole island, I think there might be a supply shortage. But it's doable. That's the only thing that needs to be balanced — the supply chain of lithium."
So, here's the deal: Given the dire circumstances, it's not clear if we can truly achieve a completely solar energy-fueled Puerto Rico. But there's still a compelling reason to try. If the island switches to more renewable energy sources like solar, then its power supplies will be less vulnerable to the next major hurricane.
"It's one of the overlooked benefits of alternative energy," Bolstad said. "If [Puerto Rico] is grid-independent, it has a life-saving benefit."