The Rock and Roll Hall of Fame nominees aren't an embarrassment, but they've got a long way to go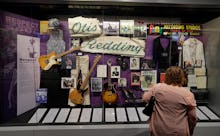 If you've kept track of the obsolescent Rock and Roll Hall of Fame over the last several years and its highly antiquated ideas of who does and who doesn't get inducted, Thursday's longlist of 2018 nominees may have struck you as a little different. Namely, unless you feel the band Chicago deserved the nod in 2016 over Janet goddamn Jackson, you've come to expect moldy embarrassments from this institution. But except for the Moody Blues, they mostly weren't there this year.
That's not to say it was a good list, or that its most truly deserving nominees are going to be the ones inducted in 2018. But it retains a baseline of quality, and even a little bit of the corrective impulse we'd ask of the Hall if we counted on such things. So let's hear it for 'em, in ascending order of when they first became eligible: Nina Simone, Link Wray, Sister Rosetta Tharpe, the Moody Blues, the Zombies, MC5, The Meters, J. Geils Band, Rufus featuring Chaka Khan, Judas Priest, the Cars, Dire Straits, Kate Bush, Depeche Mode, Eurythmics, Bon Jovi, LL Cool J, Rage Against the Machine and, last but not least, the one and only Radiohead.
The Hall's been rightfully scrutinized for its process, wherein a committee of 30 people nominates an arbitrary number of artists and groups (19 this year and last) and 600 voters choose the inductees, who have to receive 50% of the vote to get in. In 2017, six performers were inducted. It's not hard to see how it ends up as a flawed popularity contest: There is an overwhelming number of older white men on the committee, giving a disadvantage to subgenres like synth-pop or punk, not to mention entire groups of people like women of color.
Pay particular mind to those bookends, Nina Simone and Radiohead, which get right down to cases with the Rock Hall's familiar historical problem. Simone is a soul, jazz and protest legend who's somehow never been nominated before 2017, even though she was eligible in 1983, before anyone else here. (Eligibility occurs 25 years after the release of an artist's first recording.) The latter is future-rock standard-bearer Radiohead, who is being nominated for the first time in the very first year it's able. Both are two of the likeliest shoo-ins to be inducted in 2018. But they immediately illustrate the difference between what it takes to be included as an indisputably iconic black woman versus a beloved rock band comprised of white males.
Most of the acts who currently have a shot at the Hall are either genuinely good or genuinely of historical interest or both. Judas Priest is the Hall's first slightly off-the-map metal nominee after the genre's only gotten its two most famous progenitors, Black Sabbath and Metallica, past the gate. Eurythmics and Depeche Mode are no-brainers to make up for the Hall's low synth-pop representation, with neither lacking in enduring hits or beloved albums. LL Cool J has already been nominated four times and his impact on rap — as an MTV-dominating presence with and unforgettably cocky MC persona — is unquestionable; his impact on Hall voters another story. Even though one token rap act seems to get inducted each year now (Public Enemy, N.W.A, 2Pac), LL's music has been unfairly overshadowed in recent years by his acting career.
We don't mean to pit these acts against each other; it's just, well, Judas Priest, LL Cool J and Depeche Mode aren't likely to make it. And you can forget about obscure trailblazer Sister Rosetta Tharpe, who's old enough to have influenced Elvis and used to score big on Billboard's Race Records chart when there was such a thing. Never mind the fact her electric guitar playing helped turn gospel into the blues and made rock, the very thing the Hall's supposed to be honoring and preserving, possible. You can probably forget about R&B stalwarts Rufus and Chaka Khan again (Chaka's third nom in a row and her band's second altogether), too, and these folks are just a start for women of color making it into the Hall. (And, really, who even knows if Simone is a lock — though there will be a riot if she isn't.)
As for the warmed-over white dudes that typically crowd these sorts of spaces, they're still in the way of others' glory: Bon Jovi and Dire Straits both seem like obvious inductees following the precedent set by 2017 inductees (and schlock gods) Journey. We may even see the Knights of White Satin themselves, the Moody Blues, swipe Rage's rightful place, never mind NOLA groove hypnotists the Meters. (Pitchfork's predictions put the prog oldies down as a "definite.") But except for those guys, we can at least take comfort in the fact that even 2018's less vital nominees are mostly worthy.
The Cars and J. Geils Band (who lost its namesake member in April) are still pretty cool for bands who more or less hung it up before 1990 and had a decent impact on new wave and MTV, respectively. MC5 was never as iconic as its Motor City brother Iggy Pop, but it set a new standard for the volume and velocity of garage rock. The Zombies' 1968 peak Odessey and Oracle is a great psych-pop relic. And Kate Bush, Depeche Mode, Chaka Khan, Eurythmics and Dire Straits is a fairly solid cross-section of the Hall's least favorite decade. The problem is, only Dire Straits, the oldest, whitest, and male-est of anyone named in this paragraph, stands a real chance of being inducted.
That's the problem, ultimately. Like our country's sorry electoral system, of all things, there are two hurdles to clear: the nomination committee and voters. Though unlike, say, the DNC, we're finally seeing some inroads toward a better future. Ahmir "Questlove" Thompson (of virtuosic rap history professors the Roots) and Tom Morello (of 2018 nominees Rage Against the Machine) are two current committee members who have the taste and the political savvy to correct for blind spots, like no Nina Simone and neither one is a white guy. They both command enough influence in 2017 that even Morello, who came up as a rap-metal flash guitarist, has now performed alongside Bruce Springsteen, the dad-rock emperor that nominating committee chairman Jon Landau has managed for 43 years. So maybe Landau will hear him out.
It's saying something that the boldest artists on the longlist with a real shot are Radiohead and Rage Against the Machine, male-identified groups with only the latter sort of breaking the racial barrier. Regardless of the fact that Morello and Rage frontman Zack de la Rocha come from non-white backgrounds, it's still going to be weird to have a rap-fusion act in the Hall before actual hip-hop idols like LL Cool J.
We can take comfort in the knowledge that both are great bands — and the fact that all of this only matters as much as we let it. Rage's first two albums are still everything that was actually great about different strains of '90s aggro jammed together. But there's no denying the feeling of validation that those influenced by a troubled, storied icon like Nina Simone, would receive upon cementing her legacy in a pantheon that has long shut people like her out. After all, "Mississippi Goddam" raged against the machine before any of us existed.