Activists vow wave of mass protests if lawmakers fail to protect undocumented immigrants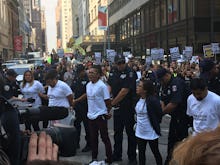 BROOKLYN, N.Y. — Over the weekend, undocumented activists vowed to sends hundreds of thousands of young people to 'shut down' Washington if lawmakers cannot come up with a proposal to protect young undocumented people without punishing the rest of the immigrant community.
"We believe that in the next six months we could do a mobilization ... where we could flood D.C. with hundreds of thousands of young people who will shut it down, both by numbers, and by massive civil disobedience," said undocumented organizer Thaís Marques, who announced the new project during a gathering of immigrant rights activists in Brooklyn, New York.
In September, President Donald Trump ended the Deferred Action for Childhood Arrivals program, which protected hundreds of thousands of young immigrants who entered the country as children, and gave Congress six months to come up with a legislative replacement.
Shortly after that decision, Democratic leaders entered into talks with Trump negotiating a potential "compromise" that would exchange passage of the DREAM Act, a bill to protect DACA recipients, in exchange for increased border security measures. Discussions have stalled for the past month.
But many members of the undocumented community and some progressive lawmakers oppose striking such a deal, arguing that it pits DACA recipients against other vulnerable immigrant communities who are often victimized by aggressive border security enforcement policies. Many of them argue that lawmakers should instead pass a "clean" DREAM Act without any strings attached.
"What's on the table is mass enforcement," Marques said referring to the potential deal. "It's a DREAM Act that will push our community deeper into the shadows."
The new protest group, called the Seed Project, plans to hold mass demonstrations in Washington, D.C., and elsewhere pressuring lawmakers to come up with a permanent solution that protects young undocumented people without increased enforcement.
Though the debate in Washington centers around whether to fight for a "clean" DREAM Act, the conversation among undocumented activists has focused on a broader, perhaps more existential question — should DACA recipients continue to allow politicians to focus on their protection while ignoring the plight the rest of the 11 million undocumented people living in the United States.
The Seed Project hopes to answer that question by first mobilizing people against any DREAM Act deal that could negatively impact the broader undocumented community, and then channeling that energy into other movements fighting for permanent dignity and respect for that broader community.
The organizers of the Seed Project are members of the group Movimiento Cosecha, a protest group that was formed during the Obama administration by a group of young immigrants, many of them DACA recipients, who wanted to harness the collective power of immigrant workers across the country to fight for protections for all 11 million undocumented people.
In the Trump era, Cosecha has distinguished itself from other immigrants rights advocacy groups by holding high profile non-violent civil disobedience actions where undocumented activists have been arrested fighting on behalf of the entire immigrant community.
On the day Trump announced his decision to end DACA, Cosecha helped lead a group of undocumented activists and allies who were arrested at a sit-in in front of Trump Tower.
Now leaders of the Seed Project hope to use those same tactics to fight any attempt to divide the undocumented community and use the debate over the DREAM Act to galvanize support for a broader, united fight against attacks on undocumented immigrants.
"We need to recognize there is a mechanism to separate the undocumented population and say 'who's a better immigrant,'" said Gema Lowe, a Cosecha organizer and member of the undocumented community who is not eligible for DACA. "Now we have to use the necessary tactics and take the steps to come together and resist the separation."
Lowe, who works with Cosecha in Grand Rapids, Michigan, has been organizing boycotts and labor strikes to fight for the rights of undocumented poultry workers in the area. She believes that the Seed Project's mission to show that young DACA recipients stand with the entire immigrant community will help build support for a mass movement of undocumented resistance.
"Now that ending DACA happened we need to take that momentum," Lowe said. "We will take the momentum and work on [DACA recipients] and our issues together."