Why the Sundance documentary 'Dina' is about your relationship, too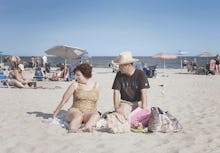 "You know, I didn't plan this. I didn't plan on getting married again. I figured, I'll get by on having crushes on people," Dina Buno, the focus of a new documentary simply titled Dina, says at one point in the film. She's talking to a nail technician, who nods absently.
Several scenes later, we meet Buno's fiancé, Scott Levin — an affable Walmart greeter who loves music — when he brings just two duffel bags to move into Buno's modest apartment filled with stuffed animals. Levin is a handsome guy, cheerful and patient. As they efficiently separate their clothes into plastic tubs, Buno says she's happy to have him there.
"I haven't lived on my own since … never!" Levin replies with endearing excitement.
Levin picks up some takeout that first night, and the couple watches TV and laughs and makes jokes. Buno asks him to rub her feet and mentions that some people have foot fetishes. "Uh-huh," Levin says, seeming vaguely uncomfortable.
Buno offers Levin a kiss.
"Oh, thank you sweetheart," Levin says. "I appreciate that."
They go to bed later that night, each facing away from each other, her with a blanket, him without. They do not touch.
Buno, now 50, and Levin, 47, let Dina filmmakers Dan Sickles and Antonio Santini into their lives to chronicle their new relationship, up to and including their marriage. The intimate, delicate film unexpectedly won the U.S. documentary grand jury prize at the 2017 Sundance Film Festival, later opening in wide release Oct. 6.
But there's a detail that doesn't seem fair to put up top, for risk of overdefining the two people at the film's center: Buno and Levin both have Asperger's syndrome, a developmental disorder on the autism spectrum.
According to the Mayo Clinic, people with Asperger's often have difficulty reading social cues, sensitivity to loud noises, a limited range of interests or repetitive behaviors.
"When I watch the film and when I participate with Dina and Scott, I don't see them as 'sick.'" — Antonio Santini
Speaking to Mic in a New York City conference room — alongside Sickles and Buno herself — Santini wanted to make clear that the focus of the film was on Buno and Levin's relationship. The directing partners, both 29, didn't consider the subjects ill or disabled, just different. "The concept that [Asperger's] is a problem, a disease, a sickness ... that's part of the conversation that we're bringing up," Santini said. There is no Asperger's gene, he added — rather, it's a set of behavioral observations that has been given a name.
"When I watch the film," Santini said, "and when I participate with Dina and Scott, I don't see them as 'sick.' They're definitely different — different from me, just as I'm different from her. But there's no hierarchy in the behavior of, say, I'm more correct that Dina. She's doing her own thing."
Buno rubbed his arm affectionately upon hearing this. "I'm so proud," she said.
The idea for Dina was serendipitous: When Sickles and Santini were editing their first film — 2014's Mala Mala, which focused on members of Puerto Rico's transgender community — Sickles lost both of his parents. The two directors moved to Sickles' hometown of Philadelphia to finish editing Mala Mala so that Sickles could tend to family affairs related to the funeral. That's when Sickles caught up with Buno, an old friend whom Sickles considers practically family.
"My dad was her teacher in high school," he said. "They grew very close when she was a student. After she graduated, they kept in touch." Buno even babysat Sickles, beginning when he was just 5 months old.
Sickles' father was a huge influence in Buno's life. "When I was in high school, I said to Ed [Sickles Sr.], 'People keep telling me I'm a nothing, that I'll do nothing my whole life, that I'm a big-time loser,'" she said. "[Ed] took me out to eat. He personally told me his stories. I met his family, including his wonderful mother. He taught me how to ride the bus, he taught me life skills, he taught me how to cook, he taught me how to do math. He got me a job. He got me my first apartment at 21."
The younger Sickles and Buno also kept in touch over the years. Upon moving back home, he thought about finding a way to tell a story about a local neurodiverse support group his father had founded, of which Buno was now the president. (Not only did Sickles' father teach special education, he had a learning disorder himself.)
Then Sickles learned Buno was getting married again, and he knew his next story was about her.
"And as Dina does," Sickles said with a laugh, "she sucked the attention in her direction."
"I've had a really difficult life, and I want people to grow from this and say they can be who they are." — Dina Buno
Buno told us she was eager to participate in the project. "I was thrilled," she said. "I always wanted to be on camera, and this was my world."
Dina would also give Buno a platform to speak about Asperger's from her own experience. "I feel that people need to know the truth, that I'm Dina Buno and I don't want any lies, that I've had a really difficult life and I want people to grow from this and say they can be who they are," she said. Buno — who isn't able to work, but said she receives a little more than $1,400 in monthly government benefits — speaks regularly on the subject, including for the Autism Society. For her, the film is a more personal way to tell her story.
Buno's path to Levin was harrowing. In 2010, she was attacked by an ex-boyfriend who stabbed over half a dozen times. Her injuries were so severe, doctors didn't know if she would walk again.
Buno repeatedly calls herself a "survivor" throughout Dina, and she is. In one scene, when she's at the beach with Levin, she pulls down the back of her bathing suit. "Do you see my battle scars?" she asks him. "Aren't they amazing?"
As we get deeper into Buno and Levin's relationship, we eventually learn that while they're a loving couple, they are facing a major problem: sex.
Levin isn't very interested in sex; in fact, he's a virgin. Making physical contact can be difficult for him. Sometimes, Buno has to instruct him when she wants to be held or hold hands.
"People say people like me shouldn't have sex, that [we] aren't supposed to have interest," Buno said matter-of-factly.
Buno, however, previously enjoyed a healthy sex life and has found herself frustrated with Levin. Still, she said she recognizes there's an unfair stigma toward people with perceived disabilities and their right to physical intimacy.
"People say people like me shouldn't have sex, that [we] aren't supposed to have interest," Buno said matter-of-factly.
The filmmakers reject this premise and do not deny Buno's sexuality. She's shown in her underwear, trying on a negligee for her wedding night; we see her enjoying a lap dance from a stripper cop at her bachelorette party.
At the end of a lovely day spent in Ocean City, Buno gives Levin The Joy of Sex, the classic — if now old-fashioned — educational manual that explains the ins and outs of lovemaking and communicating with your partner.
"I think I'm more interested in this than you are, right?" she asks gently.
"I could learn," Levin says, with a sigh. As it's eventually revealed in a sweet scene with his parents, Levin just doesn't feel like his self-esteem is "the best." He doesn't feel it's good enough to tackle sex, anyway.
In a car ride with some of his neurodiverse friends, he admits, "I mean, I barely kiss her. See, I'm afraid of doing something wrong." He also worries about accidentally "being too rough with her," which makes sense, given Buno's past abuse.
Levin's fear is both understandable and universal — it's not just limited to those with Asperger's, nor is it something to be blamed solely on his condition. Ultimately, this is what makes Dina bigger than its two subjects: It's a story about intimacy and the struggle of maintaining relationships. Living with Asperger's is just one aspect of the film, a small, tender documentary about how we try our best to love each other in whatever capacity we have. It is, as the tagline advertises, a "real-life romantic comedy."
"They are every relationship," Sickles said. "Scott and Dina are every single relationship. It is about the same exact issues: How can I do this better? How can I love you better? How can I love you in the way you want to be loved? And how do we fail each other sometimes, and how do we try again?"
Buno, who was previously looking down at the table, looked up. She softly added, "And how you learn how not to fail each other anymore."