Here's how many "deals" Trump has actually made since he took office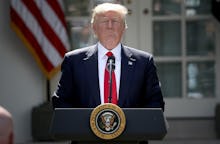 Donald Trump is the best at making deals — just ask Donald Trump.
During his 2016 presidential campaign, Trump-as-dealmaker was an ineluctable, if mythic, figure, trotted out time and again to undergird the Republican's claims that he'd steamroll through partisan gridlock in Washington using his formidable bargaining prowess and sheer force of will.
"If you can't make a good deal with a politician, then there's something wrong with you," Trump said in the speech that kicked off his campaign. "You're certainly not very good. And that's what we have representing us. They will never make America great again."
But nine months into his term, the author of The Art of the Deal has yet to strike a single meaningful bargain in Washington. Below are some of Trump's biggest political flops since taking office — so-called deal-making proficiency be damned.
Obamacare repeal
Despite Republican majorities in both houses of Congress and a seven-year drive by the party to kill off former President Barack Obama's signature health care legislation, GOP leaders repeatedly failed in their attempts to repeal the Affordable Care Act.
Although attempts were made to court the ultra-conservative Freedom Caucus, in addition to senators like Lisa Murkowski of Alaska who were instrumental in delivering a death blow to the legislation, Trump was ultimately unable to make enough headway to get a replacement bill or an outright repeal through a vote.
Tax reform
With failure on health care reform in the rearview mirror, the Trump White House has now turned its eye toward the next big item on the president's agenda: tax reform.
In September, Trump stunned the Republican establishment by cutting a deal with top Democrats Nancy Pelosi and Chuck Schumer to provide billions in relief for victims of Hurricane Harvey and suspend the debt ceiling for three months in exchange for cooperation on overhauling the nation's tax code.
But the decision to side with Democrats incensed some in Trump's own party, who opined openly that the president's decision to undercut Republican leadership with the deal would potentially weaken his hand in future negotiations.
"A three-month debt ceiling? Why not do a daily debt ceiling?" GOP Rep. Mike Simpson fumed at the time, per Politico. "He's the best deal-maker ever. Don't you know? I mean, he's got a book out!"
Immigration
After a separate meeting with Trump in September, Schumer and Pelosi emerged with a joint statement announcing that the president had agreed not to seek funding for his contentious border wall project and would "enshrine the protections" of the Deferred Action for Childhood Arrivals program, or DACA.
But on Sunday, the Trump White House released a hard-lined list of immigration demands that threaten to destabilize any tenuous agreement forged with Democrats.
"The administration can't be serious about compromise or helping the Dreamers if they begin with a list that is anathema to the Dreamers, to the immigrant community and to the vast majority of Americans," Schumer and Pelosi wrote in a joint statement Sunday night. "We told the president at our meeting that we were open to reasonable border security measures ... but this list goes so far beyond what is reasonable. This proposal fails to represent any attempt at compromise."