FBI's hunt for "black identity extremists" echoes civil rights movement-era war on black activists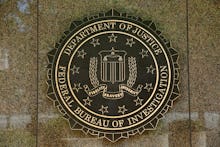 Sam Sinyangwe is the data scientist behind Campaign Zero, a police reform policy group he co-founded in 2014 with other black activists, including DeRay Mckesson and Brittany Packnett.
The group has tracked the number of people killed by police in the United States in the last four years, and made use of force policies for reputably brutal police departments easily accessible online. Along with parallel efforts by other Black Lives Matter activists, Campaign Zero has helped the BLM movement extend from mass protests to conversations with President Barack Obama at the White House.
But in the course of his work, greater prominence has meant increased government scrutiny, Singyangwe said in a phone interview Monday. He and other black activists say they have been visited by FBI agents and other law enforcement officials — visits that seemed to stem from government fears that BLM posed a national security threat.
"It's been happening to me and people that I know, even under the Obama administration," Sinyangwe explained.
So it came as no surprise to Sinyangwe and other activists interviewed by Mic that the FBI's counterterrorism division has created a new category for profiling black dissidents. The designation — "black identity extremists" — became public via a report by Foreign Policy, which last week obtained and published an FBI intelligence assessment written in August.
Although the bureau claims it is tracking mass killers like Micah Xavier Johnson, who shot and killed five police officers in Dallas in July 2016, Sinyangwe and others see the category as a pretext for surveilling and disrupting all black movements deemed violent toward police — even when there's no evidence to support allegations of such violence.
"It is very likely black identity extremist perceptions of police brutality against African-Americans spurred an increase in premeditated, retaliatory lethal violence against law enforcement and will very likely serve as justification for such violence," the FBI stated in their assessment.
"I think that is scary," Sinyangwe said of the new category. "First of all, they just made up a term, which exists in the legacy of racist terms that are constructed out of nowhere to marginalize and demonize black people. I don't know where they escalate this further and that's what I'm worried about, particularly in this administration."
Rob Widdell, a professor of history at the University of Rhode Island in Kingston, has studied civil rights movements for long enough to conclude that BLM activists have every reason to be concerned.
"The biggest danger [from government surveillance of past social movements] was people got killed," Widdell said in a phone interview Monday. "I would be surprised if [BLM activists] weren't concerned before [the BIE report]. Most folks that get involved in a movement like that, I think, have to work under the assumption that they are being surveilled and that there's going to be — if you get to a certain prominence in American media — a level of surveillance around your activities."
There is certainly historical precedent for this concern. The FBI actively targeted black activists under COINTELPRO during the civil rights movement — a program that often precipitated deadly consequences for activists, creating insurmountable trust issues within organizations and, in many cases, dramatically slowing the movement's momentum.
Many Americans are aware that the FBI wiretapped the Rev. Martin Luther King, Jr. at the height of his influence in the movement, Widdell said. But less known is that information obtained via an FBI informant helped police in Chicago carry out the bloody December 1969 raid that killed Black Panther Party activists Fred Hampton and Mark Clark, in what many still deem an assassination.
In light of the FBI's BIE assessment, the NAACP — the nation's oldest civil rights group — expressed defiance, and pledged to "double down" on its efforts to "advance the rights of black Americans," particularly in the wake of the Charlottesville, Virginia, "Unite the Right" rally in August. White nationalists returned to the city Saturday night with little to no disruption from law enforcement, even after an attack at the August 12 rally left one woman dead and several others injured.
"In a time when white supremacists are marching down city streets with loaded weapons and tiki torches — organizing rallies of terror around the country — it comes as a great shock that the FBI would decide to target black identity groups protesting police brutality and their right to exist free of harm as a threat," Derrick Johnson, the NAACP's interim president and CEO, said in a statement released Sunday. "We do have a real threat in the United States and it's the rise of right-wing extremists, white nationalists and white supremacists, who have been emboldened by this administration."
The BIE assessment also comes as public support for BLM is reportedly at its highest. National approval for BLM rose to 50.1% in the last year, up from 38.4% in 2016, according to a poll released Monday by the polling institute at Saint Leo University in St. Leo, Florida.
Yet BLM organizers have had to contend with local government surveillance, too, ever since protests erupted over the 2014 police shooting death of Mike Brown in Ferguson, Missouri. Activists in New York City have sued and won access to New York Police Department records detailing how officers monitored protests over Brown and Eric Garner, the Staten Island man who died after police held him in a chokehold in 2014.
Activists have also pursued legal action around federal surveillance. In 2016, Color of Change — a racial justice group affiliated with the Movement for Black Lives coalition — filed a lawsuit in a New York federal court over the U.S. Department of Homeland Security's rejection of its request for surveillance information on BLM activists.
The reality that black activists have been surveilled has prompted some to take extra precautions. Sinyangwe, the Campaign Zero activist — who is active on Twitter — said he does not "advertise where I'm going to be before I'm there."
April Goggans, an organizer with the Black Lives Matter Global Network's Washington, D.C. chapter, said vigilance at her group's events has been paramount.
"I think the thing that gets lost in all of this is the emotional and mental toll it takes," Goggans, who believes she has been followed by officers of the Metropolian Police Department, said in a phone interview Monday. "That's why I stress wholistic wellness, so that we are healthy enough to withstand these death threats from the public, which we also know could be coming from law enforcement. Just like it was with COINTELPRO, it's definitely just a way to stop us, slow us down or make us want to become uninvolved."
Dante Barry, executive director of Million Hoodies for Justice, a civil rights group founded after Trayvon Martin was killed in 2012, said he sees BIE as the FBI's latest attempt to "cause panic and confusion among black organizers."
"Regardless of whether [BIE] is being moved by Donald Trump or not, I think, if anything, we should know that the FBI hasn't ever been on our side," Barry, who believes he has been watched by law enforcement because of his activism, said in a phone interview on Monday. "If anything, it is incumbent on us to govern our political activities smartly and safely. This is a moment that all of us need to stay close to our people and stay vigilant."
Oct. 10, 2017, 10:23 a.m. Eastern: This story has been updated.