We asked experts to grade Marvel Comics' diversity efforts over the last three years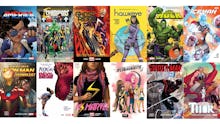 Marvel Comics leaders kicked off New York Comic Con on Oct. 5 in a rough, yet symbolic way.
Two retailers who complained about "black[s]", "homo[s]" and "freaking females" featured in some of the company's newest titles were kicked out of a panel breakfast event.
The rhetoric probably felt all too familiar for Marvel sales leader David Gabriel, who abruptly ended the Q&A session with Marvel editors following the outburst, according to Bleeding Cool.
Gabriel is the Marvel senior vice president who took heat earlier in 2017 after telling trade publication ICv2 that pushback against the company's newer cast of more diverse characters contributed to a brief sales slump.
He revised those remarks a day later, clarifying that retailers who joined him at a previous summit had expressed their displeasure with the many changes Marvel made to some of its most beloved core characters.
In 2014, Marvel leaders began charting a new course for the company in an effort to broaden its appeal to marginalized groups, including women, people of color and the LGBTQ community.
Company leaders launched 13 new comic books featuring women as lead characters, including a female Thor. They introduced a Latino Ghost Rider and a black Captain America.
Most of the "new" characters already existed as minor ones before taking over the superhero mantle from their more famous peers. In 2015, Marvel's creative team brought Miles Morales, a black and Hispanic character who was Spider-Man in an alternate universe, over to the main Marvel continuity.
Bruce Banner's Incredible Hulk powers were absorbed by his Korean-American kid-genius counterpart Amadeus Cho.
Marvel tapped acclaimed author and self-described comics lover Ta-Nehisi Coates to relaunch its Black Panther comic the same year. There's also Squirrel Girl, Moon Girl and Devil Dinosaur, the solo comic for Miss America Chavez and the lead title for the new Hawkeye, Kate Bishop.
Many have praised select titles in the revamped Marvel universe, in part for better reflecting the multicultural world we live in; but several titles have been discontinued due to poor sales.
"Some titles started strong and stayed strong," ICv2 chief executive Milton Griepp said in a recent phone interview with Mic. "Thor held up well. Overall, it's just been a mix. I give [Marvel] a lot of credit for what they've tried to do."
At first glance, the latest sales totals paint a positive picture for Marvel, according to researcher John Jackson Miller of Comichron, which tracks comic book circulation and sales figures. Miller said Marvel's figures were up 14% in September, compared to the same time in 2016.
"September was still a down month for the industry overall," Miller said in an interview. "But where Marvel at the beginning of the year was most of the shortfall, now they're actually ahead."
That sales bump, according to Miller, was mostly due to an increase in demand for Marvel's new Legacy series, which reintroduces classic versions of characters like Spider-Man and Wolverine while mixing in newer characters like Miss America Chavez.
The new series is a throwback homage for old Marvel fans that also offers a "clean jumping-on point" for new ones, according to Marvel's website.
"The first issue of Legacy shipped 300,000 copies in North America," Miller said. "With Legacy beginning in October, that's going to be a pretty good stretch for Marvel."
Legacy has been billed as Marvel's way of bridging the gap between its older and newer generation of heroes, which some creators say isn't the way to go.
"When you try to please everyone, you end up pleasing no one," Sebastian Jones, Stranger Comics president and creator of the critically acclaimed Niobe comic series, which features a biracial female protagonist, said in an interview. "In business, when you deal with entertainment, commerce forgets the spirit of art actually dictates their commerce."
Marvel editor-in-chief Axel Alonso said the company remains committed to its diversity efforts.
"The future is going to show we have not abandoned any course," Alonso said in a phone interview. "We don't view [diversity] as being an initiative. This is part of our DNA. What we're doing dates back to Stan Lee and the rest of the gang."
Comic creators offer advice
Some of the most popular new Marvel characters are the ones created by diverse people who work at the company, according to independent comic creator Regine L. Sawyer, founder of Lockett Down Publications and New York's Women in Comics Collective, which hosts collaborative workshops and exhibitions to help women of color break into the publishing business.
"You have to not only properly market a book, but have awesome writers on it," she said during a recent interview. "You have to have stories that are well-developed instead of just saying, 'Hey, there's a black person on the cover.'"
Former Marvel digital team member Kwanza Osajyefo — whose independent, African-American-centered graphic novel series Black details the adventures of a black teen who discovers his superpowers after being shot by police — points to the success of the Ms. Marvel series, launched in February 2014, as an example of a successful character created by a person of color at Marvel.
The new Ms. Marvel's alter ego, of Pakistani-American teen Kamela Khan, was the brainchild of Marvel creators G. Willow Wilson and Pakistani-American Sana Amanat, both of whom are Muslim women.
"The reason Ms. Marvel resonates so much is because Sana can inject that into the character," Osajyefo said after participating in a New York Comic Con panel discussion.
Amanat, who also serves as Marvel's director of content and character development, confirmed Osajyefo's sentiment.
"A lot of it comes from our own experiences," she said in a phone interview with Mic.
Zora Gilbert, co-creator of Dates!, an anthology of "queer historical fiction," said some of Marvel's worst work with characters from marginalized backgrounds happens when people who don't identify with the group they're portraying try to depict how marginalized people react to certain situations.
In All New X-Men #40, for example, the telepathic mutant Jean Grey reads the mind of her teammate Bobby Drake, aka Iceman, and confronts him about being gay.
The issue was written by Brian Michael Bendis, who has at least two children with his wife, Alisa Bendis, according to Graphic Novel Reporter. It received mostly positive reviews from sites like IGN and ComicBook Reader and was mentioned in the Advocate in April 2015.
"She essentially outed him," Gilbert said, referring to the exchange between the two characters. "If that had happened and the narrative had been like, 'Hey, that's not chill,' that would've been a different thing. I know people who cannot come out to their families. To have someone portrayed as outing them is really frightening."
Another creative complaint lobbed against Marvel is that some of its storylines over the past few years lack continuity because the company keeps killing projects after only a few issues.
"I think they're kind of sacrificing character development and longevity when you keep changing things every six months," a comic artist known professionally as Buzz whose portfolio includes work featured in Justice Society of America and Vampirella, said. "It's almost like the new team is ignoring what the previous team did. It's hard to stay with the storyline."
Comic artist Afua Richardson's World of Wakanda, which was canceled after only six issues earlier in 2017, is one example of a series that was abandoned fairly quickly.
Richardson said people who want to see more diversity at Marvel should buy its works developed by creators of color.
"I guess I'm just tired of hearing people complaining," she said. "I want people to get inventive. That's what great people do. Make your own or support the people who you see making what you want to see. That's it."
Several comic experts said diversity wasn't what turned off some readers. It was ultimately replacing fan-favorite characters like Iron Man with "token" diverse characters like Riri Williams.
"That may ultimately have been a tactical error," Griepp, who's worked in the comics industry for 35 years, said. "What Marvel is trying do is very difficult. It's not surprising to me maybe they didn't get it right the first time."