Why moving to Sweden could fix your life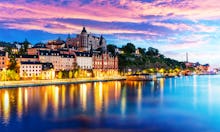 If you've been yearning to live abroad but aren't sure how to make it work financially, now might be your big break. Sweden (yes, Sweden) is experiencing a serious labor shortage and needs to fill this cavernous gap — right now. Despite seeing a record number of immigrants over the last three years, Sweden continues to struggle to meet growing demand in industries like construction, education and health care.
"Our latest figures show it takes companies longer and longer to find the staff they need, and more and more often they need to lower their demands for education and experience," Annelie Almérus, an analyst at the Swedish Public Employment Service, told the Nordic Labour Journal. With the jobless rate at just 3.9% among native-born Swedes, most skilled workers are already employed.
Currently in the middle of an economic boom, Sweden's gross domestic product rose 4% in 2015 and 3% in 2016, the Atlantic reported. The Scandinavian nation could be a great place for someone with an entrepreneurial spirit, as it is home to a growing number of startups and is second only to Silicon Valley in the number of billion-dollar tech companies per capita. Streaming music company Spotify is perhaps the best-known example of a successful Swedish startup; yet other up-and-comers include online payment processor Klarna and phone app Truecaller.
What's it like to live in Sweden?
Before you pack your bags, you might want to make sure the Scandinavian way of life is right for you.
Now, with its stunning views, historic castles and delicious foods like meatballs with lingonberry sauce, fish, pastries and cookies, there's lots to love about Sweden. Music fans will enjoy its buzzing music scene; there's even a women-only festival planned for next summer. Once you get to know the locals, you'll almost certainly get invited over for fika — coffee or tea (just remember to be on time, and take off your shoes, to ensure you get invited back).
Public services in Sweden are impressive as well: Swedes enjoy publicly funded health care, 480 days of paid parental leave, at least five weeks of annual vacation, free college tuition and generous pensions. The forward-thinking culture in Sweden is another plus: The country has the first feminist government in the world, meaning gender equality is a priority. For example, gender-specific pronouns and labels aren't allowed in kindergarten, in part to avoid gender stereotyping.
Sounds great, right? To be fair, there are some drawbacks: The Scandinavian country has famously steep taxes: Its marginal effective income tax rate reaches as high as 56.9%. And the cost of living is not uniformly as affordable as you'd hope: Stockholm is the 20th most expensive city in Europe, according to a 2017 survey. What's more, ongoing reports of racism against black residents, as well as a backlash against immigrants, are a real concern. (And, of course, some might consider the weather less than ideal, with Stockholm getting around six hours of daylight in December.)
If you're still won over, you'll need to take a few steps to get hired if you're not a native. You need a work permit, which requires an offer of employment, and you'll need to prove the pay is enough to support yourself. The entire process can take up to a year. However, if you already have legal residence in Sweden, a new Fast Track program launched in 2015 can expedite the process of getting a job in high demand fields like social work, education and health care.
Everyone else can apply for a work permit at a Swedish embassy abroad or through the country's migration website.
Top industries for getting a job in Sweden
Ready for a big move? Below are the top seven industries in Sweden that need workers now, based on the number of open positions according to the Swedish Public Employment Service — as Bloomberg recently reported — and salary information from the Swedish Statistics Office. All salaries are listed in U.S. dollars and industries are ranked by pay.
7. Installation/maintenance
Average salary: $36,200 (for HVAC technicians)
A construction boom fueled in part by government investments has created an increased need for HVAC technicians and other installation and repair professionals.
6. Computer/IT
Average salary: $44,500
After Finland, Sweden has the second-highest concentration of video game studios per capita in the world, according to the Seattle Times, thanks in large part to government support and loads of talent. Popular games like Minecraft and Candy Crush were both developed there.
5. Education
Average salary: $45,600
Education is taken very seriously in Sweden and teaching is one of the most highly regarded professions. Children as young as 1 year old are allowed to start preschool and college tuition is also free for citizens or the European Union and Switzerland.
4. Social work
Average salary: $52,100
Many social workers in Sweden work within the social services, but some break off and develop private practices. The three largest specialties are child care, health care, and benefits and unemployment strategies.
3. Construction
Average salary: $60,200
Upon recovery from an economic downturn, Sweden's construction industry grew at a rate of 12.1% in 2014, which has increased the demand for both residential and commercial building construction.
2. Technical/science
Average salary: $62,300
Sweden is home to world-renowned research facilities like the Karolinska Institute and Chalmers University of Technology. Government investments have helped keep the job market strong for research jobs in the sciences.
1. Health care/medical
Average salary: $74,100
Sweden offers publicly funded health care, which is universal and automatic. With immigration pushing the country's population to 10 million, there is an increased demand for nurses, doctors, mental health professionals, radiologists and more.
Sign up for the Payoff — your weekly crash course on how to live your best financial life.