NFL owners and league officials to discuss plan to end anthem controversy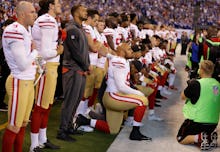 In September, NFL owners were out on the football field locking arms and taking knees with their players before and during pregame national anthem performances in defiance of President Donald Trump.
Now league officials want to have a discussion with team owners about a plan that the league hopes will end the anthem controversy, according to CNBC.
NFL commissioner Roger Goodell released a memo Tuesday afternoon explaining that an upcoming league meeting would include a discussion on the anthem protests and how to address the social issues they raise.
"Everyone involved in the game needs to come together on a path forward to continue to be a force for good within our communities," Goodell wrote, according to NBC Sports. "We will meet this challenge in a unified and positive way."
The memo to league chief executives and club presidents outlines a potential plan for players to have an "in-season platform" to discuss and promote social causes important to them, but doesn't state whether or not league officials would require players to stand for the anthem.
Goodell's message does, however, emphasize that honoring the American flag and the country is important to the NFL and its fans.
"The controversy over the anthem is a barrier to having honest conversations and making real progress on the underlying issues," Goodell wrote. "We need to move past this controversy, and we want to do that together with our players."
Requiring players stand for the anthem is the position the predominately black NBA and its commissioner Adam Silver have taken and reaffirmed in recent weeks.
"We have a rule that requires our players to stand for the anthem," Silver told reporters during an NBA board of governors press conference. "It's been our rule as long as I've been involved with the league. My expectation is that our players will continue to stand for the anthem."
Trump all but forced NFL owners to stand in solidarity with their players after calling for them to fire any "son of a bitch" who refused to stand for the anthem during a Sept. 22 speech in Alabama.
That prompted some NFL owners to protest with their players, in some form or another, the following Sunday. Some NASCAR team owners reacted by threatening to fire crew members who didn't stand for the anthem.
Oakland A's catcher Bruce Maxwell became the first player in the MLB to kneel for the anthem on Sept. 23.
Trump has successfully turned the anthem protests into a culture war wedge issue to rally his conservative base even as his administration suffers legislative defeats in Congress and candidates he supports lose primaries.
He and his eldest son, Donald Trump Jr., have used Twitter to put added pressure on league officials.
Trump retweeted a message warning of an NFL boycott posted by Donna Warren on Sept. 24.
Trump Jr. retweeted a message that conservative activist Charlie Kirk posted Sunday calling on state and federal lawmakers to end tax breaks the NFL receives to finance stadiums.
Vice President Mike Pence abruptly left Sunday's Indianapolis Colts game against the San Francisco 49ers after some players continued to kneel.
Trump kept the pressure on with this Tuesday morning tweet.
"Very important that NFL players STAND tomorrow, and always, for the playing of our National Anthem," Trump tweeted. "Respect our Flag and our Country!"