Tidal's "Versus" film stars Jesse Williams as a lover battling racial hatred in Trump's America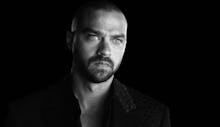 The filmmakers behind the visuals to Jay-Z's 4:44 album released a conceptual short film on Wednesday containing a plot that some might say is ripped straight from today's political headlines.
Amid a racist, anti-immigrant and anti-LGBTQ fervor, love is the only antidote to hatred in Donald Trump's America, the writing-directing duo Gerard Bush and Christopher Renz say about their film, "Versus," an examination of the struggle between love and hate. It's a metaphor for the opposing sides of the current civil rights struggle in the U.S., Bush said.
"We wanted to place the audience in these real-world situations that seem so far-fetched but are actually the new reality that we are experiencing as Americans," Bush said in a phone interview. "It's not that it's the far-flung future. It's not that it's fiction. It's actually happening."
The seven-minute film stars Grey's Anatomy actor and activist Jesse Williams as the romantic lead with Empire's V. Bozeman as co-star — the two are lovers grappling with venomous politics and violence seen in the wake of Trump's election. The project was produced in partnership with Tidal, the music streaming service, and Sankofa, the social justice group of legendary civil rights activist and entertainer Harry Belafonte.
"Versus" is available in front of the paywall on Tidal's website.
The film opens with Williams' character in the middle of a daydream, which he is awoken from by a doting Bozeman. "Sometimes I hate that I love you the way I do, because I don't know if I can protect you," Williams' character says. "I don't know that I can keep you safe from all of this, from any of this."
"It's you and me that protect each other," Bozeman's character replies. "You and me."
After the two embrace, it becomes clear that Wiliiams' intense glare was a byproduct of hyper-vigilance typical for many racial minorities, immigrants and LGBTQ individuals concerned about persecution. A man waving a Confederate battle flag enters the frame.
In what is a near re-enactment of the August "Unite the Right" rally in Charlottesville, Virginia, and the march the day before, white men playing neo-Nazis appear with tiki torches. One white actor angrily waves a sign that reads, "Keep Out!! #NoDACA" — a reference to the imperiled Deferred Action for Childhood Arrivals program for delaying the deportation of young undocumented immigrants.
On the opposing side, beneficiaries of DACA stand with a hijab-wearing woman, as well as black and white supporters of Black Lives Matter. But neither the white supremacists nor the anti-racists are heard speaking in the film — instead there's new music.
That's because "Versus" is also a vehicle for Sankofa's forthcoming socially conscious compilation album. The film features songs by rapper RZA and singer Goapele; the compilation album will feature additional music from Sting, John Legend, Aloe Blacc, Maxwell and others, Tidal said.
The film closes with another embrace between Williams and Bozeman. But they are now surrounded by other embracing couples, some of them same-sex and interracial pairings. The cut from a scene of chaotic protest to couples making out is a bit jarring, but it's on purpose, Bush said.
"What V. [Bozeman] is saying to [Williams] is, 'I refuse to live in this fear. We can envelop ourselves. We're not going to second-guess who we are as people, and we're not going to be made to feel insecure in ourselves and in our love,'" Bush said. "It's very simple. It might seem naive ... but at the end of the day, it was a conversation that we felt it was important to have, to voice the insecurity that many people are feeling."
Tidal and Sankofa partnered previously on the visual EP 17 — a musical meditation on the shooting death of Trayvon Martin, written and directed by Bush and Renz.
Williams, who is becoming widely recognized for his civil rights work, said he hopes "Versus" empowers the "overwhelmed and unsure" people in communities of color.
"One of the ways this piece spoke to me was as a reflection of gender dynamics in society and movement work: men struggling with expectations and resources; black women leading, nurturing and strategizing with wisdom beyond their years," Williams said in a statement. 
"These are merely moments, among many," he said. "Keep being yourself — take care of you and yours, or hate wins."
Oct. 12, 2017, 10:36 a.m. Eastern: This story has been updated.