Halloween ideas 2017: The 10 best cities to trick-or-treat, party and celebrate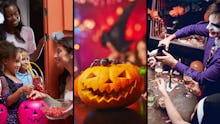 Dust off your sexy pumpkin costume — it's that special time of year to get your Halloween spirit on. Between parties, candy and costume-planning, Americans go gaga for this autumn holiday.
People in the United States dig the Oct. 31 holiday so much, they are projected to drop a record $9.1 billion this year alone, up from $8.4 billion last year, the National Retail Federation says. At least seven in 10 people plan to celebrate Halloween, with most planning to stay home and hand out candy in their decked-out house — and nearly half of revelers plan to wear a costume.
Broken down, most of the Halloween money is spent on costumes, followed by decorations and candy. Men will invest an average of $96 on their costume as compared to women who devote approximately $77 to theirs, according to the NRF. Top costumes this year for adults and kids are animals and action heroes.
Want to save money this Halloween, maximize fun, and see if your hometown ranks among the best place for celebrating? Read on.
How to save money on Halloween costumes and candy
Want to save on a costume? Check out consignment shops, consider digging around for household items you can use, and get creative in your DIY efforts.
After all, if you drop nearly $100 clams on a costume, that leaves little money to buy candy, the number one priority on most people's Halloween to-do list. Most won't dish out nearly as much as they do on a costume, but still spend about $16.45 on candy per home, according to data by shopping app Ibotta.
Purchase your loot four days before Halloween for the best deal. But if you wait until the day before Halloween you are going to pay significantly more. Ibotta hypothesizes this may be due to sheer shopper desperation as candy shelves on Oct. 30 may produce slim pickings.
Other ways to keep more cash in your bank account? Hand out hard candies like Smarties or Jolly Ranchers, which tends to be about $0.20 cheaper per kid than doling out chocolate, Deal News says. You can also practice portion control instead of letting the greedy little goblins dig right into the bowl, or go the non-candy route and hand out glow sticks or small toys you can buy in bulk online. Make sure toys are safe for children of all ages. (Don't be that person who hands out toothbrushes and toothpaste — lest you end up on the wrong side of "trick or treat.")
Now, where you live could influence how much candy you buy — and whether yours is a great U.S. state for trick-or-treating.
Trick-or-treaters in Washington, New Jersey, Utah and California could score the best load as the typical house spent an average of $40.29, according to Ibotta's data. Who is getting the short end of the candy stick? You could come up with a bit less if you live in Georgia, Michigan, Alabama and Colorado, as those folks are only spending an average of $11.22 per house.
Want to really zoom in on the best places in the U.S. for Halloween? Here are the top cities for trick or treating — many of which are hotspots for big Halloween parties as well.
Top 10 cities for Halloween 2017 trick or treating and more
You now know when to buy and how to possibly save on candy, but is there any way you can make this Halloween the best haul ever? One of the savviest "tricks" by strategic trick-or-treaters is to hit as many houses possible in the shortest amount of time. Using this "model," Zillow drew data from the Zillow Home Value Index, single-family home density, and the share of the population under age 10 (in cities with a population of at least 500,000) to identify where you can get the most for doing the least amount of walking.
"When we did the study we wanted to think about how you could optimize the Halloween fun," Skylar Olsen, senior managing economist for Zillow said to Mic by phone. "From a kid's perspective you want to know how to get the most for your experience, so we looked at both density in homes but also home value to find your best chance of getting the king-sized candy bars."
Even if you are childless, the good news is that many of these cities are home to fun, popular parties for adults — like masquerade balls in Los Angeles, costume bar crawls in Washington, D.C., and more spooky fests in Philadelphia, San Francisco, and Seattle.
Without further ado, here are the 10 best cities on Zillow's Halloween 2017 list — plus fun activities in each spot for all ages.
10. Seattle
Big fan of Michael Jackson's Thriller? Check out a free performance by the Seattle Thrillers, a group that recreates the infamous scene from Michael Jackson's uber-popular song. Not only can you watch, you can participate in the Thriller dance free of charge on Saturday, Oct. 28.
9. Milwaukee
Get into the Halloween spirit and hit one of the many haunted houses in the Milwaukee area. Most cost around $20 for a good scare.
8. Washington, D.C.
Enjoy some "out of this world" thrills at the Air & Scare annual Halloween event at the National Air and Space Museum. Spooky stations are set up around the museum to entertain and delight. Admission is free (parking is $15).
7. Sacramento, California
For a walk on the creepy side, explore the Dia de Los Muertos Celebration at the Davis Cemetery on Oct. 22 at 11 a.m. The celebration is free and is a great opportunity to learn about this Mesoamerican tradition.
6. Baltimore
If reading Edgar Allan Poe's The Raven sends chills up your spine then you'll love to take the Edgar Allan Poe walking tour in Baltimore. Pick and choose favorite haunts, which includes seeing the Poe collection at the Enoch Pratt Free Library or swing by Poe's gravesite at the Westminster Hall & Burying Ground.
5. Los Angeles
Hit one of the hottest bashes on Oct. 31 and don't miss the West Hollywood Halloween Costume Carnival, which is free to attend. This party is fierce, so come decked out in your most creative costume.
4. Long Beach, California
Tempt the spirits and spend Halloween at Sunnyside Cemetery to screen the original (and super scary) film, Halloween. Tickets are only $12 if you buy them early enough and food trucks will be on site for hungry moviegoers.
3. Philadelphia
Ranked as the #1 place to be a vampire (seriously), Philadelphia offers a slew of Halloween activities. Rich in history, there are plenty of spirits haunting the city on a regular basis. Go on a ghost tour where you can hopefully spot a few as you hunt by candlelight. Tours are only $17 per person but you can save $2 on your ticket if you book online.
2. San Jose, California
The beloved film, Ghostbusters comes to life in this immersive haunted house, free of charge. The Alberston Halloween House features everything Ghostbusters and more, even the Stay Puft Marshmallow Man.
1. San Francisco
Hop on your bike and join the Critical Mass 2017 Halloween Bike Ride on Friday, Oct. 27. The ride is free and dressing in costumes is encouraged. Other free activities in the city include block parties, outdoor movie nights and haunted "haunts," according to Fun Cheap SF.
Sign up for the Payoff — your weekly crash course on how to live your best financial life.