Road Trip Diaries: 6 incredible stops between Atlanta and Nashville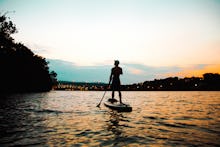 Whatever you want to call it — the Deep South, the Dirty South, the Southeast — this corner of the country has a reputation for sticky summers, generous hospitality, stick-to-your-ribs cuisine and slow-paced living. But there's reinvention happening in this region, too, and nowhere is that more clear than on the road from Atlanta to Nashville. These top-tier cities are in the midst of staggering growth: While Atlanta transforms itself from the South's gritty industrial center to its gleaming corporate capital, Nashville's legendary country music scene is full of a new creative energy. There's a lot more to the South these days than barbecue and mint juleps.
1. Sublime Doughnuts
535 10th Street NW, Atlanta, Georgia 30318
It wasn't divine intervention that told Atlanta local Kamal Grant what he was destined for. Credit goes to a Dunkin' Donuts exec who spoke to Grant's high school food service class about experimental taste tests at the doughnut company's R&D lab. He was immediately hooked, joined the Navy to pay for the Culinary Institute of America and, while circling the globe on behalf of the Uncle Sam, did a world tour of pastries and doughnuts. Back in Atlanta, he brought all of those experiences to life in Sublime Doughnuts, which serves the city's most delicious fried dough treats round-the-clock, in flavors including sweet potato cake, white chocolate peach fritter and — most popular — fresh strawberry 'n' cream.
2. Paddle the Tennessee River
100 Market Street, Chattanooga, Tennessee 37402
The Tennessee River flows through the heart of Chattanooga, and for the past two decades, it has been at the heart of the city's rebirth, as museums, parks and neighborhoods have sprouted up along its banks, replacing industrial wastelands. Get out on the water — and get a close-up of the transformation — on a paddleboard with L2 Outside (that stands for "Live Life Outside"), a downtown rental company and guide service. Brothers-in-law Dirk Unkle and Seth Bigham can show you the ropes, then set you free to explore the sandstone bluffs beneath the ultra-modern (and very impressive in its own right) Hunter Museum of American Art. Stand-up paddleboard rentals start at $20.
3. Unclaimed Baggage Center
509 West Willow Street, Scottsboro, Alabama 35768
Ever wonder where lost luggage goes? Now you have your answer: The Unclaimed Baggage Center in Scottsboro, Alabama. Part lost-and-found and part miracle thrift store, this 40,000-square-foot superstore buys every lost suitcase in America, sorts through it all, and puts the best stuff on its shelves (a third is recycled, a third is donated to charity and the rest — to the tune of 7,000 items per day — is priced and sold). Vera Wang wedding dresses, designers bags, cameras, Apple watches and even a suit of armor — it's all here, and at bargain-basement prices.
4. Big Bob Gibson Bar-B-Q
1715 6th Avenue SE, Decatur, Alabama 35601
There's no better place to sample Alabama-style, mayo- and vinegar-based white barbecue sauce, than the very place where it was invented. Bob Gibson started serving pork shoulders and chicken from this backyard in 1925. Nearly a century later, six-time world champion pitmaster Chris Lilly — who married Big Bob's great-granddaughter — carries on his tradition, smoking pulled pork, St. Louis-cut ribs, beef brisket and turkey breast on long, hickory-fired brick pits. Most famous of all, and a must-try, is the barbecued chicken topped with Bob's legendary white sauce.
5. Grimey's New & Preloved Music/The Basement
1604 8th Avenue South, Nashville, Tennessee 37203
Mike Grimes is a Nashville legend, a musical ambassador in a town known far and wide as Music City, U.S.A. As a rock bassist and co-owner of Grimey's New & Preloved Music — a thriving independent record store that specializes in new vinyl and rare albums — and the rock venue in its basement, he's done more than any superstar musician to cultivate the city's impressive music scene. Grimey's regularly hosts rollicking record release concerts and pop-up performances by the likes of Yo La Tengo, Jason Isbell, The Black Keys and Cold War Kids. Downstairs, The Basement shines a spotlight on local up-and- comers, but also sees big-name acts play intimate "secret" shows on their way through town — Metallica and Mumford & Sons famously rocked this stage. Come here to sift through records, soak up the atmosphere and, if you're lucky, have a close encounter with music royalty.
6. Urban Cowboy B&B
1603 Woodland Street, Nashville, Tennessee 37206
This hip East Nashville bed-and-breakfast may be a Brooklyn import, but it feels right at home amid the farm-to-table restaurants, cafes, dive bars and live music venues of Five Points. Hoteliers Lyon Porter and Jersey Banks restored an 1890s Queen Anne Victorian mansion, then decorated it with his singular design vision: custom hand-printed Southwest Deco wallpaper and floating clawfoot tubs in all eight experiential suites. A couple of communal parlors — including one filled with musical instruments — encourage conversation and, in true Nashville style, jamming with other guests ("arrive as strangers; leave as friends" is the motto, after all). When the party gets too rowdy, move it out back to Urban Cowboy Public House, a renovated stable that serves wood-fired food and craft cocktails. Suites start at $295.