Florida prepares for possible violence ahead of white nationalist Richard Spencer's UF campus visit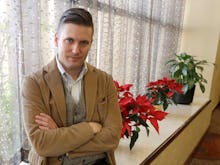 White nationalist leader Richard Spencer is visiting the University of Florida's campus in Gainesville, Florida, on Thursday — and Gov. Rick Scott isn't taking any chances.
On Monday, Scott declared a state of emergency for the county where the University of Florida resides, as local authorities there make final security preparations ahead of Spencer's planned speech to university students.
"I find that the threat of a potential emergency is imminent," Scott said in the order, according to the Tampa Bay Times.
Spencer's white nationalist think tank, the National Policy Institute, paid $10,564 to rent space at the university's Phillips Center for the Performing Arts for his address, according to Politico.
University officials wouldn't let the NPI use their facilities back in September because of the violence that occurred following the previous month's Unite the Right rally in Charlottesville, Virginia.
Spencer — the "Hail Trump!" shouting, alt-right figure who made racist tiki-torch rallies a thing — was in Charlottesville when suspected white nationalist James Alex Fields Jr. drove his car through a crowd of progressive protesters, killing 32-year-old Heather Heyer.
University students who oppose Spencer being allowed to come to campus made their voices heard at a rally Monday, shouting, "Lock out Nazis, not students!"
"We don't want Spencer here because he is a white nationalist [who] calls for ethnic cleansing and genocide in the pursuit of a white ethno-state," an activist with the group No Nazis at UF said via Facebook Messenger on Monday. "His ideology is inherently violent and puts marginalized students and community members in danger."
As of this writing, at least 895 people have expressed interest in participating in a scheduled counterprotest against Spencer's visit Thursday.
Spencer didn't say much on Twitter about Scott's emergency declaration. Instead, he let others do the talking for him, retweeting a post from fellow white nationalist James Allsup.
Spencer also plans to speak at the University of Cincinnati in the near future, according to the Cincinnati Enquirer. The southwest Ohio university's school administrators announced Friday they would allow Spencer to come to campus.
Ohio State University administrators denied the AltRight.com co-editor's request to speak on their Columbus campus in November, citing safety concerns.