Eminem's Trump trashing went viral — but he's not the only pop star tearing into the president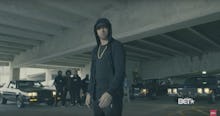 Donald Trump's been president for roughly nine months, and it feels as if every day or so, some musician is speaking out against America's 45th president in some way. Even before his term officially began, many of the music industry's biggest stars made their feelings about Trump clear by publicly rejecting offers to perform at his inauguration. In the time since then, we've read strongly worded statements, heard a slew of protest songs and seen the rise of several compilation playlists intended to inspire resistance.
After all this time, the volume of dissent hasn't diminished; if anything, it's only becoming more hostile (see Eminem's searing freestyle diss against Trump at the BET Awards). On that note, we've decided to round up the insults pop stars have been hurling at the commander-in-chief over the past 30 days or so. You know, the same time period in which Trump called NFL players who kneel during the national anthem "sons of bitches"; doubled down on waging a culture war; gotten into a war of words with the mayor of San Juan after Puerto Rico was devastated by a hurricane; and continued to antagonize North Korea, among other things.
In short, there's been plenty to take issue with lately, and it doesn't look like musicians are going to quiet down anytime soon. Here's a list of some pop stars who have taken recent jabs at Trump.
Lupe Fiasco
Late in September, Lupe Fiasco didn't so much celebrate the five-year anniversary of his 2012 album, Food & Liquor 2, as use it as an occasion to lament the present state of things. The politically outspoken rapper released a new song, "Running From President," in which he raps about the contemporary moment broadly and Trump specifically: "Trump on acid, didn't mean to gas it/ Pulled up to the pump with his trunks on backwards."
John Legend, Lin-Manuel Miranda, Marc Anthony and more
When the president tweets, the pop world tweets back. In the aftermath of Hurricane Maria, Trump criticized San Juan Mayor Carmen Yulín Cruz's leadership: "Such poor leadership ability by the mayor of San Juan, and others in Puerto Rico, who are not able to get their workers to help. They want everything to be done for them when it should be a community effort."
The outcry from the music industry was swift. John Legend, Lin-Manuel Miranda and Marc Anthony were just a few of the artists who responded. John Legend declared Trump the frontrunner of "the shittiest president ever competition"; Miranda mused about whether the tweet had been published from the golf course (he also released a song to raise money for hurricane relief efforts); and Anthony straight-up told the president to "shut the fuck up about [the] NFL. Do something about our people in need in #PuertoRico."
L7
The last time the punk quartet LZ released music, former President Bill Clinton was in the White House. But the group returned in September with a cheeky new song titled "Dispatch from Mar-a-Lago," in which it sings, "It's not good, a riot in fact/ The whole friggin' country club is under attack."
The song satisfied a few needs for the band: L7 got some digs in at Trump and, as frontwoman Donita Sparks said in a statement, it got to stage a comeback with something not too heavy, sparing the group the "pressure or expectation of that 'first track weightiness.'"
Cardi B
On the day her hit single "Bodak Yellow" went No. 1 on Billboard's Hot 100 chart, Cardi B sat down with Billboard and, naturally, the conversation veered toward Trump at one point. The interview was on the heels of Trump's NFL comments, and Cardi said, "Why is our president so concerned about what football players [are] doing when the goddamn world is going in shambles? You got this man from North Korea that's talking about he's declaring war — which, I don't know, declaring war on who? Don't declare war on us. We don't want that beef."
Lady Gaga
As has become customary following mass shootings, the tragedy in Las Vegas was followed on social media with thoughts, prayers and gun control debate. Lady Gaga was among the stars who weighed in, tweeting that Trump, House Speaker Paul Ryan and other legislators have blood on their hands: "Prayers are important, but @SpeakerRyan @realDonaldTrump, blood is on the hands of those who have power to legislate. #GunControl act quickly."
The National
Even bands' tributes to other bands have somehow become about Trump. At a recent show in Forest Hills Stadium in Queens, New York, The National covered the classic Ramones track "The KKK Took My Baby Away." Frontman Matt Berninger introduced the song by joking about a "rumor" he heard — that "the KKK" was code for Trump and not Joey Ramone's conservative bandmate, Johnny Ramone, as the legend goes. After he delivered the punchline, Berninger clarified the cover was "for Joey, not for that dick."
Eminem
The Trump presidency has brought new relevance to some stars of the late '90s and early '00s. Kid Rock may very well ride Trump's coattails to the Senate. Aaron Carter publicly announced his support of Trump during the 2016 campaign and enjoyed further press coverage when he later rescinded that endorsement. And the most recent beneficiary of Trump culture is Eminem.
At the 2017 BET Awards, Slim Shady laid down an icy freestyle in which he rejected any fans of his who support Trump: "Any fan of mine who's a supporter of his [Trump's]/ I'm drawing in the sand a line, you're either for or against/ And if you can't decide who you like more and you're split/ On who you should stand beside, I'll do it for you with this: Fuck you." The rap earned Eminem plenty of headlines — and if nothing else, he can now count Keith Olbermann as a fan.
Macklemore
In a packed concert at the Marquee Theatre in Phoenix on Saturday, Macklemore reportedly led the crowd in a chant of "Fuck Donald Trump!" The message comes from the hook of the song "FDT" — a 2016 track by Compton rapper YG and the title of which shouldn't be too hard to decipher. When it came time for a remix, dubbed "FDT Pt. 2," YG nabbed guest verses from G-Eazy and Macklemore, who are both white rappers — a move YG reportedly felt would be symbolic. In his verse, Macklemore raps, "I'ma stay right here, I ain't livin' in fear/ With my people who are muslims, Mexican and queer/ And we ain't gonna let you fuck up four years."
Kendrick Lamar
Generally speaking, Lamar's been pretty quiet when it comes to Trump. There are a few references to the 2016 election and its aftermath on DAMN., the stunning album Lamar released in April, but the LP is more concerned with Lamar's own vices, shortcomings and ideas about faith. In an August interview with Rolling Stone, Lamar explained he doesn't discuss Trump much because "It's like beating a dead horse. We already know what it is. Are we gonna keep talking about it or are we gonna take action?"
But in an interview with Vice i-D published Monday, Lamar expressed his exasperation with the man in the White House. Asked why Trump was elected, Lamar responded, "I … don't … know." He added, "We all are baffled. It is something that completely disregards our moral compass."