Black Lives Matter activist calls "bullshit" on the FBI's "black identity extremist" label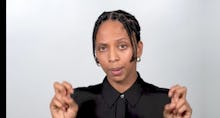 It's been just over a week since the FBI's latest counterterrorism assessment, naming "black identity extremism" an emergent violent threat to law enforcement, became public. Now, activists in the Black Lives Matter movement are flat out calling it "bullshit."
In a video statement released Tuesday, Janaya Khan, co-founder of the Black Lives Matter Global Network's Canada chapter, issues a searing rebuke of the FBI's designation. Khan, who is now based in Los Angeles, said black activists have little choice but to assume the BIE label is a direct threat to the BLM movement and other black movements that criticize police over excessive force.
"They cite the killing of Michael Brown as a galvanizing moment [for black identity extremists], making clear that the FBI is connecting this to Black Lives Matter — a consistent subtext throughout the report," Khan says in the video statement first shared with Mic. "And most alarmingly, the only consistent thread that classifies black identity extremism is being black."
Given what is now known about the FBI's targeting of black activists under COINTELPRO during the civil rights movement, BIE presents a real security risk for activists organizing in the BLM movement, Khan said.
"With COINTELPRO, you couldn't tell how horrible and deep it was until it was too late," Khan said in a phone interview Tuesday morning. "So many things about this aren't clear. But what is clear is that it's going to be used to justify criminalizing and surveilling not just black activists but black people in general."
The FBI's counterterrorism division created the BIE category for profiling black dissidents days before white nationalists and neo-Nazis marched violently through Charlottesville, Virginia, in August. But the designation didn't become public until an October report by Foreign Policy, which obtained and published the intelligence assessment.
"It is very likely black identity extremist perceptions of police brutality against African-Americans spurred an increase in premeditated, retaliatory lethal violence against law enforcement and will very likely serve as justification for such violence," the FBI stated in its assessment.
The reality is that the threat of right-wing extremist violence has been more deadly to Americans and to law enforcement than so-called black identity extremists, according to a previous assessment by the FBI. Since January, the Trump administration has de-emphasized that threat and focused on "radical Islamic terror." In May, the Anti-Defamation League released a study of more than 150 violent incidents involving right-wing extremists, from 1993 to 2017 — a majority of the extremists are white supremacists, anti-establishment or both, and the incidents killed 255 people and injured hundreds more.
On Monday, the FBI released a report on the number of law enforcement officers killed or assaulted in line-of-duty incidents in 2016. In that year, 66 officers died from injuries sustained during felonious incidents, up from 41 the previous year, according to the report. Another 57,180 officers were assaulted in 2016, a 14% increase over 2015.
But the Trump administration has yet to engage in conversations around the number of Americans killed by police. According to the Washington Post's ongoing database project, U.S. police shot and killed 963 people in 2016 — 24% of them were black. (As of Tuesday, police had fatally shot 777 people in 2017, the Post reported.)
The U.S. Department of Justice decried the uptick in violence against officers as "unacceptable" on Monday.
"That's one more reason why we're focused on the president's goal of reducing violent crime and united with local, state, and federal law enforcement in our shared mission to protect law-abiding people in every community," U.S. Attorney General Jeff Sessions said Monday, in a statement on the FBI's officer deaths and assaults report.
Still, BLM activists aren't alone in expressing concern over the BIE designation. On Oct. 9, the NAACP, the nation's oldest civil rights group, said the FBI's assessment was "deja vu" because it echoed a time when federal law enforcement officials targeted civil rights movement leaders. In a letter sent Friday to FBI Director Christopher Wray, the Congressional Black Caucus, a group of black legislators in the House and Senate, said members were "justifiably concerned" about BIE's implications.
"These broad characterizations can only serve to further erode trust between law enforcement officials and many of the black communities they serve, further inflaming an already tense and complicated dynamic," the CBC's letter states. "Local law enforcement may erroneously target nonviolent but politically engaged persons or groups because of this assessment."
On Tuesday, Khan said it was good to see black lawmakers and the NAACP using their political leverage to speak directly to the FBI. Khan and other activists say they want to see more condemnation of BIE as a "racist and very dangerous" label.
"We're not going to allow for history to repeat itself," Khan said. "We're not going to allow another COINTELPRO. We're not going to allow for the potential elimination of black leadership in this generation."