Mic Wakeup: Underestimating America, California's progressive move and the army's giant step back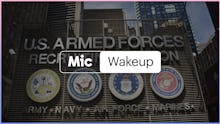 It's Wednesday, Oct. 18. Here's what you need to know.
The Army is attempting to block green card holders from enlisting
In a move that may break federal law, army recruiters have been ordered to immediately stop enlisting green card holders, according to an email exclusively obtained by Mic.
In plain capital letters the order read, "EFFECTIVE IMMEDIATELY DO NOT 'SHIP' OR 'ENLIST' ANY FOREIGN NATIONAL'S (ALL I-551 CARD HOLDERS) UNTIL FURTHER NOTICE."
However, according to federal law an "alien who is lawfully admitted for permanent residence" may be enlisted in "any armed force." Meaning, this order goes directly against pre-existing and protected law.
"Barring all immigrants from enlisting is harmful to national security and is unlawful, because federal law allows them to enlist," Margaret Stock, a citizenship and immigration lawyer in Alaska who helped develop the Military Accessions Vital to National Interest program, said.
So, what will happen now? That's really anyone's guess, however, the Army's recruitment numbers are already suffering. According to the Pew Research Center, the number of active-duty troops is already at its lowest point since 2001, and odds are this mandate won't help.
Americans wildly overestimate how many LGBTQ people live in the U.S.
According to to a new study published in the Journal of Homosexuality, people are wildly overestimating just how many LGBTQ people live in the United States.
As the researchers found, on average, people estimated that 23% of the total population is made up of gay and lesbian people. The real number, however, is somewhere around 3% to 10%.
And while it may seem like Americans are simply bad at estimating things, this discrepancy can have real and lasting consequences. As the researchers said via email, those who overestimated the size of the gay and lesbian population in the U.S. were "less supportive of gay equality policies, such as legal same-sex marriage or employment protection."
What can I do about this? Check out organizations like The Trevor Project, which is dedicated to helping end discriminatory practices against the LGBTQ population.
Californians can now choose a nonbinary gender option on official documents
On Sunday, California Gov. Jerry Brown signed historic legislation that will allow state residents to choose a third, nonbinary gender on all official state documents. It is the first state in the nation to make such a progressive move, which includes having a third option on driver's licenses, birth certificates and identity cards.
"I think that this legislation and legislation like this is enormously important because it creates visibility," Seven, an LA-based playwright and comedian who identifies as intersex and nonbinary, said. "Society is not going to change until everybody knows that intersex people exist ... and that we have a right to choose who we are, to be nonbinary or male or female," Seven added. "This legislation puts it in the public domain."
This is great, can I go get my new I.D. now? Sadly no, as the new legislation actually doesn't go into effect until Jan. 1, 2018, but better late than never, right?