Want to be $50,000 richer? These 9 fun contests pay winners thousands (or millions) of dollars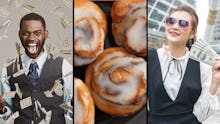 You might not realize how valuable just a pinch of creativity can be. For example, if you sometimes play with your food, you must be the perfect contestant for a Cheetos sculpture contest — that pays $50,000. Or maybe you could snag that much just by baking your famous apple pie? Hundreds of contests with winnings of up to $2 million are ripe for the picking right now — and all you have to do is use your genius to win big.
While some contests promote a particular brand or product, others are used to find smart solutions to different problems or challenges. Some of the world's coolest inventions in history were motivated by payouts like the $100,000 Fredkin Prize, which inventors of IBM's Deep Blue won in 1997 after their computer beat world champion Garry Kasparov in a chess match.
Of course, other contests — like eating competitions and extreme ironing — are just downright fun. Want more chances at piles of cash? Here are nine contests you can enter today, ranked by how much money you can win.
9. Conjure a scare with dry ice
Prize: $1,500
How to enter: If you have the creepiest Halloween tableau in town — and it involves a lot of dry ice — snap a photo, upload it and enter to win cash.
Entry deadline: Nov. 7
If you go all out for Halloween and include some spooky dry ice swirling across your lawn — or around the decorations at your party — you could win for your misty design. Snap an image or video of your dry ice scene and share on social media using the hashtags #FrightfullyCool and #PenguinDryIce. Then upload the image or video to Frightfully Cool to officially enter to win. In addition to the $1,500 grand prize, one runner-up gets a $250 gift card, and each of three honorable mentions get $100 gift cards. Here's last year's winner:
8. Find your long-lost buddy in Chi-Town
Prize: Trip to Chicago for a reunion (worth approximately $4,450)
How to enter: Recall the time you met a special person in your life and share a memory online to enter the Folgers Share a Coffee Contest.
Entry deadline: Dec. 4
Remember your sandbox buddy from grade school? Now Folgers is providing you with a chance to visit a friend in Chicago, with some spending money to boot. To enter, share a story about your long-lost loved one — two lucky winners will be selected to reunite in Chicago; 40 other winners will get mugs and free coffee.
7. Win cash for writing science fiction
Prize: Up to $5,000
How to enter: Submit a science-fiction story of 17,000 words or less.
Entry deadline: Ongoing
If you've dreamed of being paid to write, but were too nervous to submit your work to a publisher, the L. Ron Hubbard (yes, that L. Ron Hubbard) Writers of the Future Contest is a great place to start. If your work is chosen, you could receive cash prizes ranging from $500 to $5,000.
6. Share what makes you smile
Prize: $10,000 grand prize
How to enter: Post a photo of "something you've saved" to Twitter, Facebook or Instagram and say why it's special. (Don't forget to tag your photo with #ShareMySave and #Contest.) You can also enter via the Capital One Share My Save contest page.
Entry deadline: Nov. 12
The image you share can be a moment or something you find beautiful. In addition to the grand prize, 10 weekly winners are selected to win $500. Here are some examples of the competition you'll face.
5. Change the world with words
Prize: $12,000
How to enter: Submit a short story describing what the future would resemble where everyone enjoys economic security.
Entry deadline: Nov. 1
Backed by the Economic Security Project, writers can submit a maximum 5,000-word essay about a re-imagined world of economic change and growth for all people, regardless of economic background. The essay should address the potential impact basic income — a concept where all citizens receive a certain amount of money for living expenses — could have on society.
4. Show love for your favorite football team
Prize: A one-night VIP stay at a customized suite within the U.S. Bank Stadium, two tickets to the Super Bowl and round-trip airfare (worth approximately $23,300)
How to enter: Post the "most passionate NFL fan photo" you can with the hashtag #CourtyardSuperBowlContest on Instagram or Twitter. (You can also enter by posting your submission as a comment on a Super Bowl Sleepover brand post on Courtyard's Facebook wall.)
Entry deadline: Nov. 3
You can get the chance for a free trip to the 2018 Super Bowl and stay in a customized suite, designed by Marriott, right inside the stadium. Just share a photo on social media that shows what makes you a super fan. Semifinalists get gift cards worth $200 each.
3. Create a monster for the Cheetos Museum
Prize: $50,000 grand prize
How to enter: Create a Cheetos monster from your choice of various Cheetos-brand products and submit your design after registering with the Cheetos Museum.
Entry deadline: Oct. 31
Cheetos will reward one creative sculptor $50,000 for a winning entry into the Cheetos Museum. Sculptors should create their monster design using any Cheetos-brand products; you can look for inspiration here. Although there's $50,000 on the line, you can also win one of eight weekly $1,000 prizes.
2. Win big with your favorite recipe
Prize: $50,000 (plus prizes)
How to enter: Submit your favorite recipe using no more than eight ingredients — including one Pillsbury product, like their cookie dough, sweet rolls, biscuits or crescent rolls.
Entry deadline: Nov. 10
Calling all bakers and chefs! In the 48th annual Pillsbury Bake-Off challenge, you enter your best recipe for a favorite breakfast, appetizer, dinner or no-fuss dessert. The grand prize includes $50,000, a kitchen makeover, a trip to New York, a visit from the Food Network Crew and a feature in the Food Network Magazine. Three runners-up will each receive $5,000 and other prizes, for a combined value of $20,000 apiece.
1. Design a flying machine
Prize: Four phases of prizes totaling $2 million
How to enter: Create a personal flying device capable of flying 20 miles while carrying one person. The machine needs to be near-VTOL, which means near-vertical takeoff and landing.
Entry deadline: April 4, 2018 (Phase I registration deadline)
If you're an aerospace engineering junkie and the dream of flight makes you giddy, you could win big money with the GoFly contest. Sponsored by Boeing, GoFlying is looking for flight devices that are functional, quiet and safe. Prizes are awarded in four phases based on the progression of the device, and the contest is open to inventors of all ages.
Sign up for the Payoff — your weekly crash course on how to live your best financial life.