Trump's words to Sgt. La David Johnson's widow echo a history of slights to black soldiers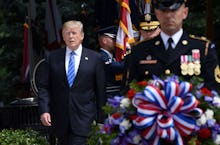 Myeshia Johnson doubled over in agony Tuesday as she greeted the flag-draped coffin containing the remains of her husband, Sgt. La David T. Johnson, a black Green Beret who died with three other servicemen during an ambush in southwest Niger two weeks ago.
It's been said that Myeshia wept, in part, because an official told her that she would not be allowed to have an open-casket funeral. Her husband's recovered body is in no condition to be displayed publicly, the official told her. After Myeshia kissed the casket a few times, she was led away with their children in tow. Johnson is pregnant with their third child.
The 25-year-old La David was assigned to the 3rd Special Forces Group out of Fort Bragg, North Carolina, according to the U.S. Department of Defense. On Wednesday, several news outlets reported an exchange Myeshia had with President Donald Trump, who called her presumably to offer the nation's condolences.
Trump allegedly told the grieving widow that her husband "must've known what he signed up for," according to Rep. Frederica Wilson, the Florida Democrat representing La David's hometown of Miami Gardens. Trump reportedly went on to say that the Johnsons' loss was no less painful.
Wilson told several news outlets that she'd listened to Trump's call with Myeshia on speakerphone, along with other family members. "She hung up the phone and said, 'He didn't even remember [La David's] name,'" Wilson told NBC News. "That's the hurting part."
On Wednesday, Trump charged that Wilson had "fabricated" the story of his call with Myeshia. "And I have proof," he tweeted Wednesday morning.
Cowanda Jones-Johnson, La David's mother, later backed up the congresswoman's claim, saying the president showed the family "disrespect" during his condolence call. "Yes, the statement is true," Jones-Johnson told The Associated Press on Wednesday.
Consoling gold star families is said to be among the most difficult tasks a commander in chief has. Any remarks that suggest fallen soldiers share blame in their own fate seem to miss the mark. But the comments also fit a history of slights to blacks who have served in the U.S. armed forces and who have fought to have their their service honored on the level of other decorated white servicemen and servicewomen.
The fact that La David is the only service member of the four killed in Niger whose family reportedly received terrible remarks from the president feeds a growing suspicion that he has been treated differently because of his race. It's not clear what Trump said to the families of La David's white fallen comrades: Bryan Black, a 35-year-old medical sergeant; Jeremiah Johnson, a 39-year-old chemical, biological, radiological and nuclear specialist; and Dustin Wright, a 29-year-old engineer.
The white servicemen's bodies were recovered and evacuated together, two days before La David's body was evacuated. Somehow, he had been separated from the others during a fire fight.
Nonetheless, La David followed a long line of blacks who serve for a nation that hasn't always treated them equally or justly. Long before they were generals and officers in the U.S. armed forces, black people served in segregated units of the military branches. In 1948, President Harry Truman signed an executive order abolishing racial segregation in the forces during World War II. But true integration didn't happen until the Korean War, when integrated units performed better than segregated units, David Segal, professor emeritus of sociology at the University of Maryland at College Park, said in a interview with Mic in May 2016.
The fight for respect, dignity and honor for black service in the U.S. forces didn't end post-integration, Segal said. It took decades of advocacy for the story of Tuskegee Airmen — the first black aviators who served in the U.S. armed forces during World War II — to be lauded by federal officials and adapted to Hollywood films. In 2016, a group of black female cadets at the United States Military Academy at West Point drew racist insults from alumni and other observers when they posed for an "Old Corps"-style graduation photo with fists raised connoting the Black Power movement of the 1960s.
Although the academy did not punish the cadets, the media coverage of the controversy prompted other black West Point cadets to come forward about a pattern of racial slights and discrimination from white students and instructors. U.S. military academies often champion their diversity initiatives — they note enrolling the most diverse classes of officers-in-training year after year.
But despite diversity initiatives, blacks are still underrepresented among military officers, and overrepresented among active duty enlisted members, according to Defense Department data. So whether or not Trump intended to insult the family of a fallen black American soldier, the U.S. has taken a long road in addressing long held grievances of black service members.
La David's family has planned a service for him in Cooper City, Florida, on Saturday, the Miami Herald reported. That gives the president a little more than two days to provide the proof that he didn't offend the Johnsons in the way that their congresswoman claims — or to properly offer condolences for the family's loss.
Oct. 18, 2017, 2:13 p.m. Eastern: This story has been updated.