4 female NASA scientists will soon be in toy boxes across America. Here's why that's important.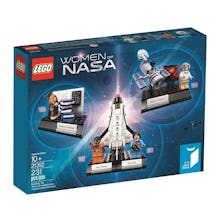 Toy stores across America will soon start selling Lego's new "Women of NASA" product, a rocket-powered, 231-piece set with figurines based on four real NASA scientists.
Astronauts Mae Jemison and Sally Ride, along with along with computer scientist Margaret Hamilton and astronomer Nancy Grace, will be available for purchase Nov. 1. The $24.99 kit includes scenes for the scientists, such as the Challenger space shuttle or the Hubble Space Telescope.
It's the end product of "several months" of hard work to "really refine the design," Maia Weinstock, deputy editor at MIT News, said in an email interview with Mic. Weinstock designed a prototype of the kit and submitted it to Lego Ideas, which allows users to vote on proposals they'd like the company to bring to life. According to the Lego Ideas site, any proposal that gets 10,000 votes will be reviewed by Lego designers and marketing representatives.
"Having something like this produced and sold in stores around the world is really a dream come true," Weinstock said. "I hope kids everywhere are inspired by the examples of the four women in the set and by all women who've contributed, often invisibly, to the development of science and technology."
The demand for more empowering toys
In recent years, there's been a push from psychologists and child advocates to stop marketing toys to children based on gender. Some entrepreneurs have produced engineering toys for girls with hopes of ending the disparity in STEM, while Target removed its gender-based labels in toy aisles in 2015.
Several papers suggest that the toys kids play with could affect their future interests. As Megan Fulcher, associate professor of psychology at Washington and Lee University, once told the New York Times: "Children may then extend this perspective from toys and clothes into future roles, occupations and characteristics."
Women hold less than 25% of STEM jobs, despite making up nearly half of the American workforce, according to the U.S. Economic and Statistics Administration. So, yes — there's definitely room for a lego version of Mae Jemison, America's first-ever African-American woman astronaut, to effect change.
"[I hope that] the actual product will help children around the world learn about these pioneering women and, of course, encourage them to enjoy the play and building experience as well," Weinstock said. "I do hope the figures and this toy will instill in kids the idea that women can and should be participating in all sorts of STEM professions, space-related and otherwise."
It's already clear that the differences in play are very real. A 2000 study of after-school activities in 437 sixth-graders found that males had "more extracurricular experiences with a variety of tools such as batteries, electric toys, fuses, microscopes and pulleys." Meanwhile, "females reported more experiences with bread-making, knitting, sewing and planting seeds."
"More male than female students indicated they were interested in atomic bombs, atoms, cars, computers, X-rays and technology," the study found, "whereas more females reported interest in animal communication, rainbows, healthy eating, weather and AIDS." (We assume atomic bombs and AIDS are normal academic interests for 11-year-olds.)
Even when it comes to color, the implicit messaging of America's largely pink-and-blue toy packaging can still steer children to certain kinds of play. One 2011 study, for example, showed that girls as young as 2 years old gravitate more toward pink objects; in another study that same year, 90% of objects girls chose contained the color pink.
Hope for change
There's no telling if a single toy set can upend systemic sexism and the gender imbalance in STEM. Chances are, it probably won't. But nevertheless, it's one more avenue of visibility for women in science — one that could be in the hands of children for hours.
The splashes of cosmic blues on Lego's "Women of NASA" might attract boys who should also get used to seeing women as history-making and space heroes. Either way, Weinstock believes in the potential for women to inspire other women, noting that she heard that Jemison was inspired by Ride.
"I've heard numerous stories of scientists and engineers being inspired to go into their fields from learning about other women who've done amazing things," Weinstock said.
Weinstock will receive 1% of sales and licensing revenue from "Women of NASA." She has been designing women in STEM-focused lego figurines since at least 2009, including planetary scientist Carolyn Porco and female "bioneers."
"It feels fantastic to see my creation garnering so much excitement," Weinstock said. "I really thank everyone involved — from the women of the set [and their families] who agreed to participate [and] everyone at LEGO to all the fans who voted for and supported the project along the way."