Mississippi school named after confederate leader to be renamed in Obama's honor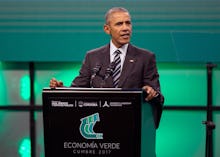 A small public elementary school in Mississippi announced it would make a big change in 2018 by changing its name to honor former President Barack Obama. And while this is a nice gesture on its own, it becomes even more significant when you consider the school is currently named after Confederate president Jefferson Davis.
During a board of trustees meeting Tuesday, Parent-Teacher Association president Janelle Jefferson announced the name change, which will see the predominantly black public school go from Davis Magnet International Baccalaureate Elementary to Barack Obama Magnet International Baccalaureate Elementary, beginning in 2018.
The new name, NBC explained, came about after a community vote involving parents, students and staff. As Jefferson noted, the entire student body was involved in the decision and each class made presentations on their candidates.
"They know who [Davis] was and what he stood for," Jefferson told NBC. "This has a great impact on them, because [Obama] is who they chose out of anybody else they could. This is the person that the whole school supported. He was their No. 1 choice."
The only requirement for the new name, according to the school board's facility-naming policy, is that the person must be "of good character and prominence who [has] made outstanding contributions to the school system." The policy further notes that a name change can only occur with "compelling reason," something Jefferson argued for in the board meeting.
"Jefferson Davis, although infamous in his own right, would probably not be too happy about a diverse school promoting the education of the very individuals he fought to keep enslaved being named after him," she told the board, according to the Clarion Ledger.
The renaming vote couldn't come soon enough for the school. According to the Ledger, the state Board of Education in September requested that Gov. Phil Bryant declare the school in a state of emergency, which would "trigger a state takeover" and disband the school board — making Tuesday's meeting perhaps the last chance for the existing PTA to facilitate a name change. Bryant is expected to make a decision on the state board's request in the coming days.
The name change also comes amid heightened scrutiny around how communities have honored Confederate leaders in the past, including with naming rights and statues. Since the violent and deadly "Unite the Right" rally in Charlottesville, Virginia, at least 26 different Confederate monuments have been removed from public spaces across the country.