Mic Wakeup: #FakeMelania, fake news and a real green card ban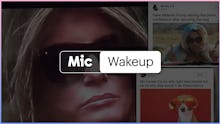 It's Thursday, Oct. 19. Here are three things you need to know.
The internet seriously thinks Melania Trump is using a body double
As far as internet conspiracies go, this one is easily debunked, but that doesn't mean it isn't fun to join in.
On Wednesday, social media conspiracy theorists united around the idea that first lady Melania Trump has been using a body double for her public appearances. The theory reached mainstream status when Twitter user Joe Vargas tweeted, "This is not Melania. To think they would go this far & try & make us think it's her on TV is mind blowing. Makes me wonder what else is a lie."
Could this possibly be real? Probably not. But the truth never has stopped a good meme.
A huge majority of Republicans believe the media makes stuff up about Trump
Media distrust is at an all-time high and a new poll by Politico/Morning Consult is further driving that point home. According to the poll's findings, 46% of all voters believe the media makes up stories about Trump and his administration. That number jumps to an astonishing 76% among Republican voters.
The numbers get even worse among Trump's staunchest supporters. The poll found that 85% of voters who said they "strongly approve" of Trump's job as president also believe the media is making stories up about him.
So, who's telling the truth? As the Washington Post found, Trump has made "1,318 false and misleading claims" since taking office.
The Army confirms its plans to bar green card holders from enlisting in the reserve
On Tuesday Mic exclusively reported on an email sent to Army recruitment officials barring them from enlisting green card holders to the Army Reserve.
Kelli Bland, director of public affairs at the U.S. Army Recruiting Command, told Mic that the ban is indeed in effect "for the time being," noting that green card holders are still allowed to enlist as active duty members of the Army.
"Since this does not align with the new [Defense] policy, U.S. Army Recruiting Command has put Army Reserve enlistments on hold for the time being," Bland said in an emailed statement. "We are in the process of re-establishing a Reserve Delayed Entry Pool, so we can once again enlist I-551 holders in the Army Reserve while also complying with the policy."
When will this ban end? Bond said it is unclear how long the suspension will be in place.