RIP 'Fashion Police,' a problematic fave, whose original host Joan Rivers changed fashion forever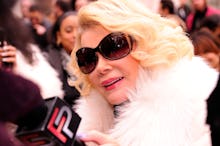 Better fashionably late than never.
After two decades on the air, it was announced Wednesday that E!'s Fashion Police has been cancelled. In the mid '90s, Joan Rivers became a red-carpet mainstay with E! Network's quietly groundbreaking Live From the Red Carpet. Featuring Rivers' iconic, sharp and often crass humor, she created a phrase that can be heard at nearly every Hollywood event today: "Who are you wearing?" With those four words, Rivers turned the fashion and pop-culture worlds on its head.
After the success of her red-carpet interviews and some back-and-forth with various networks, Rivers found herself at the helm of E!'s offshoot of the series, Fashion Police, in 2010. Using her vast knowledge of fashion and personal relationships with designers, the origins of the show were rooted in true and honest fashion critiques from Rivers and her cohosts (George Kotsiopoulos, Kelly Osbourne and Giuliana Rancic).
In its early days, Fashion Police was simply a show in which its panel would critique red-carpet fashions during every major awards show. It was the perfect marriage of who was best- and worst-dressed paired with Rivers' signature comedy, and it was a hit. The show soon became a mainstay for E!, with weekly episodes that combined fashion with pop-culture discussions.
With segments such as "Bitch Stole My Look!" and "Rack Report" — where the panel would try to identify celebrities based solely on the amount of cleavage shown in an image — Fashion Police was molding itself into its own version of a great talk show that would quickly find itself cemented in the world of pop culture.
But at its core, it was a star vehicle for Rivers.
With Rivers at the wheel, controversy was bound to follow, with many questioning "How far is too far?" While critiquing Rihanna's 2012 Grammy Awards gown, she quipped, "That neckline is plunging faster than Aretha Franklin's head into a bucket of fried chicken." In 2013, she assessed Heidi Klum's Oscar gown with this punchline: "The last time a German looked this hot was when they were pushing Jews into the oven." Most of Rivers' comments blew over — it was the type of humor she was known for, and in a way it complimented the show's format. It also took place just before social media watchdogs came out in full force.
However, it all came to a head in 2013 when Rancic found herself in hot water after she made a reference to Zendaya Coleman's dreadlocks at the 2013 Oscars, saying the hairstyle indicated Coleman probably smelled like "patchouli oil" or "weed."
The controversy over the comments led to major backlash against the show and Rancic herself, and rightfully so. Rancic attempted to apologize for the comments, claiming she was referring to a bohemian chic look, but it only made matters worse. The reveal that Fashion Police filmed the segment three times — with Rancic repeating the comments every time — didn't help, either.
The controversy became so big, Osbourne left the show soon after.
E!'s announcement did not cite the Zendaya incident, but instead said Osbourne was leaving to "pursue other opportunities."
Although there were many jokes that left some viewers cringing, Fashion Police was undoubtedly a vehicle for Rivers to remain an important and needed critic in fashion and pop culture — a rare person with the insight to balance both. At every major awards show and Hollywood event, the first question out of any reporter's mouth is usually "Who are you wearing?"
Because of this, many brands have worked out deals with celebrities and their stylists so as to get that coveted red-carpet mention. These major fashion moments can often be credited to Rivers and her ever-so-simple question.
Sadly, Rivers died in 2014, shortly after she stopped breathing during a throat surgery on her vocal cords. Fashion Police went on hiatus, only to return three months later with new host Kathy Griffin. Griffin herself has often cited Rivers as one of her comedic and personal inspirations, but after watching her first few weeks on the job, you could tell it just wasn't working. Griffin only proved that comedy was never the focal point of Fashion Police — instead, fashion and satire were the main drivers. The problem with Griffin wasn't that she wasn't funny (although she really wasn't), it was that she didn't know fashion in the way Rivers did. So, it wasn't a surprise when Griffin announced she'd be leaving after just seven episodes.
At this point, Fashion Police and its revolving door of cohosts was starting to look like The View. Following her mothers death Melissa Rivers, Joan's daughter, became a part of the panel co-hosting in 2015. Brad Goreski replaced Kotsiopoulos in 2015; and Margaret Cho and NeNe Leakes joined the Fashion Police panel in 2016. In its final months, the show was barely scraping by and struggling to keep alive what made it so great in the first place. Whether it was the games or Rivers' brash and bold comments, all the magic was gone and impossible to replace.
We too often see shows try to critique fashion and pop culture with hosts who have little to no credentials to back up their comments. In Fashion Police's case, neither Griffin, Cho nor Leakes had the gusto, let alone the experience, to speak on fashion in the way Rivers did. The only person with any fashion background currently on the panel is Goreski, Rachel Zoe's former assistant, who's often left to mop up soggy jokes made by his cohosts with actual sartorial insight.
Aside from an utter lack of fashion credentials, it was the panel's awkward attempts at being controversial that came across as an incredibly cheap effort to recreate what initially made the show great, instead of evolving and creating a new dynamic. I'll give Cho an A for effort, but saying Jennifer Lopez's 2016 Golden Globes gown looked like "the Egg Beaters version of Rihanna's Met Gala dress" — and that she couldn't wear it herself because she farts so much "the back would be hang gliding" — is just an all-around bad joke.
I was an avid watcher of Fashion Police when it first arrived on E!, and I continued to watch out of curiosity after Rivers' passing. I often found myself agreeing out loud with what the panel members said, because again, it was a show about fashion first and comedy second. Did I cringe a bit at times, thinking, "Oh, that's a bit too far, Joan"? Absolutely, and I'm sure we all did a bit. But toward the end, it got to a point where I was just begging for the show to be over. I don't want or like someone who knows little to nothing about fashion calling a custom couture gown "ugly" because they don't understand what goes into couture specifically or fashion in general.
I do think, with the right people and the right format, a show like Fashion Police could be great (I'm available for any hosting opportunities!). I think Rivers gave people, including myself, the courage to call it like it is when it comes to fashion — because as we all know, it can be either really bad or really good. No one will ever be able to recreate the humor and wit Rivers possessed in her heyday, and that's a fact. But even bigger than her humor was her biggest contribution to fashion and pop culture with four infamous words:
"Who are you wearing?"