Now is actually the perfect time for Louis CK's 'I Love You, Daddy'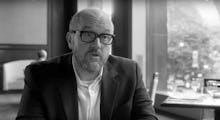 When the first trailer for Louis C.K.'s upcoming film I Love You, Daddy was released Wednesday, it was ostensibly supposed to drum up anticipation for the movie, which was quietly filmed earlier in 2017 and had its premiere at Toronto International Film Festival in September. Instead, the preview was largely met with snark and squeamishness.
The general sentiment making the rounds online is that a film about this subject, from this person at this time, feels "icky." Put more bluntly in an Esquire headline, "Now is not the time for this Louis C.K. movie." (Writer Tyler Coates added: "I'll probably pass on this one. I probably don't have to explain to you why.")
Due for a Nov. 17 release, I Love You, Daddy is a classic black-and-white film set in New York that revolves around a relationship between a teenage girl (Chloë Grace Moretz) and a much older, accomplished filmmaker (John Malkovich) who's notorious for his attraction to very young women. Adding a meta layer to the movie's already controversial premise is the fact that all of these details — the cinematography, the plot and the character — appear to allude to Woody Allen and his 1979 film Manhattan; Allen has, of course, been the subject of sexual abuse allegations for years, and in Manhattan, the filmmaker cast himself as a middle-aged television writer dating a high-school student.
The recent wave of sexual harassment and assault allegations that have flooded Hollywood, with disgraced mogul Harvey Weinstein at the center, is no doubt part of the reason for the preliminary backlash to I Love You, Daddy — which C.K. directed, cowrote and starred in. But the backlash also stems from the fact that C.K. himself has been the subject of unsubstantiated sexual misconduct rumors, first broached in Gawker in a 2012 blind item (that didn't mention C.K. specifically) and later detailed in a 2015 piece that did name the comedian and auteur.
The rumors stem from secondhand stories and involve C.K. masturbating in front of unconsenting women, even blocking the door so they could not leave the room before he finished. In a recent interview with the New York Times, C.K. declined to comment on the allegations. "If you actually participate in a rumor, you make it bigger and you make it real," he said. "They're rumors, that's all that is."
So, yes, we have a film from a man associated with allegations of sexual misconduct, which looks to be an homage to another filmmaker associated with allegations of sexual abuse, amid a major, industry-wide scandal involving a culture of alleged sexual misconduct. The stories about C.K. sound similar to some of the reports involving Weinstein — namely that the Hollywood producer would allegedly expose himself to women and pressure them to watch him shower.
But why does that mean this is a "bad time" for a film like I Love You, Daddy? Shouldn't we want to engage with art that will raise questions about sexual power dynamics and a culture that looks the other way when a powerful man has an "open secret" involving young or underage women? I Love You, Daddy isn't out in theaters yet, so it remains to be seen how seriously it deals with its subject matter. It's entirely possible it could play as tone-deaf or problematic, and, judging from some early reviews, it seems like the movie's a bit of a mixed bag. But to simply tune out a piece of art because its trailer makes you uncomfortable is misguided and lazy.
At the very least, I Love You, Daddy will have more people talking about the rumors surrounding C.K.: The Times asked him a series of tough questions about the rumors while he was doing press for the film; after that interview, Jezebel swiftly published a call for readers to send in tips about C.K. The movie's themes and the climate in which they're being explored will put a spotlight on the comedian. If something substantive is discovered about C.K., it will, in part, be because I Love You, Daddy came out at exactly the right time.
Given the rumors and C.K.'s position as a powerful white man, it's understandable there would be resistance to him being the person who sets the terms of how we wade into an uncomfortable conversation about sex, assault, harassment and where the lines between acceptable and unacceptable lie. And if I Love You, Daddy is anything like C.K.'s past work, it will make the current conversation around these issues even thornier. This is a guy who finally broke through as a comedian once he started joking about his family and called his 4-year-old daughter an asshole; he's talked about hate speech, 9/11 and white privilege onstage; his surreal, on-hiatus FX show has inspired no shortage of think pieces, least of all about issues of sexual assault and consent.
Audiences will likely emerge from I Love You, Daddy with some scratches but also, ideally, some new perspective — perhaps better insight into the psychology of predatory men. Like the best art, it will probably challenge us, and that's good. We should face the things that make us uncomfortable head-on; we should be willing to talk about "open secrets."