Quentin Tarantino doesn't deserve praise for his Weinstein confession. But his honesty is necessary.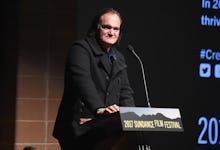 Ever since the news broke that movie mogul Harvey Weinstein allegedly harassed, groped or assaulted dozens of women, fans had been awaiting a statement from Quentin Tarantino. Not only does their partnership span the entirety of Tarantino's career, but the filmmaker has both dated and directed several of Weinstein's accusers. The question wasn't whether he'd heard the rumors about his longtime collaborator, but how much he would admit to having known.
Two weeks after the New York Times published its exposé, we finally got our answer. "I knew enough to have done more than I did," Tarantino confessed in a remarkably candid interview with the Times' Jodi Kantor that ran on Thursday. "There was more to it than just the normal rumors, the normal gossip. It wasn't secondhand. I knew he did a couple of these things."
Tarantino confirmed that he knew Rose McGowan, who appeared in the director's 2007 film Death Proof and is one of the producer's most outspoken accusers, had reached a settlement with Weinstein. He'd also heard first-person accounts of alleged misconduct from more than one other actress. Tarantino said that he was "shocked and appalled" after his then-girlfriend, Mira Sorvino, shared her own horror stories near the beginning of their relationship, in 1995. Years later, when another actress confided in him about similar experiences, he confronted Weinstein, who extended a "weak apology" to the actress, as Tarantino described it.
Whether Tarantino's confession and apology were sincere, selfish, or both, it's a necessary step in changing how these scandals play out.
Minutes after the interview went live, Twitter lit up with reactions. Some were disgusted that Tarantino had known about Weinstein's alleged behavior for more than 20 years and continued working with him anyway. Others were grateful he'd told the truth, apologized and exhorted men in Hollywood to "not be scared. Don't just give out statements. Acknowledge that there was something rotten in Denmark. Vow to do better by our sisters." That response provoked another backlash, from those who were incredulous that a man who'd knowingly profited from his relationship with an alleged abuser was being congratulated for coming clean decades later.
The thing is, all of these takes are correct to different extents. Women in the entertainment industry don't exactly owe Tarantino a debt of gratitude, but his confession is still a big deal. The first celebrities who responded to the accusations — A-list actors such as Judi Dench, Meryl Streep and Ben Affleck, powerful industry figures like Jeffrey Katzenberg — almost all denied having any knowledge of Weinstein's disturbing reputation. Even the producer's brother and business partner, Bob Weinstein, claimed to have known Harvey was a philanderer and an asshole, but not an abuser. (Days later, a TV showrunner accused Bob of sexual harassment.)
Along with the liars, there were colleagues who defended Weinstein or blamed his alleged victims. Perhaps the most bizarre response of all came from the writer and director Paul Schrader, who posted on Facebook that he "knew Harvey Weinstein was a sexual gangster," but explained, "That's not what offended me most about the man. It was the fact that he purchased films by both Bernardo Bertolucci and Wong Kar-Wai and then recut them." He closed by complaining that Weinstein had wanted to buy and cut Schrader and the novelist Bret Easton Ellis's dreadful 2013 movie, The Canyons. Although Schrader later clarified to the Hollywood Reporter that he hadn't meant to compare sexual violence with film editing, it's hard to read his original statement any other way.
Influential people in the industry — and particularly men in the industry — can't keep making statements like this. They need to stop excusing, defending and denying their complicity with Weinstein (not to mention Woody Allen, Roman Polanski, Bill Cosby and too many more to name). They need to stop derailing conversations about harassment and abuse with their own petty complaints. And they need to stop putting their careers above their consciences, because the more reports that surface about Weinstein, the clearer it is that many powerful people had heard rumors, if not personal stories, and ignored them.
Whether Tarantino's confession and apology were sincere, selfish or both, it's a necessary step in changing how these scandals play out. Perhaps he only spoke so candidly because he knew no one would believe he'd been in the dark for a quarter century. But especially if that's the case, the interview marks a watershed moment. For years, enablers of high-profile men accused of sexual misconduct have run damage control by pleading ignorance. Now, they're realizing that honesty and soul searching will earn them more goodwill than lies. If Tarantino's message to his peers is any indication, they're also reaching the conclusion that working with men like Weinstein is morally indefensible — or, at least, too dangerous to keep doing.
None of which is to say that Tarantino deserves our thanks. Considering that it took a man, the comedian Hannibal Buress, to start a long-delayed conversation about Cosby, Tarantino could have saved countless women from decades' worth of alleged abuse simply by speaking out when he heard Sorvino's story. At the very least, he could have privately cut ties with Weinstein. Almost all of his films have been hits relative to their budgets, so it's hard to imagine he'd have had a difficult time finding a new distribution partner.
If these revelations cause audiences to lose their taste for [Tarantino's] signature brand of self-righteous revisionism, he only has himself to blame.
Some of his statements about Weinstein also betray troubling ideas about men, women and sex. He told Kantor that he figured his friend would back off once Tarantino started dated Sorvino, because another man's property is apparently more sacred than a woman's own body. And he explained how he'd justified Weinstein's alleged behavior to himself: "The thing I thought then, at the time, was that he was particularly hung up on Mira," he said. "Because he was infatuated with her, he horribly crossed the line." The implication is that harassment and abuse are somehow understandable when a man is genuinely crazy about a woman. To his credit, Tarantino seems to have learned that his assumptions were harmful. "I chalked it up to a '50s-'60s era image of a boss chasing a secretary around the desk," he said. "As if that's OK."
The interview ends with Tarantino expressing the hope that the Weinstein scandal wouldn't affect the way audiences viewed his work. Unfortunately, that's impossible. He's spent the entire 21st century making films where representatives from relatively disempowered groups exact revenge on avatars for their institutional oppressors. Django Unchained and The Hateful Eight take on racism. Inglourious Basterds follows a team of American Jewish soldiers on a mission to assassinate Nazi leaders during World War II. Both Death Proof and the two Kill Bill movies find women bringing down men who've wronged them.
In that respect, Tarantino's complicity with Weinstein isn't just upsetting — it's hypocritical. If these revelations cause audiences to lose their taste for his signature brand of self-righteous revisionism, he only has himself to blame.