White supremacists charged with attempted murder of anti-Spencer protester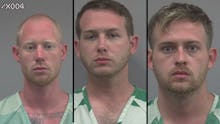 On Thursday, Tyler Tenbrink, a 28-year-old from Texas, was arrested for allegedly attempting to shoot a person protesting the appearance of Richard Spencer at the University of Florida, along with two accomplices, brothers Colton and William Fears.
Just hours before the shooting, Tenbrink was spotted on a video shot by WPTV, a local NBC affiliate station in West Palm Beach, Florida. In that video Tenbrink is seen being escorted out of the area and rolling over a barricade to get away from an angry mob of anti-racism protesters.
Tenbrink and the Fears brothers were charged with attempted murder following Spencer's address. According to Gainesville police, Tenbrink fired a single shot at a group of protesters hours after he was escorted out while the Fears egged him on, shouting, "Kill them! Shoot them!"
"These master race guys, they get a little cowardly at times and then try to show how big they are by shooting at people," Alan Gadze, a Gainesville Antifascist Committee member, told Mic Friday afternoon.
Both William Fears and Tenbrink gave news interviews expressing their support for Spencer's views hours before the alleged attempted shooting took place.
"I'm just here because this is an unprecedented event," William Fears told reporters outside UF's Phillips Center for the Arts on Thursday, adding that he supports Spencer's message.
"When have you ever heard of a state of emergency declared because someone was going to talk about a pro-white speech?" he continued. "You have child pornography and all these twisted sexual conventions that are allowed to go on... but yet, if a man says, 'whites have a right to exist,' they have to declare a state of emergency."
Tenbrink told a Jacksonville, Florida, WJXT reporter that some white people are ashamed to be white.
"How more of a despicable creature could you be than someone who is ashamed or feels sorry for the color of their skin?" he said. "I never owned slaves. Nobody here ever picked cotton. End of story."
According to the Gainesville Police Department, the men have long ties with extremist groups. "At least two of the three [suspects] have shown connections to extremist groups," the department said in a Facebook post Friday.
Officers say the altercation between the suspects and their alleged victim began just before 5:30 p.m. Thursday. Tenbrink and the Fears brothers were together in the jeep when they pulled up on a group of Spencer protesters, according to police reports.
Chad Chavira, who heads the No Nazis at UF activist coalition, said the victim was a part of his group's protest and may have been targeted for chasing Tenbrink and the Fears brothers off campus.
"We know who [the victim is], but we haven't been able to get in contact with them," he told Mic during a Friday afternoon phone interview regarding the victim and the others who witnessed the alleged shooting. "They're friends of friends. As far as I know, they're all white people. They were definitely a part of the protest. They had left the protest and walked down there."
When one of the Spencer protesters, who was wielding a baton, hit the back of the suspects' Jeep, police say Tenbrink exited the vehicle and pulled out a handgun.
"I'm going to fucking kill you!" he reportedly shouted as the Fears brothers encouraged him, police reports indicate.
Tenbrink then reportedly fired a single shot that missed the protester and hit a nearby business, according to police reports. The suspects fled the scene, but one of the victims wrote down their license plate number before calling police.
"I am amazed that immediately after being shot at, a victim had the forethought to get the vehicle's license number," GPD officer Ben Tobias said in a written statement on Facebook.
A county deputy pulled over the suspects' vehicle on interstate I-75 around 9 p.m. before arresting them, police wrote.
This, however, will likely not be the last incident involving Spencer's speaking tour.
Spencer's next speech at the University of Cincinnati is still slated to take place some time in the near future, but the details of the event have not been finalized.
UC vice president for governmental relations & university communications Greg Vehr told Mic over the phone that what allegedly happened after Spencer spoke at UF, "sounds horrible," before indicating that the alt-right leader's speaking engagement could still be scrapped.
"We don't have a contract yet," Vehr said. "The whole situation gives us pause, but at the same time, we will work with public safety officials here."
Chavira said there's a pattern of violence involving white nationalists' appearances that public officials should try and avoid.
"It just shows how dangerous and violent these people are," he said. "They shouldn't be allowed to have a platform, and definitely not on campuses."