"We're not afraid to take risks": Obama veterans promise aggressive, if risky, state strategy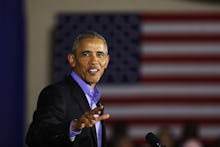 You could call Forward Majority the Uber of political campaigns — in fact, they'd prefer that you do.
The new super PAC has made bold predictions about the influence it will yield in state legislature elections across the United States in 2018. It aims to raise $100 million through 2020, largely from major donors, to help Democrats win state legislative races — enough to gain control of state governments.
The number of states controlled by Democrats after the 2020 elections will play a major role in how district lines are redrawn after the census. Wary of again being on the wrong end of a gerrymandered district, groups like Forward Majority are investing heavily in winning back statehouses, starting now.
"There's a slate of races that could be winnable, but we'll never win them the way we're set up today," Vicky Hausman, the group's co-founder, told Mic. "These are the ones that are essential to get back to the majority."
Today, Forward Majority is touting a major Silicon Valley donor, shared first with Mic. LinkedIn co-founder Reid Hoffman gave the group six figures to invest in Virginia state legislative elections. The group said that its start-up approach to campaigns led to Hoffman's sizeable donation.
In November's Virginia state House races, Future Now, a major donor group similar to Forward Majority; Flippable, an online organizing group; and the Democratic Legislative Campaign Committee, a Democratic party arm, are supporting a total of 11 races. All three groups are invested in eight of them.
To win control of Virginia's House of Delegates, Democrats need to win 17 seats. In the 2016 presidential election, Hillary Clinton won in 17 state legislative districts which are currently held by Republicans. And that's where Forward Majority comes in.
The group is supporting nine candidates, nearly all of whom reside in districts where Clinton won — but these nine aren't part of the 11 the Democrats and other groups are already investing in.
Forward Majority chooses which state races to back according to an algorithm that determines where dollars can best be spent to win control of state government, how much "far-right" legislation the state has passed and the state's importance on the national stage.
The nine Virginia races they're playing in have been modeled as prototypes to inform their support of hundreds of legislative candidates across the country in 2018. The group won't say which candidates it's supporting, and have only indicated that they are not the candidates being backed by the party establishment. As a super PAC, Forward Majority may support candidates, but is forbidden from coordinating directly with campaigns.
This week, Forward Majority bought $100,000 in digital ads in Virginia as the first stage of a $1 million rollout before the Nov. 8 election.
The group contends that if Democrats invest in areas where they normally win at the presidential level, they can reverse the losses that have led to party losing nearly 1,000 state legislative seats.
"When you lose 1,000 state legislators across the country, there's a huge number of networks that get broken down," said David Cohen, the group's co-founder, who ran former President Barack Obama's direct-mail campaign in 2008. "There's value in broadening the playing field. We want to be additive. We don't need to double down where others are already engaged. We want to expand the field and put more races in play."
Another potentially powerful feature of Forward Majority's approach: They're toeing the line between the Clinton and Bernie Sanders camps in the Democratic party.
The group is led by Barack Obama campaign veterans who didn't have roles in Sanders or Clinton campaigns, though Forward Majority is advised by people who worked on 2016's Democratic presidential contests. Sanders' deputy campaign manager, Rich Pellitier, is an adviser, as is Adrienne Elrod, who oversaw Clinton's surrogate operation.
The group's honorary co-chairs range from Colorado Gov. John Hickenlooper, who has proposed health care compromises with Republicans in 2017, to Rep. Joe Kennedy (D-Mass.), a progressive voice who found a national audience during the health care debate.
But playing neutral doesn't mean the group has not drawn criticism.
Earlier in October, the head of the DLCC told Mic that new PACs and grassroots groups need to be sure their efforts are not "duplication of infrastructure." She also made clear that the DLCC deserves the credit for Democratic state legislative wins so far in 2017.
In November, Forward Majority will sink or rise above the pack in Virginia. It won't be easy.
Sabato's Crystal Ball, a political newsletter and website out of the University of Virginia's Center for Politics, is closely tracking the House of Delegates race. "Not shockingly, the Crystal Ball can confidently say the GOP will maintain control of the chamber," the group wrote Thursday.
But that's not going to hold back Forward Majority — their eyes are on 2018, and beyond.
"Parties tend to work incrementally — we play to win," Hausman said of her group's strategy. "The way to maximize impact is to bring the best business practices, data, analytics and design thinking ... that we see in the business world."
"We very much target those that we see as the most winnable," she added. "But we start where the state party and existing efforts end."