The racist Halloween costume trend started on college campuses. Here's how schools handle them now.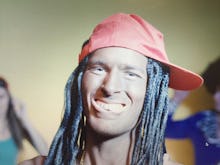 In the climatic scene of writer and producer Justin Simien's 2014 film Dear White People, a group of white college students host a themed Halloween party that plays on racist black stereotypes.
Among them are a beer tap labeled "purple drank"; drink cups made from hollowed out miniature watermelons; and fair-skinned young adults wearing blackface makeup, afro wigs and gold grills.
The students laugh heartily as they snap photos of themselves pointing guns at one another — cocked sideways, of course.
Unlike some of the little non-Polynesian American girls who want to dress up as Moana in 2017, the students in Simien's movie who wore masks of Barack Obama and Condoleezza Rice weren't doing it out of admiration for the first black president or the first black woman to serve as secretary of state.
Simien confirmed his satirical dramedy and season one of its subsequent Netflix series released in 2017 aren't pure fiction.
"The experience of seeing black people as interpreted through the eyes of white people can be very unsettling in a lot of ways," the acclaimed director told the Washington Post in 2014. "The best I can do is put in cinema this very real thing that happens on college campuses and make you viscerally feel what that feels like."
Colleges, fraternities and sororities across the country have been forced to confront this reality in the digital age, as the prevalence of camera phones and the ubiquity of social media reveal a pervasive culture of racism and bigotry that higher ed administrators still struggle to address.
"This is a topic of conversation for us all year long," University of Texas spokesperson Sara Kennedy said in a phone interview Tuesday as the Austin-based institution was putting the finishing touches on its latest Costume and Theme Selection Guide.
Kennedy said the Longhorns' non-mandatory checklist has been used since at least 2012, the year the school's Alpha Tau Omega fraternal chapter was forced to cancel its pre-planned "Border to Cross" themed party after receiving backlash from other students for its characterization of Mexican migrants.
"We don't regulate their speech and we do not enforce any costumes or theme party guidelines as rules," Kennedy said. "But our students are not just accountable to us as a university for our policies. They're accountable to each other. If they negatively impact other students on campus, they are gonna hear about it."
Phenocia Bauerle, the director of Native American student development at the University of California Berkeley, created a video to educate her university's students about the reasons why wearing ceremonial native headdresses or dressing up as the sexualized version of Matoaka, aka Pocahontas, popularized in the 1994 Disney animated film, are offensive to many.
Bauerle points out the real Powhatan daughter of a tribal chief was just a 13-year-old girl when she met John Smith and says her true persona was a far cry from the "Colors of the Wind" singing beauty portrayed in the Disney movie.
"It's not just what you wear, but how you do it," Bauerle said of Halloween costumes. "It's like, why? What's the intent? There's nuances to it."
For Bauerle, the spectrum of cultural appropriation ranges from the relatively innocent 5-year-old girls dressing as an idolized Polynesian princess while trick-or-treating to a full-fledged young adult donning a bloodstained hoodie and blackface makeup to mock the shooting death of Trayvon Martin.
"There is definitely a difference," Bauerle said. "That last one represents some intent to make fun of or make light of some things that are real problems in our country. That was a very different intention, but it's still on the same spectrum."
In 2001, at least 10 Auburn University students from the Alabama school's Delta Sigma Phi and Beta Theta Pi fraternities wore blackface or Ku Klux Klan garb for a private party, according to the university's student news site.
In 2014, Penn State's Nu Gamma chapter of the Chi Omega sorority was shut down for throwing an offensive Mexican fiesta-themed party where female students were photographed wearing ponchos and sombreros while holding signs that said "Will mow lawn for weed + beer," and "I don't cut grass. I smoke it."
Penn State spokesperson Reidar Jensen notes that pictures on the internet live forever and can affect students' lives for years to come.
"We encourage all members of the University community to behave with respect and sensitivity and to fully consider the impact of their actions on the wellbeing of others, and upon their own futures," Jensen wrote in an email.
Members of the University of Florida's Beta Theta Pi chapter were forced to realize this in 2012 after pictures of two of their bros wearing blackface went viral on social media.
The students involved later apologized at a campus town hall attended by more than 400 African-American UF students, according to Beta Theta Pi spokesperson Justin Warren.
"The actions of two members from Beta's University of Florida chapter in 2012 were not only a poor reflection on our fraternity's values, but they also disregarded the considerable diversity of their own chapter's membership, as well as that of our larger organization," Warren said in an email to Mic. "The incident was certainly a significant learning moment for our undergraduate men — as missteps are often the seeds for learning and personal growth — but it was one that our fraternity took to heart."
UF spokesperson Janine Sikes said the Gainesville, Florida, based school hasn't changed any policies around costumes, but administrators do send out tweets around this time of year reminding students to be thoughtful when they choose what to wear to parties.
"The bottom line is we certainly want our students to have freedom of expression," Sikes said in a phone interview Tuesday. "But we also want them to understand that their choices can be hurtful to others and they can also cause — if there are photos on social media, they can also result in some hatred and attacks."