Mic Wakeup: Jeff Flake's had enough, Kid Rock won't run and screaming parties to help you cope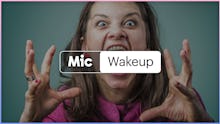 It's Wednesday, Oct. 25. Here are three things you need to know.
Sen. Jeff Flake officially announces his retirement
In a scathing speech delivered on the Senate Floor, Sen. Jeff Flake (R-Ariz.) announced he would not seek re-election in 2018.
"There are times when we must risk our careers in favor of our principles," Flake said. "Now is such a time."
Flake, who has been a frequent critic of President Donald Trump, let his feelings on where he thinks his party is going — and what it will take to save it — be known.
"None of these appalling features of our current politics should ever be regarded as normal," Flake said of Trump. "We must never allow ourselves to lapse into thinking that that is just the way things are now. If we simply become inured to this condition, thinking that it is just politics as usual, then heaven help us."
So, who can I vote for in his place? We aren't quite sure who is running yet; however, Flake's seat will likely be a hotly contested race for both parties. And as FiveThirtyEight noted, Arizona is still the Democrat's best chance to pick up a Republican-held seat. If you live and vote in Arizona, it's time to start paying attention.
Kid Rock finally confirms he has no plans to run for Senate
Kid Rock, an apparently close friend of President Donald Trump, has long been rumored to be considering a Senate run. The rumor first kicked off in 2016 when the rocker, whose real name is Robert James Ritchie, tweeted a link to the website Kid Rock for Senate.
Ritchie put the rumor to bed once and for all during an appearance on the Howard Stern Show on Tuesday, saying, "Fuck no, I'm not running for Senate. Are you fucking kidding me? Who couldn't figure that out?"
Great! Is this the last we'll ever hear of Kid Rock's politics? Probably not, as he often expresses his political beliefs on Twitter and in concerts. In fact, at a recent concert in Detroit, Ritchie told the audience, "And why, these days, is everything so gay? Gay rights, transgender this and that. I say let gay folks get married if they want, and I'm not even close to a Democrat. But things shouldn't be this complicated, and no, you don't get to choose, because whatever you have between your legs should determine the bathroom that you use."
People are planning screaming parties to mark the presidential election's one-year anniversary
On Nov. 8 — the one-year anniversary of the 2016 presidential election —thousands of people across the U.S. will come together to share in one special event: a screaming party.
The idea started with one presumably joke event in Boston posted to Facebook titled "Scream helplessly at the sky on the anniversary of the election." That event apparently struck a nerve, as it already has more than 4,600 people "attending" with 33,000 more expressing interest.
Since that event page launched, several copycat events with similar titles have made their way to social media in cities like New York and Austin.
In fact, the Boston event became so popular that organizers were forced to cancel it. But fear not, screamers, as organizers say they're working on other options.
"Organizers are working to determine if an alternative event could be designed in a way to mitigate those challenges," Johanna Schulman said in an interview with Mic. "Clearly, there is a desire on the part of many Americans to express their opposition to the Trump administration on the anniversary of the election."
Do I have to go to an event to participate? Nope. You can walk into your own yard or down the street — or simply get in the shower and silently whimper if you want — on Nov. 8, no reservation needed.