NAACP urges black passengers to avoid American Airlines, alleging a pattern of racial discrimination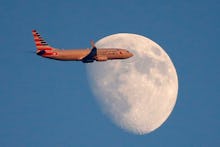 African-Americans should avoid flying American Airlines, until the company addresses allegations of racism and unfair treatment of black passengers, the nation's oldest civil rights group has urged.
The NAACP issued the rare national warning Tuesday evening, citing a series of incidents that it said proves the airline routinely subjects African-Americans to "disrespectful, discriminatory or unsafe conditions." Incidents include American gate agents booting blacks from flights after arguments with personnel and agents making unrequested seat reassignments, the group said.
"The series of recent incidents involve troublesome conduct by American Airlines and they suggest a corporate culture of racial insensitivity and possible racial bias," the NAACP said in a statement.
On Tuesday night, a spokeswoman for the airline said the company was disappointed to hear of the NAACP's travel advisory. "Our team members — a diverse community of gate agents, pilots and flight attendants — are proud to serve customers of all backgrounds," Shannon Gilson, the spokeswoman, said in an email.
"We are committed to having a meaningful dialogue about our airline and are ready to both listen and engage," Gilson added. She also confirmed that NAACP leaders have been invited to meet at American's headquarters in Fort Worth, Texas.
Last week, the airline invited Tamika Mallory, co-chairwoman of the Women's March on Washington, to its headquarters for a dialogue over her ejection from a New York-bound flight in Miami. Mallory had complained to a gate agent about a seat reassignment that occurred without her consent, before the pilot had her removed.
The activist told media outlets that she ultimately missed the wedding celebration of civil rights leader Rev. Al Sharpton's daughter in New York City. The ordeal prompted other black passengers to share bad experiences with American Airlines over social media.
"We have also heard the voices of customers responding to Ms. Mallory's social media posts, sharing experiences with us (that are) inconsistent with our commitment to treating all customers with equality and respect," Gilson said in a statement reported by the New York Daily News.
The NAACP included Mallory's experience in a list of alleged racial incidents. It also said a black man was asked to give up his purchased seats on a Raleigh, North Carolina-bound flight in Washington, D.C., after he responded to disrespectful and discriminatory comments from two white passengers; a black woman, who booked first-class seats for herself and a white companion, was switched to coach at the ticket counter while her companion was allowed to remain in first class; and a black mother was ejected with her infant child from a New York-bound flight in Atlanta for asking that her stroller be retrieved from checked baggage before she disembarked.
The civil rights group said it believes those incidents "represent only the 'tip of the iceberg.'"
American, with its domestic and international partners, operates an average of 6,700 flights per day to more than 350 destinations in 50 countries, according to the company's website. In January, the company reported 2016 net profit of $2.7 billion.
In 1999, NAACP called for an economic boycott of South Carolina over the Confederate flag, though it ended it in 2015, and this year, it issued a U.S. travel advisory in Missouri, where it believes black Americans face a substantial risk of harm on the ground. The American Airlines travel advisory is the group's way of ensuring the company's alleged practices aren't dismissed or normalized, NAACP President and CEO Derrick Johnson said in a statement.
"All travelers must be guaranteed the right to travel without fear of threat, violence or harm," Johnson said. "Until these and other concerns are addressed, this national travel advisory will stand."